Briggs & Stratton P3000 Generator Definitive Review (2023)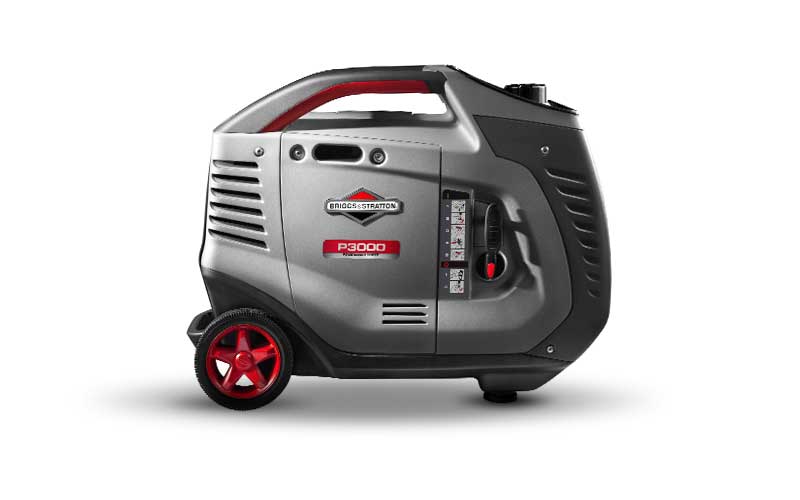 TopNotch Outdoor is independent – we research, test, and rate the top products to help you make the right buying choice. We sometimes use affiliate links and may receive a small commission on your purchase. Learn more…
This is the Ultimate TopNotch Briggs and Stratton p3000 Generator Review 2023.
The TopNotch team has been doggedly pursuing one objective:
To present our review of the very best camping generators on the market for 2023.
In this comprehensive review we'll cover:
Top features
Power characteristics
Weight and portability
Lots more…
If you want a compact and portable choice for the campground or during a power outage, you're going to love this guide.
Let's get the ball rolling.
Manufacturer: Briggs and Stratton Power
Type: Portable Generator
Power Output: 3000 kW
Outlets: 4 x 120V AC , 1 x 12V-5A DC, 1 x USB port, 1 x parallel port
Fuel Type & Capacity: Gasoline (1.5 gallons)
Bottom Line : With good features and a noiseless performance this product is a great choice as a backup power source
Pros
---
Effective inverter technology
Optimized fuel consumption
Powersmart mode
Superb mobility
Very easy to start
Included LCD display
Cons
---
Some issues with the durability of the wheels
Not CARB compliant
Drain plug on the oil tank isn't great.
Our Verdict: Briggs and Stratton P3000 Generator
As you might know, power output is one of the major factors to consider when choosing a generator.
Perhaps you're looking for moderate power delivery to run all your common appliances – including small refrigerators and microwaves?
In that case, the Briggs and Stratton p3000 is a very sound choice.
Apart from that it packs a range of outlets and well-designed wheels that offer top-class portability.
Need a generator that'll run all night long?
This inverter generator has just the right level of fuel efficiency for the job.
I can add one thing for sure.
It's also one of the best-looking generators in this segment.
To be honest though, it's not without a few drawbacks.
Firstly, we found the 30545 isn't a particularly quiet operator.
And it's priced much higher than our Best Value pick, the Champion 3800.
Even then, it's one of the most capable 3000-watt inverter generators you'll find.
How's that?
Let's find out.
Related: 10 Best Camping Generators
Our Analysis, Comparisons, and Test Results
When we headed out for our week-long trip with our choice of the 10 best generators, we did have high hopes for some of our lesser-known generators.
But the fact is, the premium brands still scored the best marks in most of our standard metrics.
Actually, it's a mixed package; while some of the features were stellar, others were a little disappointing.
This calls for a closer look.
Here we go…
Noise Output
If you're planning on running your generator all through the night it has to be a quiet one.
The question is, how good is the Briggs and Stratton p3000 when it comes to a quiet performance?
According to the specs, at a 25% load, it measures 58 dBA.
Noise Output Rating
Briggs and Stratton p3000
In theory, that's not particularly loud.
But when you compare it to the whisper-quiet Honda EU2200i, the performance isn't so great.
We tested this generator at 50% load at one of our campsites.
At our standard testing distance of 23 feet, the noise level was around 62 dB.
Invariably, the noise will increase as you run most generators at higher loads.
So for campers who love peace and quiet, the best option is to keep the power output on the lower side.
But that's not all…
It's also equipped with a Quiet Power Technology that automatically adjusts the engine speed to reduce the sound levels.
But, you do often need higher power output at the same time as keeping the noise down.
In this case, the Honda EU3000iS, our Top Pick is a perfect choice.
If your neighbors are really sensitive to noise, the WEN 56125i is another lightweight option at an affordable price.
Power Output
The P3000 generator delivers 3000 starting Watts and 2600 continuous Watts.
That's good enough for powering the air-conditioning in your RV, TV's, and small refrigerators without a problem.
However, don't expect it to power up devices like a 15000 BTU air conditioner.
Power Output Rating
Briggs and Stratton p3000
Similar to some of its competitors, the
Briggs and Stratton p3000
also provides the parallel connection port to combine two generators for double the power
With a 1.5-gallon fuel tank, we expected our inverter generator to deliver a long running time.
In reality, it didn't disappoint.
At 50% load, it ran for 5 hours before running dry.
And att lower loads, it's capable of delivering steady power all through the night.
Needless to say, the P3000 powersmart inverter technology keeps the power clean enough for sensitive devices.
Let's not forget that the Briggs and Stratton P3000 faced some strong competition from our Top Picks.
With a running power of 2800 Watts and a higher running time, the Honda EU3000iS was quite a few paces ahead of it.
Keep in mind, the Champion 3800 delivers a higher surge power at a lower price.
Ease Of Use
Let me start with the best feature of the Briggs & Stratton P3000 inverter generator.
It's the small but handy StatStation LCD screen that gives you all the necessary running information and maintenance reminders…
Ease Of Use Rating
Briggs and Stratton p3000
… so you can easily determine the load you can put on the generator at any time.
In short, it'll also let you know about oil, air filter, and even the spark plug changes when needed.
Sound good?
The control panel also has 4 x 120V outlets and a single 12V DC outlet.
And the best part is, the Briggs & Stratton P3000 includes a USB port so you can charge a multitude of electronic gadgets.
Now hold on, there's more.
You also have a fuel gauge and an hour meter that keeps you in the know.
Without any doubt, this is one metric in which the P3000 generator was a top performer.
However, considering the price, a push-button start would have been a good addition.
Point to be noted: This generator is not CARB compliant. So you can't use it in California State
Durability
On the face of it, the Briggs and Stratton 3000 watt generator is built to provide solid service for years.
The overall build quality was good and there are enough safety features to safeguard the engine.
For example, there's the built-in automatic low oil shutdown function – really useful.
Durability Rating
Briggs and Stratton p3000
And remember: The Briggs & Stratton 30545 P3000 generator comes with a two year residential and 90-day commercial warranty.
Another interesting feature: The outlets are covered to protect you from sudden downpours – genius.
To sum it up, although its a great generator and one of our top 10 choices, this isn't a generator that'll deliver the same level of reliability as our chart toppers.
If you want bullet-proof durability at a pocket-friendly price, the Champion 3800 is definitely one to look at.
Weight & Portability
Frankly, this Briggs and Stratton generator gives a good balance of aesthetics and weight.
And guess what…
The dry weight of 84-pounds doesn't make it the lightest model but the weight to power ratio is one of the best in this segment.
Certainly, it's much lighter than our open-frame generators.
Weight & Portability Rating
Briggs and Stratton p3000
When it comes to dimensions, the Briggs & Stratton has kept it to 14x 21 x 26 (W x H x L) inches.
So it's a fairly compact device.
But that's not all.
The generator comes with a telescopic handle and 6-inch "Never Go Flat" wheels.
In fact, it's almost as easy as pulling a suitcase along.
Note that the lightest choice among the generators we tested was the WEN 56125i generator.
The Briggs and Stratton 30545 is slightly heavier but does pack more power under its belt.
In the end, it stood at the third spot in this metric.
For sure, a great performance.
Accessories
Oddly enough, this is one metric where many of the top brands fell short.
You'd think it's reasonable to expect a premium product like the Honda EU3000iS to pack a few essential accessories.
Unfortunately, that's not the case.
But our Briggs and Stratton P3000 generator did better on this.
Accessories Rating
Briggs and Stratton p3000
The good thing is it comes with wheels.
So you won't be needing a separate wheel kit.
Other than that, you get a 12 volt 30 amp locking outlet along with an RV adaptor.
We felt that a parallel connection cord would definitely have added more value.
And finally there's the user manual.
Simply put, considering the higher price of the generator, we hoped for a few more accessories.
Our Best Value product, the Champion 3800 inverter generator, comes at a lower price point, but still offers a whole range of useful accessories.
You can check out current prices and customer feedback below.
Conclusion: Briggs and Stratton P3000 Generator
So we've arrived at the last stages of our TopNotch Briggs and Stratton P3000 review.
It's time to figure out the bottom line.
Actually, it's a rather intriguing combination.
On one hand, the optimized fuel consumption and clean power delivery make it a good choice for a whole range of applications.
But then it's not among the quietest generators in this category when delivering higher power.
While the TopNotch design makes it super easy to use – not being CARB compliant stands out as a disadvantage.
Then again, we liked the excellent mobility and the fact that there's a USB outlet.
Still, with the slightly higher price tag, features like an electric start could have been included.
In short, the Briggs & Stratton P3000 simply couldn't beat the reliability of the Honda EU3000iS, the durability of the Yamaha EF2400iSHC, or the excellent value of the Champion 3800 Watt generator.
We've done all the legwork and the research and it's time to hand the baton over to you to make your final choice….
You can check our top recommendation prices and owner feedback below.