Honda EU3000iS Generator (UPDATED 2023): Definitive Review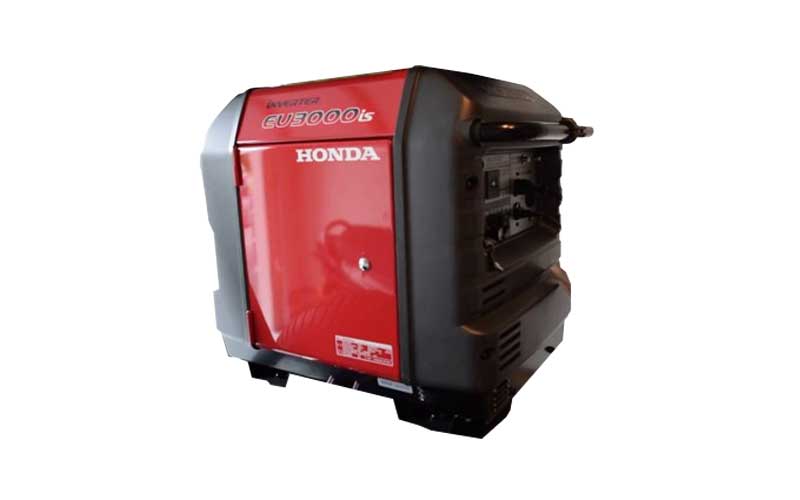 TopNotch Outdoor is independent – we research, test, and rate the top products to help you make the right buying choice. We sometimes use affiliate links and may receive a small commission on your purchase. Learn more…

This is the Ultimate TopNotch Review of The Honda EU3000iS 3000W 120V Portable Gas Power Inverter Generator 2023.
We put this inverter generator, (along with 9 other top models) through its paces (more on that later) to test it from every angle before making our final verdicts.
In this case, the EU3000iS is delighted us, emerging as the clear chart-topper in many of our carefully selected TopNotch metrics.
Big news: It's a frontrunner and TopNotch Top Pick among all the camping generators that we chose.
In this review, we'll learn about:
Power outputs
Noise levels
Portability
Usages
Lots more…
So let's dig a bit deeper.
Let's get the ball rolling…
Manufacturer: Honda
Type: Portable Generator
Power Output: 2800W
Outlets: AC: 120V 3000W max.(25A) 2800W rated (23.3A) DC Output-12V – 12.0A. Receptacles-20A 125V Duplex, 30A 125V Locking Plug
Fuel Type & Capacity: Gasoline (3.4 Gallon)
Bottom Line : A big and powerful gasoline generator that also happens to be surprisingly quiet
Pros
---
Very durable
Quiet performance
Excellent reliability
3 Year Warranty
Fuel efficient
Cons
---
On the heavier side
Accessories need to be bought separately
Our Verdict: Honda EU3000iS Generator
We tested this bad boy with 9 other Generators to see how it stacked up!
In short, we love it….
Brand reputation always plays a big role in any market.
And you know what?
Honda generators never disappoint us.
The reputation for quality that Honda has gathered through the years, makes their inverter generators a great choice.
Without a doubt, the eu3000is generator enhances that reputation in every way.
 Now, where do I start?
There're so many good things to mention…
The fact that it's well-built both inside and out.
Excellent inverter technology that makes the power delivery silky-smooth?
 A high-quality engine you can totally depend on that brings a steady source of power right to your fingertips.
I have to admit I'm a big admirer of Honda generators for good reason.
But consider this…
The overall fuel economy of the 3000 Honda generator left a smile on the faces of even the most hard to please (it's how we like them really) testers in our team.
Also, it has TopNotch features – like an eco-throttle and a smooth electric start.
Add to that, a super-quiet performance even at higher power levels.
Sound like something you need?
I agree the EU3000iS has a price tag that could make you wince, but one thing's for sure…
…the overall performance, efficiency and durability of this absolute powerhouse will mean you save money in the long run.
So, were there any doubts about marking the 3000 Honda generator as our TopNotch Top Pick in this category?
Absolutely not!
Ready to learn more about our fantastic EU3000iS?
Just keep scrolling.
Related: 10 Best Camping Generators
Our Analysis Comparisons and Test Results
Usually, the TopNotch team heads out for our review trips only after  a lot of planning.
But for the camping generator reviews, we set out for a week-long trip in an RV on very short notice.
As a result, we had to improvise a few scenarios while testing our Generators..
Ultimately, it wasn't easy but after a couple of beers, it was a whole lot of fun seeing who could charge what the fastest, which ran out of fuel first and how loudly we had to talk to be heard above the noise…  (clue: not very in some cases).
The 3000W Honda generator has been one of the most popular products to emerge from the Honda stable.
On the whole, we found the Honda EU3000iS is simply a great choice for camping and tailgating and also powering up your RV.
This calls for a detailed analysis.
So here we go.
Noise Output
Noone likes a noisy generator on a quiet campsite.
Right?
And the sad fact is…
For most generators, the noise increases with the power output.
Thankfully, that's not the case with the eu3000is engine.
This advanced inverter operates within the sound range of 50 to 57 dBA, which is only as loud as a normal conversation.
Noise Output Rating
Briggs & Stratton Generator
During our tests, we measured the noise levels from a distance of 23 feet while running the EU3000iS with varying load from 50% to 90%.
The readings from our sound level meter varied from 54 to 58 dB.
Bottom line –  for a 3000-watt device, the performance was very impressive.
So, you won't have any problems using the generator on a campsite with noise restrictions.
If we dig deeper, there are two reasons behind this quiet performance…
Firstly, we noticed that engaging the eco throttle mode at higher outputs, reduces the sound levels a lot.
Beyond that, there's the noise-canceling casing that effectively suppresses the engine noise.
Frankly, the generator is one of the best products to balance a high power output with quiet performance.
Unsurprisingly, under this metric, it stood among the top three quietest generators in this category.
Power Output
Let's start with the facts.
The Honda EU3000iS delivers 3000 starting Watts and 2800 running Watts.
Quite simply, that's good enough to run ACs, large refrigerators, and even furnaces.
So, if you want to use it as a backup for your home, this is a super sound choice.
Coming to the fuel efficiency, Honda claims the 3.4-gallon single tank will deliver 2800 Watts for 7.1 hours.
Power Output Rating
Briggs & Stratton Generator
Even better, at higher loads, you can also engage the eco-throttle to further stretch the running time.
However, we wouldn't recommend running it at full power for more than 30 minutes at a stretch.
During our trials, we tested the longevity by running it at a 25% load.
The results?
Well, as per the specs, it should run for 20 hours.
For us it lasted for two whole nights; that's close to 18 hours.
Now let's imagine you need more power for your home, but don't want to stress the engine for long.
Easy.
You can simply connect two of these generators in parallel to get close to 5600 Watts of power.
Let's not forget that the inverter technology delivers stable and clean power by keeping harmonic distortions at a minimum.
The result is a safe power source for laptops, smartphones, and TVs.
In the end, we had the 3000 at the second spot in this metric.
Ease Of Use
In reality, ease-of-use has never been a problem with Honda generators and the EU3000iS is no exception.
One thing we loved is the provision for electric starting that makes the job completely painless.
But for peace of mind, the recoil start is there as a backup of course.
Ease Of Use Rating
Briggs & Stratton Generator
In terms of outlets, you get a duplex 120V 20A, a 120V 30A receptacle, and one 12V DC outlet.
So connecting with a wide range of electronics won't be a problem at all.
On the whole, the control panel's designed with an intuitive touch, and the easy controls make operating it very simple.
In addition, there's a circuit protector, a low oil alert, and an output indicator.
We looked through the manual and found the maintenance instructions were precise and pretty simple.
You'll find all the details on changing engine oil, air filter, and cleaning clearly explained.
What about safety features?
The circuit is protected against overloads and there's also a low oil shutoff feature to protect the engine.
A low oil alert gives you peace of mind and the automatic shutdown is an added bonus.
Having said that, we missed having a USB port.
Also, it seemed odd that the manufacturer hasn't added a fuel gauge in the panel.
However, one thing's for sure.
Even if you're using an inverter generator for the first time, the operation of our 3000 watt generator should be easy as pie.
Durability
Let me tell you straight…
If durability's what you're looking for, you simply can't go wrong with the Honda EU3000iS.
Without a doubt, this is a generator built with full attention to detail from the manufacturer.
Durability Rating
Briggs & Stratton Generator
When we think about the EU3000iS parts, the first thing to note is the superb GX200 engine. It's made from high-quality materials to ensure years of smooth service.
There's more…
This OHV (overhead valve) engine has a high power-to-displacement ratio that makes it super capable of heavy-duty applications.
Moreover, it's also environmentally friendly and meets the EPA and CARB regulations.
What about rough handling?
The Honda has a steel frame that's robust enough to handle pretty much any outdoor conditions.
On top of that, you get a three-year warranty for both commercial and residential applications.
Now, that's a manufacturer with faith in the product, right?.
Needless to say, with all these great features, it ended up at the top spot under this metric.
Weight & Portability
To tell the truth, portability is one reason the Honda 3000W generator can't be called a true all-rounder.
Admittedly, the outer design is pretty good on the eye.
But with a dry weight of 131 pounds, this is a model you won't be carrying around alone.
Weight & Portability Rating
Briggs & Stratton Generator
It turns out when the tank is full, it gets quite a lot heavier too.
That means only one thing.
You need to invest in a wheel kit to move it around smoothly.
The wheel kit is really nicely designed.
Unfortunately, we didn't pack the wheel kit during our review trip, and moving this generator around at the campsite was a pain.
To be fair to Honda though, none of the generators offering this level of power are lighter in weight.
Next, the overall dimensions stand at 25.9 x 17.6 x 22.0 inches (L x W x H).
As you can see, it's a big boy and not particularly good if you're short on space.
However, it does excel in terms of stability.
The high-quality engine and frame mean there are minimum vibrations even at higher power outputs.
In case you're happy to sacrifice power in favor of a lightweight design, take a look at the WEN 56125i. It came out as the chart topper in this metric.
Accessories
Let's admit it.
A selection of quality accessories in the box does improve the overall value of any product.
Sadly, the EU3000iS doesn't pack much in terms of accessories.
Things like the wheel kit, storage covers, parallel cables, are all sold separately.
Accessories Rating
Briggs & Stratton Generator
The good thing is, as with all our other Honda models, you don't actually need many accessories with the EU3000iS to get the job done.
Still, we really wished that the Japanese brand would have added a wheel kit in the package.
We also missed a 12V cable for car battery charging.
Obviously, there's an in-built battery that operates the electric start. You need to keep it charged to keep the electric start functioning smoothly.
As a result, the Honda EU3000iS ended up at the bottom of the chart under this metric.
Our Final Verdict: Honda EU3000iS Generator
Briggs & Stratton Generator
Conclusion: Honda EU3000iS Generator
So we're coming to the end of our Honda EU3000iS review.
Time for the summing up.
If you're looking for the right balance of killer performance and solid power delivery in a sturdy generator, we can safely say this is it.
Actually, we thought of three words that best describe the Honda 3000iS generator.
Reliable.
Efficient.
Quiet.
Coming from a reputed brand, this generator never compromises on quality in any way.
Make no mistake about it, with high-quality components, it's built to last.
Beyond that, the EU3000iS  is versatile enough for safely powering both the heaviest and the lightest of appliances with equal sensitivity.
Also, we had features like the eco throttle, a push-button start, and low oil shutoff that we loved.
Another area where it shines is the excellent fuel efficiency and quiet running that makes it ideal for night-long use at your campsite.
Lastly, even at high power output, the Honda EU3000iS portable inverter generator keeps the noise levels very well controlled.
You have to consider this generator as a long-term investment that will deliver years of dedicated service.
In our experience, the overall performance and the TopNotch Honda reliability make it the Top Pick from our group of the 10 best camping generators.
It's quite simple.
Even with some minor drawbacks, the Honda EU3000iS inverter generator sets a benchmark that's hard for the competitors to reach.
Now, we've done the testing and analysis – you have everything you need to make a very sound decision, so we'll now hand the baton to you to make your choice.