Westinghouse WH2200iXLT Generator: Definitive Review (2023)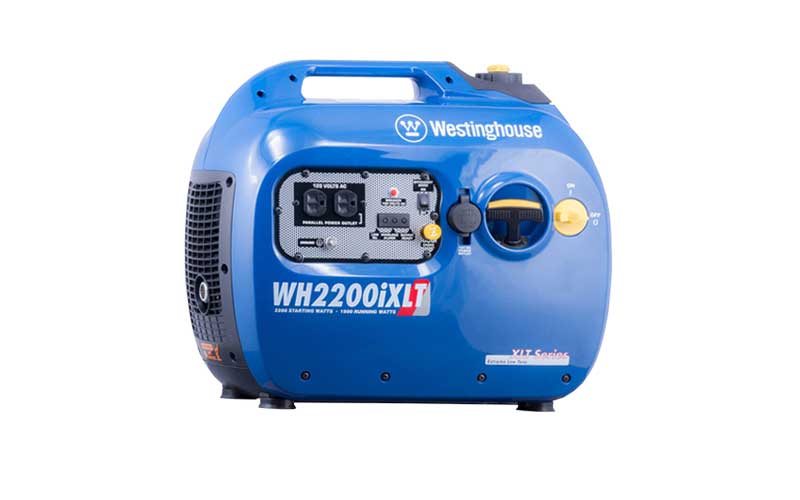 TopNotch Outdoor is independent – we research, test, and rate the top products to help you make the right buying choice. We sometimes use affiliate links and may receive a small commission on your purchase. Learn more…
Here we are with the Ultimate TopNotch Westinghouse wh2200ixlt Review [currentyear}…
In this comprehensive review, we're going to be taking a look at:
Power output;
Ease of use;
A side by side comparison with the top products;
Lots more…
So if you want a lightweight and compact generator that offers good value, you'll love this guide.
Let's get this show on the road…
Manufacturer: Westinghouse
Type : Portable Camping Generator
Power Output : 2200W
Outlets : 1 Duplex 120V 20A (5-20R)
Fuel Type & Capacity : Gasoline/ 1.3 gallon
Bottom Line : A generator which combines superb use of technology and innovative design to deliver great performance
Pros
---
Highly fuel-efficient
Very low distortion
A CARB compliant design
Compact and lightweight
Extremely quiet performance
Equipped with low oil shutoff
Cons
---
Possible durability issues
Higher maintenance than some models
Our Verdict: Westinghouse WH2200iXLT Generator
Our search for the best camping generators ended with the 10 TopNotch Top Picks in this category.
So here's the Westinghouse WH2200iXLT – an inverter generator that's not a chart topper like our Award Winners, but has enough cool features in its kitty to deserve a separate review.
In fact, this Westinghouse proves you don't have to pick the award winners like the Honda EU3000iS or the Yamaha EF2400iSHC to get the best power output.
We found this portable generator combining a decent power output with a lightweight design that's perfect for camping, tailgating, plus a host of other recreational activities.
Moreover, it offers a powerful fuel-efficient engine that's also on the quieter side of the scale.
Also, charging up sensitive electronics isn't an issue
And the best part is – competitive pricing.
To be honest, while the Champion 3800 Watt generator was our Best Value product, the wh2200ixlt wasn't far behind.
Let's suppose you're uncomfortable about investing a lot of money in the top brands – this small but powerful generator can be a great alternative.
Shall we take a closer look at it?
Here we go.
Related: 10 Best Camping Generators
Our Analysis Comparisons and Test Results
For starters, note that the WH2200iXLT achieved the same average scores as the Yamaha EF2400iSHC, – our Editor's Choice product.
Actually, in our standard evaluation process, the individual scores are based on real-life performances.
But the final results depend on the overall reliability and the long-term performances.
This generator didn't emerge as a top choice but one thing's for sure…
The performance indicates that the highly capable wh2200ixlt shouldn't be underestimated.
In reality, Westinghouse may not be an industry leader as such, but this generator has the right features to make it a TopNotch favorite.
So here's a detailed look at it.
Noise Output
As you may know, a noisy generator isn't the TopNotch choice of kit for your camping trip.
This Westinghouse inverter generator does a good job at keeping the noise low.
The lowest noise rating is mentioned as 52 dBA (at 25% load) which guarantees a peaceful sleep.
At the same time, we know that the noise levels increase with power output.
Right?
Noise Output Rating
Briggs & Stratton Generator
So we tested the generator at 50% and 100% of the load to check the actual noise levels.
The good news is…
Only when the output reached near the starting watts of 1800, the portable generator crossed the 60dB mark in the noise meter.
Without a doubt, the Westinghouse is great for campsites with noise restrictions.
Definitely, the noiseless performance of the 4-Stroke OHV Engine plays a big role in keeping the generator on the quieter side.
In addition, the advanced muffler design also reduces the overall noise output.
The wh2200ixlt ended up in the third spot, and that's good enough to get a thumbs up from the TopNotch team.
Power Output
Now, choosing an inverter generator with the right power output to match your needs isn't easy.
I've been there.
But I'll say this…
This generator keeps things pretty well balanced.
Power Output Rating
Briggs & Stratton Generator
The 2200 watts of peak power and 1,800 running watts doesn't make it a powerhouse like the Champion 3800 Watt generator.
Still, it's good enough for running medium-sized refrigerators and sump pumps as well as TV sets and laptops.
What's more, there are two running modes.
The economy mode and normal mode.
The economy mode is good for saving fuel when you need to charge just your smaller appliances.
What about the running time?
The specs state that the run time is 13 hours on a full tank (1. 3 Gallon) when the load is kept at 25%.
But we only believe in the figures we tested ourselves.
So we ran it all night long in one of our campsites at 30% load.
Now, yours truly is an early riser and I found our string of LED lights still on after 9 long hours.
If you find the starting watts to be on the lower side, the wh2200ixlt also allows you to connect two generators with a parallel cord.
Then again, inverter technology ensures that the power output has less than 3% total harmonic distortions. So all your sensitive appliances are totally safe.
To sum up…
If your usage ranges from 1500 to 1800 Watts, this is a great choice with a decent run time.
In case you need higher running watts, the Yamaha EF2400iSHC is another top-class option.
Ease Of Use
To be honest, we didn't expect the Westinghouse to perform as well as the Honda EU3000iS in this metric.
But even so, the overall performance was pretty good.
Firstly, the control panel keeps life simple.
There are three indicator lights to let you know oil levels, overload, and when the generator is ready to deliver.
Ease Of Use Rating
Briggs & Stratton Generator
It's got two Duplex 120V 20A outlets and one DC outlet.
Unfortunately, there's no USB outlet.
The pull-start mechanism is simple to use and it offers almost zero resistance.
Just perfect for older users.
However, we felt the inclusion of a push-button start would have improved it somewhat.
In addition, there's the circuit overload protection.
And finally, you'll find an automatic low oil shut off feature that we loved in the Honda EU3000iS is included.
The instruction manual is nicely designed with all the necessary details.
We liked it.
Point to be added: The main parts like the spark plug, air filter, and carburetor are easily accessible.
So maintenance of the Westinghouse 2200 is quite straightforward.
But there's one more problem – it doesn't come with a fuel gauge so you need to keep tabs on the fuel levels yourself.
Durability
Now, durability is another metric we take very seriously for any outdoor equipment.
To tell you the truth, all the Westinghouse portable generators I've handled were robust models.
Quite simply, this follows the same line.
Durability Rating
Briggs & Stratton Generator
Here's something interesting…
Westinghouse is one of the few American brands that use their own engine in their generators.
The 79cc Westinghouse 4-Stroke OHV engine is a solid performer with minimum noise and low heat generation.
Moreover, the generator is CARB and EPA compliant.
So emissions won't be an issue at all.
Let's not forget, the Westinghouse wh2200iXLT offers 1-year of commercial and 3-years of residential warranty.
So it all adds up to this…
This generator doesn't have the build quality that the Champion 3800 or the Honda EU3000iS boast.
But the overall durability is definitely above average.
Weight & Portability
The truth is, there aren't many inverter generators that offer a great balance of power and weight.
But the Westinghouse wh2200ixlt comes close to it.
With just 43 pounds under its belt, it can be carried around quite easily without the need for wheels.
The WEN 56125i generator, the chart topper in this metric, was the lightest.
But don't forget our wh2200ixlt delivers more power.
Weight & Portability Rating
Briggs & Stratton Generator
What about the dimensions?
The assembled dimensions are 20x18x12.5 inches (LxHxW) – I won't call the 2200 a small generator.
The built-in handle offers a good grip and makes carrying the generator easy.
To put it in a nutshell, the Westinghouse WH2200iXLT generator is a very good choice in terms of portability if 1800 Watts of power is sufficient for you.
Want to cross over the 3500 Watt mark within a limited budget?
The Champion 3800 Watt generator is your best bet.
Accessories
We feel that any value for money product needs to pack some quality accessories with it.
Right?
The sad truth is, this is one metric where all the top brands left us disappointed.
Thankfully, Westinghouse does slightly better with this generator.
Accessories Rating
Briggs & Stratton Generator
In general, most Westinghouse portable generators pack the basic accessories with them and this product was no different.
Apart from the user manual the generator comes with an oil fill container and a small screwdriver.
Frankly, we would have preferred the parallel connection cord too but you will need to purchase that separately.
One good thing is it doesn't need wheels like the big boys in our Top Picks
The fact is, the Champion 3800 Watt generator and the Champion 3400 Watt generator were simply unbeatable in this metric.
Both these generators packed a range of useful accessories.
Our Final Verdict: Westinghouse WH2200iXLT Generator
Briggs & Stratton Generator
Conclusion: Westinghouse WH2200iXLT Generator
So it's time to wrap up this Westinghouse generator review.
The question is, what's the TopNotch team's opinion about it?
Somehow, we felt this is a portable inverter generator that scored good marks but still couldn't quite touch the top ranking products.
But one thing's for sure.
It's a very capable portable inverter generator with a whole lot of necessary features and comes at a pocket-friendly price.
Admittedly, it can't beat our Best Value Champion 3800 Watt generator.
But if your power needs are below 2000 Watts, it's one of the best lightweight inverter generators on the market for delivering clean power to all your sensitive electronics.
Let's not forget it stood toe to toe with the Yamaha EF2400iSHC, our Editor's Choice, in some of the metrics.
The Westinghouse wh2200ixlt is also one of the quietest generators you'll find.
Remarkably, it's as quiet as the Honda EU3000iS and costs so much less.
If only it could have offered the Top-Notch reliability of a Honda or a Yamaha product we could've ranked it higher.
So is it the right choice for you?
Now you have all the information, we'll leave it to you to figure that out.
Related: 10 Best Camping Generators