CORE 10 Person Instant Cabin Tent (With Screen Room): Definitive Review (2023)
TopNotch Outdoor is independent – we research, test, and rate the top products to help you make the right buying choice. We sometimes use affiliate links and may receive a small commission on your purchase. Learn more…
This is the Ultimate TopNotch Review of the Core 10 Person Instant Cabin Tent 2023…
No matter how diligent you are, spring camping always seems to bring at least one pesky mosquito inside your tent.
These buggers can keep you up all night as they buzz around your head and can make the next day miserable too with those lumps and bumps.
How do they do it?
And that's why this model – which is made with an attached screen room – adds another level of protection against bugs and insects.
But it has a host of other useful features as well.
In this comprehensive review we'll cover:
How it stacks up against the competition.
How quickly you'll be able to set it up.
Why it's so comfortable for large families.
Lots more…
So if you want a cabin tent with screen addition, you'll love this instant option.
Let's get started…
Weight: 33.43 lbs
Dimensions:

11.00 x 48.00 x 12.00 in

Color: Multi
Living Capacity: 10
Manufacturer: Core
Bottom Line : The perfect tent for relaxing with your whole family
Pros
---
Screened front area
Good ventilation
Incredibly quick and easy setup
Mesh ceiling great for stargazing
Cons
---
Lots of light coming through the ceiling
Weaker weather and rain resistance
Our Verdict: Core Instant Cabin Tent
The Core 10 Person Instant Cabin tent really is the ultimate option for a relaxing camping trip with the whole family.
It includes a removable divider inside meaning it's actually a two room tent that gives separate parts of your family their own level of privacy.
It requires very minimal setup and breakdown time so you can spend your holiday actually enjoying the Great Outdoors and of course, each other's company.
It's best suited for summer camping in warmer climates and it offers excellent ventilation so you don't overheat on balmy summer nights.
All things considered…
Related: 10 Best 10 Person Tent
Analysis Comparisons and Test Results
Our testing parameters included an evaluation of our comfort level when filling this tent to its recommended capacity, an analysis of the quality of materials used in its construction, timing how long it took us to set it up and break it down, and so much more.
We also compared our results for this tent against other large cabin-style and dome-style tents to bring you an idea of how it stacks up against the competition.
Value for Money
This instant cabin tent with screen room offers tremendous value because you're essentially getting two products in one. It's a tent and it's also a huge screen room.
So if the insects are really bothering you on a hot day, you can get away in the screen room without going all the way into the heat of the tent itself.
Value for Money Rating
CORE 10 Person Instant Cabin Tent
As outdoor enthusiasts…
It's always hard for us to pass up two-for-one deals because we know how much value they represent when you're camping.
The Core 10 Person Instant cabin also represents great value amongst the best large tents for summer camping because amongst other things, it offers excellent ventilation.
This is just so important when you're lying in close proximity to nine other people on a really warm evening.
For another large tent with great ventilation, check out our Best Value Choice, the Core 10 Person Straight Wall Tent.
Ease of Use
True to its name…
This 10 person 'instant' cabin is advertised to be set up in two minutes or less!
The frame comes pre-attached for easier setup and we found that two people with camping experience can definitely achieve the setup in the advertised time frame.
Ease of Use Rating
CORE 10 Person Instant Cabin Tent
The telescoping poles simply unfold and extend before locking in place. And then it's just a matter of throwing on the rain fly and the additional front poles for the screen room.
That being said…
Be aware that it might take you a bit longer on the first try and, although you might think it should be, this is not a freestanding tent. 
We would always recommend to do a dry run in the backyard before taking it out.
The main body would be freestanding if it weren't for the attached screen room. But because of the full tent with screen room design, it must be carefully staked down to give it a solid, stable structure.
And…
…if you think it might get a little windy during the night, make sure to tighten and stake down the guy lines that come off the front of the screen room.
Durability & Workmanship
One reason we moved it down on our rankings for durability and workmanship is simply because we had difficulty finding the exact specifications for the materials and methods used in its construction.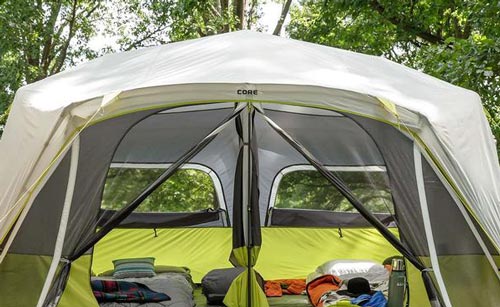 Durability & Workmanship Rating
CORE 10 Person Instant Cabin Tent
But…
Using our knowledge of things to look for when buying a new tent, we can say with reasonable certainty that the rain fly and walls of this tent were most likely 68D polyester.
We reckon the manufacturer used polyethylene in the floor construction, which should be waterproof.
Again, we always recommend you treat your new tent to a good waterproof treatment before you take it out.
Tents at this price point usually feature fiberglass poles, so we won't be going out on too much of a limb when we suggest it was the pole material used on this tent.
And lastly…
The mesh material on the windows and doors is all double-layered for added durability while still giving this tent excellent ventilation.
If you are looking for a more durable option, however, check out the NTK Arizona GT.
Weather Resistance
Despite the advertised benefits of Core H20 Block Technology, we still found this is best suited for summer camping in mild weather.
The lack of a full coverage rain fly is always a red flag in our experience because, seriously, how often does rain fall from straight above you in the sky?
Weather Resistance Rating
CORE 10 Person Instant Cabin Tent
Hardly ever.
And also…
Because it's a cabin tent with a screen, there's a large exposed mesh area on the front of the tent where water can fall or leak in.
So…
If you're looking for a more weather-resistant large tent, we recommend the Coleman Weather Master.
Comfort
When it comes to comfort…
Most Core tents have the calling card of excellent ventilation and this guy is no exception.
There are two large mesh floor vents on either side and a total of four windows for cross ventilation.
Comfort Rating
CORE 10 Person Instant Cabin Tent
As a tent with a screen room, the doors on the front can also serve as windows on super hot nights because you'll be able to enclose the entire structure using the zippers on the screen itself.
With a 14.5 x 14 foot floor plan, there's a total of 203 square feet of space inside for everyone to spread out. This equates to roughly 20.3 square feet per person if you fill it to its 10 person capacity.
Additionally…
There are multiple storage pockets inside the tent so that each person has a place to put his or her valuables overnight.
And there's also an E-cable port that allows you to keep a solar charger or battery bank secure inside the tent and still connect to your devices when you're lounging around the campsite.
Our Final Verdict: CORE 10 Person Instant Cabin Tent (With Screen Room)
All in all…
There are other options for a cabin tent with screen room out there, but few of them compare to this model.
The ease and convenience of setting it up combined with the fact that you get a third screened-in room to go along with its huge interior dimensions makes this our clear cut choice amongst cabin tents with an attached screened-in section.
Our Final Verdict Rating
CORE 10 Person Instant Cabin Tent
Conclusion

: CORE 10 Person Instant Cabin Tent
You'll truly struggle to find a 10 person instant cabin tent that represents better value than this one.
The fact that you basically get a two-for-one and there's enough space for the entire family is reason alone to add this tent to your car camping setup.
And then…
Throw in the fact that the removable divider allows you to create two private rooms if you're camping with two families and you'll understand why this is our choice for the Best 10 Person Instant Tent With Rooms 2023.
Here we are at the end, we've done the hard work and now we pass the baton to you to make your choice.
Other Versions: CORE Cabin Tents
If you're interested in other tents with screen room…
Check out these similar models: