10 Best Tube Tents:
Definitive Review (Buyer's Guide) (2023)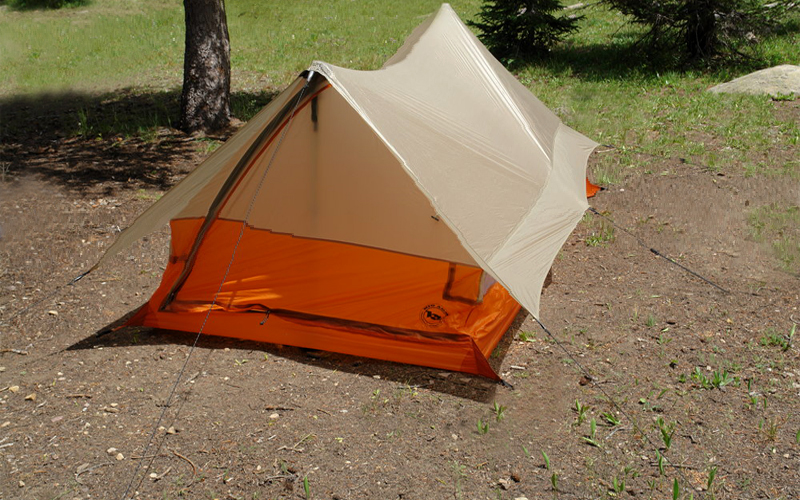 TopNotch Outdoor is independent – we research, test, and rate the top products to help you make the right buying choice. We sometimes use affiliate links and may receive a small commission on your purchase. Learn more…
We're here with the Ultimate TopNotch guide to The Best Tube Tents (Emergency Tents) for 2023.
Are you concerned about safety on your next camping trip?
Then, you've come to the right place.
An emergency tube tent definitely isn't a luxury – it's a key piece of safety equipment you can take along with you on your outdoor adventure, so I'll start there.
I stumbled upon Tube Tents quite by accident when I was researching safety around Tent Stoves.
Turns out, some outdoor enthusiasts keep a tube tent and other emergency supplies outside their tents in case their tent burns down while they're sleeping. Great thinking…
As a mother who would rather err on the side of caution, anyone who wants to come camping with me has to prove they have the right emergency gear to add to our inventory.
What about our other TopNotch Reasons to carry along a tube tent?
You'll appreciate one if you need to camp while your RV's in the shop
Occasionally you'll come across a campground which requires you to have a tent – Vandwellers beware!
Security – If you're a lone traveler you may want to set one up as a decoy to your real camp
What if – as a Van Dweller – you pitch up at the perfect camping place – but you need to go away for a couple of days? (or even just an hour to do the shopping) – you can use your Tube Tent to hold your campsite – you'll never lose that perfect spot
You're here to find out which tube tent will best serve your purpose.
But First… let's learn the definition of a tube tent.
In short, a tube tent is a shelter designed to increase your chance of survival during an emergency.
But here at TopNotch, we know they can be useful for so many other things.
In our review you'll learn about:
Why you should always carry an emergency shelter
Other surprising and smart applications for your tube tent
Things to look out for
Much more…
We took our selection of the ten best tube tents along with us on a group fishing trip to Lake Michigan where we were joined by some of our friends and family for an outrageous few days. I also tested one on a duo backpacking trip with my other half, and one went on a Scout Jamboree weekend.
All going to prove that you don't need an emergency to make use of one of these tents – they are incredibly versatile and a great addition to anyone's camping arsenal.
We saw such variety in terms of how these tents performed against our preset metrics – stay with us and we'll walk you through the details.
Now you know that much… let's get started:
I've done extensive research and whittled it down to 10 of the best tube tents on the market.
Each has a defining feature that sets it apart.
Our tube tent recommendations will help you make a great choice using the feature (or features) most important to you.
That's not all…
Check out our full Buyers Guide to help you know what to look for when choosing the best tube tent.
I've also listed some Frequently Asked Questions (and answers!) a little later on.
Best Tube Tents
Manufacturer: Ultimate Survival Technique (UST)
Capacity: 1 person sleeping tent & overhead shelter for small group
Dimensions: 39"  x 84"  x 35"
Material: Plastic/ Aluminized on one side
Weight: 1.9 lbs
Bottom Line : The most versatile tube tent on our  list
Pros
---
Strong and durable. Able to weather tough conditions
Versatile – can be used as a tent or tarp
Ultra lightweight
Cons
---
Could have better seam sealing
From the outset, the UST Tarp and Camping Shelter has been our pick for Editors Choice for its strength and versatility.
From the moment we pulled it out on the campsite in Lake Tahoe, we could see and feel the quality of the fabric compared to some of the others we took along…
The UST is a flame-retardant emergency tube tent with rope.
You can pitch it close to a fire on cold nights.
Its aluminized side provides thermal insulation and like other metallic materials, it works well for reflectivity and signaling.
The best part?
The UST is one of the most versatile shelters on the market. You can pitch it as a one-person tent, unzip the ridgeline to use its full width as an overhead all-weather tarp or create different styled ground shelters.
There's no limit to the set up options.
For example, while we were fishing, it began to rain. (A tent testers idea of heaven!).
We set up the UST like a rigid letter "C" so we had part of the material to sit on, the back ran up to shelter our backs and the overhead was held in place with tarp clips on two sticks and held down with guylines.
AMAZING…
Four of us squeezed into the shelter and remained drier than we expected.
Back at the campsite, whenever it rained (and it did more than once on that trip) we used the UST as an overhead shelter so we could remain together instead of having everyone in their individual tents.
Read Full Review: UST Tube Tarp
Best Plastic Tube Tent
2 – LYN Camping Tube Tent

Manufacturer: LYN
Capacity: 1
Dimensions: 82" x 36" x 36"
Material: Plastic
Weight: 1.6 lbs
Bottom Line : Great quality tent well worth the asking price
Pros
---
Dual zipper door
Made of fireproof material
The inner lining has a heat reflector
Also an emergency tube tent with a rope, the LYN is made from fire-retardant and waterproof material.
It's best used during colder temperatures because of its inner heat reflective material.
That's not all:
If you like a tube tent with doors, this is a great choice. This tube tent is closed on one end with single door entry.
The door has dual zippers so you can open and close it from the inside or outside.
And lastly, when it comes to ease of set up, I like that the LYN has a neat opening at the top of the tent that you can run a paracord through.
It doesn't get in the way of the door and there's less chance of the tent sliding off the cord.
It's amazing value for the asking price and makes our list of best tube tents at the same time as gaining our TopNotch Best Value Award.
Read Full Review: LYN Camping Tube
Best Emergency Tube Tent
3 – Delmera Emergency Survival Tent

Manufacturer: Delmera
Capacity: 2
Dimensions: 8' x 5'
Material: Mylar
Weight: 9.6 oz
Bottom Line : Surprisingly strong for a product packaged extremely small and beautifully portable
Pros
---
Large and ultra-lightweight
Strong, flexible and tear-resistant mylar
Cons
---
Interior condensation build-up
When it comes to finding a tube tent survival shelter, the least of your worries is comfort. So while the Delmera ranks low in lavish living, it does rank high with us for helping you survive some worst-case scenarios.
Here's the lowdown:
This mylar tube tent houses two people.
The surprising thing is you can hold the package comfortably in the palm of your hand as it weighs only 9.6 ounces and comes tightly compacted in a small stuff sack.
So chuck a few of these in your bag, and even a large group of campers can have the emergency shelter they need.
I was grateful to find out that the Delmera has sealed seams.
This only enhances its already waterproof and windproof features.
Apart from condensation build-up, it should serve its purpose well, and for its sheer weight (or lack of it) and portability we awarded it our TopNotch Top Pick.
Read Full Review: Delmera Emergency Survival Tent
Best Survival Tent
4 – Bearhard Emergency Tube Tent
Manufacturer: Bearhard
Capacity: 2
Dimensions: 95" X 43"
Material: Polyester
Weight: 12 oz
Bottom Line : Reliable in an emergency
Pros
---
Very lightweight and comes with an emergency whistle
Made of strong polyester
Sealed seams
Cons
---
Not easy to fold back into the pouch
Emergency survival gear should be light, easy to set up, and most importantly, increase your chances of survival.
That's why the Bearhard is our pick for the best survival tent in our top 10.
Here's the deal:
In the stuff pack, you'll find a paracord, four stakes, an emergency whistle, a carabiner, and two metal clips.
It's made of Polyester which is a material that endures under exposure to oils, solvents, and other chemicals.
Polyester is also stronger than vinyl because it has greater resistance to tears.
It's proven to reflect an awesome 90%-93% of body heat.
That should keep you safe from hypothermia. Additionally, the silver color on the inside is good for attracting attention and the outer brown side is perfect for camouflage
The brand itself was created by an outdoor enthusiast.
And finally…
Two things I always advise other outdoor enthusiasts about emergency tents:
Not to go out without one. Better safe than sorry.
No matter how durable manufacturers claim their products to be, remember they are made for much more limited use than other much more durable camping gear.
So don't worry too much if you only use it once or twice and replace it soon after – that's the nature of the beast.
Read Full Review: Bearhard Emergency Tube Tent
Best Tube Tent With Doors
5 – SE Emergency Tube Tent
Manufacturer: SE
Capacity: 1
Dimensions: 82″ x 36″
Material: Aluminum
Weight: 1.6 lbs
Bottom Line : Simple and reliable shelter as part of a first response kit in an emergency
Pros
---
Good heat retention
Well built
Strong enough to be used more than once
Cons
---
Short door laces
A lot of condensation build-up
Most Survival Tents don't come with doors.
They usually have two entry/exit points – one at each end.
Our SE Emergency Outdoor Tube Tent is the exception to this rule.
The SE doors consist of two flaps held together with short laces. I would prefer them longer and if we make enough noise over it, the manufacturers just might add a few extra inches to the ties.
But do they serve their purpose?
Absolutely! The ties hold firmly and keep the draft out.
In fact, if you're not claustrophobic, with the doors closed and the heat reflector doing its job, you should be very snug on a cold night.
One last thing
Condensation build-up can be a problem with many emergency shelters, so I'd suggest putting something underneath your covers (or yourself) to keep from getting uncomfortable.
But other than that the SE comes with a cord and corner pegs and is super easy to set up.
Read Full Review: SE Emergency Tube Tent
 Best Heavy-Duty Tube Tent
6 – Texsport Tent Willowbend Trail 01904
Manufacturer: Texsport
Capacity: 2
Dimensions: 84" x 54" x 38"
Material: Polyurethane
Weight: 3.6 lbs
Bottom Line : Much more durable than other one-sheet tube tents
Pros
---
Window for ventilation
Strong and reusable
Great room space
Cons
---
Can have a depression on the ceiling that you need to tighten
Many emergency tube tents are marketed as all-weather and that they can withstand the toughest conditions.
While many live up to the promise of basic survival, there are only very few that I would describe as truly heavy-duty.
So a thin tent made from mylar or aluminum just won't make the cut.
So which will do?
The Texsport Willowbend Trail is our choice for the best heavy-duty tent you can use both as a normal camping tent or save for an emergency.
It has room to house you and your gear (or one other person) and is cheaper and lighter than an average tent of the same size
But wait, that's not all…
You'll find that the Texsport has a thicker, stronger floor than other tents. It comes in handy when you're stuck in the rain.
It is also super easy to set up even if it's a little dark.
But as with other tents, avoid overstretching the corners to hold it down.
Read Full Review: Texsport Tent
Best Camouflage Tube Tent
7 – Geertop Tent Ultralight Compact Single Waterproof Bivy II (1 Person)
Manufacturer: Geertop
Capacity: 1
Dimensions: Floor size:7 ft 7 in x 2 ft 6 in / Height: 24 inches
Material: Polyester
Weight: 2.5 lbs
Bottom Line : Fair price for a quality camouflage tent
Pros
---
Light weight
Fast set up
Good legroom for one person
Cons
---
Doesn't have the best waterproof zippers
It's a good idea that you opt for a tent in camo colors when you're out on a hunting trip or backpacking on the trail and want to blend in with the environment.
Thankfully, there are tube tents in camouflage colors, whether that's just your cup of tea or you really need to remain completely inconspicuous.
The Geertop Ultralight makes it into our top spot for the best camouflage tube tent for camping.
Why?…
For one thing, it really does live up to its name of being "ultralight".
At 2.5 pounds, it's about as heavy as 2 cans of baked beans; it'll hardly make a difference to the overall weight of your camping gear.
That's why I was happy when my son picked it out as his tent of choice before I sent him off to his Scouts Jamboree.
I'm not a chiropractor, but I know enough to not to put too much weight on a child's back.
He loved the Geertop best for its camouflage, and said that he and his buddies had ample space.
You don't always need an emergency to pull out one of these tents – they're incredibly versatile for use at home or as a simple shelter too.
Secondly and best of all…
This is a 3 season option – with a waterproof rating of 5000HH for the outer ceiling and 8000HH for the floor.
What does that mean?
Tentmaking gurus will tell you that this means that the Geertop will endure 5 meters of water bearing down on it before it starts to leak.
Furthermore, the floor can endure the pressure of 8 meters of rain before it starts to take in water. (You can read more about waterproof ratings in our TopNotch Buyers Guide).
Nevertheless, if you want to give yourself that extra assurance, you can always treat your new Geertop with a waterproof silicone spray and sleep under a bit of shelter from a leafy tree or shrub.
And that's not all…
The Geertop Bivy II is large enough to fit a 6ft man comfortably, it has internal storage pockets for things like a pocket knife, phones, keys, and whistle, and it has 2 ventilation windows to ensure you get fresh air.
Read Full Review: Geertop Tent
 Best 2 Person Tube Tent
8 – Go Time Gear Life Tent Emergency Shelter
Manufacturer: Go Time
Capacity: 2
Dimensions: 3.6" x 3.6" x 6.3"
Material: Mylar
Weight: 8.7 oz
Bottom Line : Great first responder to a two-person emergency
Pros
---
The stuff sack is large enough to pack other items in
Easy setup
Cons
---
Can only accommodate a single person as a blanket/sleeping bag
Difficult to repack
Ultra-lightweight, fast and simple to set up, and weathers the toughest conditions well. It's easy to see why the Gear Top Life Tent Emergency Shelter for 2 is our pick for a camping tube tent built for two.
But wait, there's more…
This emergency tube tent comes in a stuff sack that compacts everything together for easier storage and repackaging. In the stuff sack, you'll also find your paracord drawstring and a survival whistle that the makers swear cut through wind and trees to get the attention you need.
The Gear Top comes in two colors; green and orange. But in an emergency, you want to stick out like a sore thumb and not blend in, so if I were you, I'd go with orange.
But the real question is…
How does this emergency tube tent protect me from the elements?
Well, the outside is made out of strong polyethylene which keeps you dry from the rain and snow, as well as sheltered from the wind. The reflective interior reflects up to 90% of your body heat. So with two people in there, you'll either appreciate the extra heating or become hot and bothered on sultry nights.
However, while it can be used as a sleeping bag, you will have a harder time working out sleeping arrangements for two.
All in all, this is a good emergency tent. Nothing more. Nothing less.
Read Full Review: Go Time Gear Life Tent
 Best Thermal Insulated Tube Tent
9 – Go Time Gear Life Tent Emergency Shelter
Manufacturer: Back 40 Outfitters
Capacity: 2
Dimensions: 62" x 92" x 46"
Material: Plastic (Mylar)
Weight: 1.2 lbs
Bottom Line : Emergency tube tent designed to prioritize heat retention
Pros
---
Strong paracord that can be used for crossing rivers and tying down gear
Comes with handy carabiner clips
Cons
---
Relatively unknown in the market so is yet to stand the test of time
Ok, I have to be brutally honest with you.
The first thing you need to know is that a survival tube tent won't come insulated in the truest sense of the word.
But wait…
Here's the thing. A lot of campers look for emergency tents that can retain heat and end up thinking that insulation and heat reflection are the same things.
But they're not.
The difference?
Well, the principle of insulation is creating a barrier between two materials to reduce the transfer of heat from one material to the other.
Tents that have insulation are much bulkier If you want to DIY your insulation, you have to take more with you on your outdoor adventure (not practical in an emergency obviously).
Heat reflection – also known as thermal insulation – on the other hand, is the process when a material like aluminum on the inside reflects your body heat back to you.
And because there's no need for two separate materials involved in the tent makeup, it's lighter and therefore better for emergency use or backpacking.
And that's why…
Our pick for best thermal insulated tent is the Back 40.
It already comes in a stuff pack for easier repacking (I hate testing tents that come in plastic packaging because I know I'll have to find something to store it in).
Very similar to the Go Time Gear Life, the Back 40 is built for two occupants as a shelter and one-person use as an emergency blanket. It reflects 90% of body heat to keep you warm, has a striking color on the outside to call attention to you, and it comes with a whistle.
Read Full Review: Back 40 Emergency Tent
Best Winter Survival Tent
10 – ALPS Mountaineering Tasmanian 2-Person Tent
Manufacturer: ALPS Mountaineering
Capacity: 2
Dimensions: 62" x 92" x 46"
Material: Polyester
Weight: 7.9 lbs
Bottom Line : A sturdy and reliable product that's worth every dime
Pros
---
Sealed seams and good workmanship make it leak proof.
Walls have mashed pockets to hold items
High quality pole stems
Cons
---
Heavier than other tents. Takes a bit more effort to re-pack
If you know you'll likely be meeting snow outdoors, this is the emergency tent for you.
Some use this as their main tent, but I personally feel this would make a great addition to your emergency kit.
Because in bad weather – you don't want to take any chances.
For starters:
Apart from the impeccable design and features, I'll explain in a minute, what I love most about the ALPS Mountaineering Tasmanian are the people behind the brand.
ALPS has been a leading manufacturer in performance-driven outdoor products for over two decades.
They believe good quality doesn't have to mean excessive price tags.
And as they expand their product range, they continually work hard to sharpen their craftsmanship so people like us can enjoy quality products that are free from defects.
(No they are not paying me to say this).
My mantra is, If you can trust the people behind the brand, you can trust the brand.
What else makes this tube tent so amazing?
As a 4 seasons tent with room enough for two adults, the ALPS Mountaineering Tasmanian is designed to withstand adverse conditions from high winds, snow loads, and harsh winters.
It's for this reason my husband and I decided to make it our main tent on a fun but challenging testing trip to the Rocky Mountain National Park.
It's one of the perks of my job – I get to test really incredible quality gear like the Tasmanian, and I can call it work.
Happy Days.
We survived 2 nights on mac and cheese, beef jerky and baked beans.
We enjoyed it so much – the snow was falling hard outside – the tent was rock solid and cozy – not just a great option in an emergency but a small and mighty beast for duo backpacking trips.
A great experience.
There's more:
We can vouch for this tent to keep you dry in rain or snow. Remember how I mentioned tent waterproof ratings?
Well even if a tent has a higher Hydrostatic Head (HH) rating, this doesn't necessarily mean it won't leak in places like zips, windows and seams.
But the ALPS Mountaineering Tasmanian has great quality zips and buckles that keep the wet and cold out and give you that extra security and comfort.
You can use this tube tent to seek shelter from temperatures that range from 90 Degrees to -50 Degrees.
Awesome.
Granted it's on the bulky side when it comes to re-packing, but we absolutely loved it when we tested it.
Read Full Review: ALPS Mountaineering Tasmanian 2 Review
Why Trust Us?
Although a city sleeker by necessity, I'm a country bumpkin at heart who's had my fair share of outdoor survival stories.
From camping when my tent doors were blown away by strong winds to fixing camp kitchens battered by torrential rain to using solar lights, kerosene lanterns, and dive torches to light up campgrounds with no electricity.
I know what it means to live rough but survive and have an adventure at the same time.
Once when I was a substitute Preschool teacher I was posted to a mountainous rural community.
I learned how to survive on rainwater, river water, and well water for everything from bathing, cooking, drinking and the rest. When I ran out of cooking gas, I collected firewood and made a tripod pot seat from three rocks to start a fire for cooking.
That's still a hilariously fond memory for me.
As a PreSchool teacher and Scout Leader, I organized many Camps during school breaks for children.
It isn't the easiest of endeavors, but certainly one of the most rewarding.
Now as a mother, my paramount concern is for the safety of my family in any environment (and that's the main concern when I'm reviewing products).
Buyers Guide:
How To Choose The Best Tube Tent
Features To Look Out For
Check The Hydrostatic Head
The Hydrostatic Head or HH is the method used to test a fabric's waterproof rating. It measures the water pressure applied to a material before it starts to leak.
At the point of leaking, the vertical column of liquid is measured.
For example, a rating of 3000mm implies your tent fabric can take a column of water measuring 3m high before leaking.
Good Stitching & Sealed Seams
You're probably surprised this would even make the list but a tent that's been stitched well will mean the difference between singing in the rain or screaming in the rain, despite the HH rating of your waterproof tent.
Check the product description to see whether the seams are sealed.
Ease Of Set-Up
Familiarity with your equipment is vital.
But with that being said, some tube tents are just harder to set up than others.
If you're heading out with young children, consider taking along a tube tent you're familiar with and have tested in the backyard.
Remember, you can't afford to waste time in an emergency.
Tent Capacity
While tube tents are generally designed to be small and lightweight, consider your camping party.
If you're a parent or adult traveling with very young children, it's only natural to want to keep them by your side at all times.
For this reason, you should consider purchasing a larger tent or a two-person tent that can accommodate an adult and child together for example.
Product And Specifications Explained
These are things to consider before heading out…
Consider your camping party and ask yourself these important questions:
How many children are going on this trip?
Are there also elderly people going?
What allergies do we have in our group?
What are some mishaps that might occur?
If we lose our main shelter, will my tube tent(s) provide the shelter we need?
Do I have all the emergency equipment I need?
Have I tested my gear to ensure it all works?
Once you've answered these, get your gear together.
Remember where everything is kept.
You may want to list who you've assigned specific gear to.
In the event of an emergency consider the following:
Do not panic
Take care of the most vulnerable first (children and the elderly)
Try to maintain a position where you can easily be seen by rescuers
Consider your location. Most tube tents need to be pitched between two trees. This is not a good idea if there's lightning. Look at any EMPTY caves you can take cover in.
Be gentle and steady with your emergency tent. You don't want to worsen your situation by damaging your gear.
Jargon Buster
Fire Retardant:
If a tent is said to be fire retardant it means it's coated with a substance that delays combustion.
HH:
Means Hydrostatic Head. It comes from the test that tent manufacturers use to determine a tent's water resistance. The higher the hydrostatic head, the more water-resistant it is
Mylar:
A strong, heat-resistant and lightweight plastic used in many emergency tube tents
PU:
Polyurethane. This is a protective coating used on tents made of polyester fabric to close the gaps between threads.
Sil:
Silicone. This is the protective coating used on nylon tents to close the gaps between threads.
TopNotch Top Tips
Always test your emergency equipment before going on an extended trip outdoors.
If you're skeptical about a tube tent's waterproof rating, take a silicone waterproof spray with you for extra fortification.
Watch out for your tent insulation needs, you may have to deal with annoying condensation that can lead to mildew buildup – not nice! To avoid getting uncomfortably wet, make sure you're getting enough air in. If not, spread something between you and the surface of the tent and stay away from the walls.
Put a groundsheet down (from the inside or outside) for extra warmth and padding.
Get a tube tent that has a striking attention-grabbing color so the emergency services can find you easier.
Always carry an emergency tube tent and other emergency equipment with you when you head to our beautiful Great Outdoors.
Frequently Asked Questions (FAQs)
Q: How Many Times Can I Use A Tube Tent After Its First Use?
A: This really depends on factors that you're really not in control of. Most tube tents, although somewhat durable, are really designed for one-time use.
However, if you're using a tube tent in the middle of strong winds and a heavy downpour, then the chances are it won't be in as good a condition as someone who used theirs on a sultry summer night.
Consider handling it with care when setting it up and when storing it away. Gentleness can go a long way.
And lastly, make sure that it's dry before you pack it away, it helps reduce damage and mildew build up.
 
Q: How Can I Safeguard My Tube Tent From Leaks?
 
A:  Tube Tents are not designed per se to be sturdier or more comfortable than normal tents. One of the major concerns is its ability to keep you adequately sheltered from wet weather.
If you are overly concerned about this, you can do the following:
– Carry with you sealing and repair tape like Tenacious Tape
– Take a fabric protector with you like Dertrapel
– And you can also pack a spare waterproof groundsheet like the REDCAMP Waterproof Camping Tarp
 
Q: Where Should I Set Up My Tube Tent?
A:  Most tube tents come with paracords or guy lines. So in most cases, you'll need to set up your tube tent between two trees or sturdy objects to tie both ends of your rope to.
You'll also need to consider the weather and the waterproof rating of your tube tent. If there's a good chance of getting wet, you may need to pitch your tent under a leafy tree or the leeward side of a mountain during strong wind.
You can fortify it even further by putting a tarp over it or beneath it as needed.
Round-Up
There you have it. You are now equipped with all the knowledge you need to buy your emergency equipment – in this case, it's tube tents.
Now:
We've rummaged through all the noisy information out there, to give you our TopNotch stamp of approval on the 10 best tube tents so you can buy in confidence.
We've even included links to our Top 3 picks at the beginning and end of the review, to save you the energy scrolling through.
And the results of the tests are listed in the next section where we give you comparisons of the various products.
Our Analysis, Comparisons & Test Results
We tested the performance of 10 best tents against 5 variables we thought were the most important when deciding which are worth the investment.
So let's get started and see how they measure up against each other.
If you're wondering where these ratings come from, they correspond to the individual product charts above.
Value For Money
Don't you just hate a bad deal?
We do too.
Some products are just not worth the asking price.
Then there are others that live up to and go beyond expectations.
This metric was rated according to the tube tents' overall performance and features against its monetary value.
Value For Money Rating: Best Tube Tents
ALPS Mountaineering Tasmanian
Go Time Gear Life Tent Emergency Shelter
Bearhard Emergency Tube Tent
Delmera Emergency Survival Tent
Ease Of Use
Ease of use is the top priority when it comes to choosing the best tube tent.
You don't want to worsen an emergency situation by wasting the limited time you have trying to figure out how to use your tube tent.
We tested how easy/hard it was to read and understand the product instructions.
Ease Of Use Rating : Best Tube Tents
Delmera Emergency Survival Tent
Go Time Gear Life Tent Emergency Shelter
Bearhard Emergency Tube Tent
ALPS Mountaineering Tasmanian
We tested how easy/hard it was to follow these instructions in practice.
And we tested how long it took to be satisfied with the set-up results.
Weather Resistance
It's not too much to ask that ANY outdoor gear ranks high in weather resistance.
And when it comes to emergency tube tents, our expectations are higher.
We tested the top 10 against rain, strong wind, humidity, extreme cold and snow.
We expect that if a product claims to be weather resistant, it should live up to that claim.
Weather Resistance Rating : Best Tube Tents
ALPS Mountaineering Tasmanian
Bearhard Emergency Tube Tent
Delmera Emergency Survival Tent
Go Time Gear Life Tent Emergency Shelter
Durability
This metric correlates a lot to value for money.
Emergency Tube Tents are usually for one time use only.
So when we come across those strong enough to last, we know it's money well spent.
Our durability tests are rough.
They consist of stretches, squashes, pulls, wind and water tests.
Here are our results…
Durability Rating : Best Tube Tents
ALPS Mountaineering Tasmanian
Bearhard Emergency Tube Tent
Delmera Emergency Survival Tent
Go Time Gear Life Tent Emergency Shelter
Pack Size
Emergency Tube Tents shouldn't take up too much space.
In this next metric, we tested how well it was packaged on arrival, how portable it was and how easy it was to store away.
Packed Size Rating : Best Tube Tents
Bearhard Emergency Tube Tent
Delmera Emergency Survival Tent
ALPS Mountaineering Tasmanian
Go Time Gear Life Tent Emergency Shelter
Our Final Verdict: Best Tube Tents
And here we are! We finally made it.
You've stuck through until the end and know how've we've tested these tube tents out in the great outdoors or in our own backyards.
 Brilliant.
Now you know a little more about emergency tube tents than when you started, especially the 10 best examples on the market.
That's not all
And you have our Buyers Guide so you know exactly what to look for.
Here's the final verdict on the 10 best tube tents.
See how they stacked up against each other side by side.
ALPS Mountaineering Tasmanian
Bearhard Emergency Tube Tent
Delmera Emergency Survival Tent
Go Time Gear Life Tent Emergency Shelter
Conclusion: Best Tube Tents
No matter what outdoor adventure you embark on, you need to prepare yourself in the event of an emergency.
A good place to start is with an emergency tube tent.
An emergency tent will not be the single most expensive item in your camping outfit, but it may be the most important during an emergency.
And it's always advisable to keep one on hand in case you and your camping party come to need it.
Our list has all the features to look out for so that you can make an informed purchase.
We've made our choice – now we pass the baton to you.
We wish you happy and very safe adventures!