10 Best Inflatable Tents (Airbeam) Tents (2023)
Definitive Review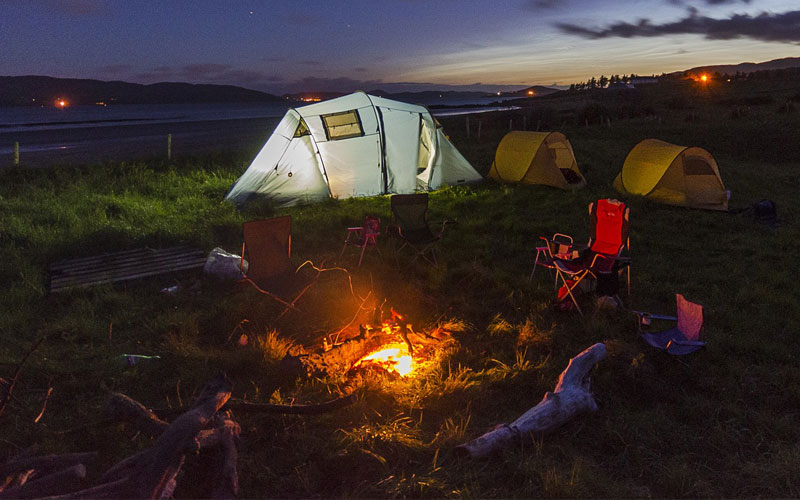 TopNotch Outdoor is independent – we research, test, and rate the top products to help you make the right buying choice. We sometimes use affiliate links and may receive a small commission on your purchase. Learn more…
This is the Ultimate TopNotch [UPDATED] Inflatable Tent Review for 2023.
Inflatable tents are relatively new on the scene, but if you buy right, they can be a breath of fresh air (literally!) whether you're a seasoned, casual, or brand new camper.
Think about it – a 5 minute set up time and no stubborn poles to grapple with – just easy to inflate Airbeam Technology.
The dream.
In our TopNotch review, we'll be covering:
Exactly what features you need to look for in your first (or next!) Inflatable Tent
Detailed pros and cons of inflatable versus traditional tents
Side by side comparisons of different aspects of the top air tents for sale, as well as notes on the price tags that come with them
Features and Tips in our comprehensive Buyers Guide
Lots more…
After much discussion amongst the team here at TopNotch, we decided on 5 metrics we believe are 'key' to selecting the very best inflatable tent – we took an in-depth view and ranked each of our top tents.
The metrics we chose were:
Ease of Set-Up
Comfort
Weather Resistance
Durability
Versatility
Finally, we combined the scores and ranked all the tents to show how they stacked up against each other.
The truth is…
…different tents suit different people, their needs and their ideal camping experience.
Understanding the different options before you buy an inflatable tent will mean you get many great outdoor adventures with your brand new airbeam tent, and if you follow our advice, you won't break the bank either.
Double Whammy. 
This is especially true when it comes to blow up inflatable tents.
Campers shelling out for these are obviously willing to spend the extra money, but does throwing more money at it actually improve the quality of the experience?
Given that inflatable tents are relative newcomers to the camping field, many folks still see them as a sort of novelty buy and are hesitant to buy one.
Understandable. We were the same.
The good news is – we fully researched 25 of the best models on the market today. We honed them down to our favorite ten, which we tested both at home and out on the trail.
As ever, we had a ball.
And we got paid for it!
Several of our choices exceeded even our lofty expectations.
We're an army of field specialists here at TopNotch – we've come from all walks of life and we love testing out gear, finding the perfect tent for every occasion.
We had 'what if it pops?', 'I can just see it coming down around us'… you can imagine… but, some of these tents managed to both surprise and delight us…
Our scoring system was based on ten points for each metric – in the end, we combined all the individual scores into one final score, to give you a better idea of the tent's overall performance.
However, as avid campers ourselves, we know there's a lot more going into air tents than meets the eye – you also need to find one with the right dimensions, weight, and capacity for you and your friends.
Hence, we've included all these details, too.
Finally, we'll round out our review with a list of pros and cons, details of the tent's manufacturer, and a summary of our experience when we tested the tent.
Ready to make a start?
Away we go….
Best Inflatable Camping Tent
1 – Vango Odyssey Inflatable Airbeam 600

Manufacturer: Vango
Capacity: 6 people, 8 people
Dimensions: 07 x 149.61"
Seasons: n/k
Weight: 44lbs
Bottom Line: An excellent tent for family outings and a comfortable camping experience in all weather
Pros
---
Very easy setup
Huge floor capacity
Good weather resistance
Innovative design
When considering blow up tents, the Vango Odyssey Inflatable Family Tunnel Tent, Airbeam 600 is an all-around excellent choice for just about anyone.
Hence, it has the TopNotch Editor's Choice Award – we loved it!
Though a bit smaller than the Vango Odyssey Air 800 tent, after a couple of field trials, we were really blown away at how well this tent stood up in all weather – snow, wind, rain; you name it!
At the end of the day, the only area where this tent suffers is its portability: you won't be taking this Vango on any long hiking trips, and it does need the internal pump to inflate.
If portable's what you're looking for, check out the Vango Santo 400 Air Tent.
Otherwise, this is an excellent Vango airbeam tent for family outings, whether you're going to Yellowstone or Alaska, Yosemite, or New Jersey.
Read Full Review: Vango Airbeam Tent Review
Best Value Blow Up Inflatable Pump Up Tent
2 – Moose Outdoors Inflatable Tent

Manufacturer: Moose Outdoors
Capacity: 4 (closer to 3)
Dimensions: 106 x 51 x 126'
Seasons: 3
Weight: 15 lbs
Bottom Line: A cheap but reliable tent for a few friends
Pros
---
Very light
Easy setup
Great price point
Cons
---
As with many others, you'll need to waterproof this tent
Not very durable
We were initially skeptical of Moose Outdoors and their (very) inexpensive inflatable tent.
Most tents in this class cost 2-3 times this.
However:
Our doubts were mostly unfounded: we had a few good nights outdoors with this tent and it was fine.
And though the experience didn't come with all the usual bells and whistles of inflatable tents, the simplicity was actually a breath of fresh air.
As usual, though, you do get what you pay for.
With this tent, you'll have less floor space and none of the inflatable mattresses, or front porches of the best inflatable tents.
But, at the end of the day, this is a very good, cheap inflatable tent for the money. Hence we gave it our TopNotch Best Value Award – meaning you won't get a better bang for your buck anywhere else in our review.
Read Full Review: Moose Outdoors Inflatable Tent Review
Best Dome AirBeam Tent For Camping
3 – Wenzel 8 Person Klondike Tent

Manufacturer: Wenzel
Capacity: 8 people
Dimensions: 16'-11'
Seasons: 3
Weight: 26.38 lbs
Bottom Line: Spacious and comfortable tent for its price point
Pros
---
Very spacious
Included comfort features
Light for its size
We had an incredibly comfortable night with Wenzel's 8 Person Klondike blow up tent for camping.
And that seems to be the point of this tent: Comfort.
Our Top Pick award always goes to the product which excels in one particular arena – and here you have it – the Klondike was insanely comfortable…
We felt like moguls in this spacious tent, we had eight of us on the floor for the night – and plenty of room.
There's an enormous front porch area – nearly as large as the rest of the tent – where we set up camp chairs and enjoyed the outdoors – without bugs and weather.
And somehow, the tent itself weighs less than 30 lbs, which is a great weight for space ratio.
It did take a minute or two to fully set up; after all, it's got all the features that add to your experience, from solid ventilation to a second, zippered bedroom.
Boy was it worth the effort, though….
…we loved it.
Read Full Review: Wenzel 8 Person Klondike Tent Review
Best Inflatable Bubble Tent
4 – Alvantor Winter Screen House
Manufacturer: Alvantor
Capacity: 6-8 people
Dimensions: 120 x 120 x 84"
Seasons: n/k
Weight: 57.3 lbs
Bottom Line : A cool idea for a tent and an excellent choice for casual campers
Pros
---
Very cool design
Great for backyard stargazing
Cons
---
Not very durable in different environments
For all the science fiction nerds out there (we're self-identifying here – haha), this pump up tent is something of a dream come true.
However, it's not just for those folks; it's a great addition for any backyard camping trips and stargazing expeditions.
It's both extremely comfortable and super easy to set up, and it does a great job of providing a contained, comfortable environment for up to four people, remaining warm and dry through most weather conditions.
However, where the tent suffers is its lack of versatility; you won't be taking this one on any serious backwoods camping expeditions.
However, for the casual camper, and especially for backyard get-togethers with friends, it's the best choice on the market.
Overall, this tent is designed for exactly that: stargazing in your backyard; spending a night at the local KOA with your kiddos.
If that's what you're getting this tent for, well done – it's an excellent choice.
Read Full Review: Alvantor Pop Up Screen Tent Review
Best Inflatable Instant Tent
5 – Easy Camp Tempest 500 Inflatable Tunnel Air Tent
Manufacturer: Easy Camp
Capacity: 5 people
Dimensions: 196.8 x 78.7 x 78.7"
Seasons: 3
Weight: 38 lbs
Bottom Line: A very well-rounded mid-quality tent, great for almost any outing
Pros
---
Very roomy
Good price
Efficient external space
Cons
---
Requires staking and setup
A bit heavy
You'll struggle to find a better all-around air tent than the Easy Camp Tempest 500 Inflatable Tunnel.
Every aspect of its design screams efficiency and a great price-for-quality balance.
First, we were really blown away by the space in this tent.
A couple of our crew tend to roll around while they're sleeping, but we barely noticed them during field testing.
On top of that, we had room for our gear in the outdoor vestibule area, which meant even more sleeping room.
The tent does require stakes – something most other models don't – and it weighs a good amount.
But!
We had such a comfortable experience that the pros definitely outweighed these minor inconveniences.
For a slightly different look, also check out their Easy Camp Hurricane 500 Inflatable Tunnel Tent.
Read Full Review: Easy Camp Tent Review
Best Inflatable Geometric Tent
6 – Heimplanet Original – The Cave Dome Tent
Manufacturer: Heimplanet
Capacity: 3 people
Dimensions: 54 x 50 x 40"
Seasons: 3
Weight: 11 lbs
Bottom Line: A go-to tent for intense backpackers and campers willing to spend some money
Pros
---
Excellent durability and weather resistance
Innovative and sturdy design
Very light
As far as geodesic dome tents are concerned, this one takes the biscuit in most areas. Heimplanet's Cave Dome Tent took everything we threw at it – from a backpacking trip across Montana to a three-day rainstorm.
The air-up tent is designed for those sorts of conditions, and anyone looking at this tent can have some serious outdoor adventures in mind.
This is a great small camping blow-up tent, light, and compact enough to fit in your backpack, and it can house up to 3 people – (2 more comfortably).
The main drawback of this model is its price: you can expect to shell out a good few hundred bucks for this beauty. Which doesn't mean it isn't worth every cent; it just means it isn't for everyone.
This is a serious backpacking tent and should be considered accordingly.
Read Full Review: Heimplanet Cave Tent Review
Best Inflatable Blow Up Tent For 2 People
7 – Tangkula Inflatable Tent
Manufacturer: Tangkula
Capacity: 2 people
Dimensions: 87×41"
Seasons: 3-4
Weight: 11 lbs
Bottom Line: A solid tent for its price, simple and reliable
Pros
---
Very light and portable
Excellent price point
Cons
---
Requires hand pump
Not very weather resistant
We'd never heard of Tangkula or their Inflatable Tent before this, and that's pretty unfortunate: this tent was solid, and a great pick for its price.
The tent doesn't come with much, especially compared with the luxury of some of our other entries.
But it performed well in field tests, assuming the weather cooperated.
Don't expect this tent to hold up in hurricane winds or rains, but it gets the job done, which is really all we can ask for. It may not be the best air tent, but it can definitely compete.
One aside: the tent is hand-pumped, which is not terrible, but prevents it from competing with other backpacking tents. However, it worked great on our light weekend trip.
Read Full Review: Tangkula Inflatable Tent Review
Best Inflatable Yurt Tent
8 – Robens Aero Yurt
Manufacturer: Robens
Capacity: 8 people
Dimensions: 177.2 x 177.2 in
Seasons: 4
Weight: 69 lbs
Bottom Line: A great tent for large groups of friends/family, no matter the weather
Pros
---
Very spacious
Extremely high ceiling
Simple and effective design
Cons
---
High price point
Very heavy
Yurt-style anything is always on our radar, and it's tents like the Robens Aero Yurt that are the reason why.
One of the main drawbacks of traditional tents is roof height. It's very difficult creating a tent that's both structurally sound and a good height for standing and moving around inside.
The large low windows offer plenty of light and great views.
The unique yurt design of this air pole tent fixes that problem.
In the case of this model, the design comes in an effective all-weather package – and we tested it in all weathers. It didn't miss a beat.
However, the downside of all that cushy height and durable material comes with its weight — nearly 70 lbs – and its price.
Luckily, the tent will fit 8 people happily!
We loved it.
Read Full Review: Robens Aero Yurt Tent Review
Best Inflatable Easy Set-Up Camp Tent
9 – Crua Core Dome 6 Person Tent
Manufacturer: Crua
Capacity: 6 people (comfortably)
Dimensions: 192x144x90"
Seasons: 4
Weight: 33lbs
Bottom Line: A great tent for family and friends in all environments and weather
Pros
---
Excellent waterproof rating
Multiple entrances
Customizable setup with other tents
Cons
---
High price point
Bulky when packed
This bad boy almost took our rating for Editor's Choice – and with good reason.
The Crua Core Dome 6 Person Tent is everything we love rolled into one. It's spacious, but not too heavy (we had to hike it a mile or two from the car lot to our site).
I'm tall but this is taller! Everyone will be able to stand.
It's reliable, it's innovative, and it's comfortable, yet weather-resistant.
You can also zip other, smaller Crua tents onto its three entrance points, turning your tent into a whole self-inflating tent colony, which is pretty awesome.
The only drawbacks from our experience were the price and the fact that the tent took up a lot of space when packed.
Besides that, we slept through two rainstorms and a heavy fog without any leaks or condensation.
So it's safe to say this tent has great all-around weather resistance.
Read Full Review: Crua Tent Review
Best Large Inflatable Camping Tents With Rooms
10 – Outwell Broadlands 6 Man Tunnel Tent
Manufacturer: Outwell
Capacity: 6 people
Dimensions: 240 x 236"
Seasons: 'General Use'
Weight: 50.9lbs
Bottom Line : The perfect tent for a whole family
Pros
---
Lots of room
Excellent porch space
Very comfortable
Cons
---
Very bulky when set up
Very heavy
Multi-room blow-up tents can come with a slew of inflatable tent problems.
Weather-resistance is tough with all the nooks and crannies, weight tends to add up from all the extra material, and the tent usually takes up more space than necessary.
Outwell Broadlands 6 Man Tunnel Tent does its best to remedy all of these.
With mixed results.
First and foremost, the tent has very good weather resistance, mostly due to an innovative and attractive design.
Whereas many multi-room tents fail to stand up to the weather, Outwell decided to go with the tunnel tent design, which gives the tent a sleek look, despite its size, and also offers excellent wind and rain resistance. This design choice also prevents the tent from sprawling as much as most other multi-room inflatable tents on the market.
However, this all comes at the cost of weight. At over 50 lbs, this tent lacks real versatility, and you're going to struggle to carry it for any real distance from your car.
…this bad boy is bright – very bright.
Read Full Review: Outwell Tent Broadlands 6 Review
10 Best Inflatable Tent Ultimate Review ✓ 89 Hrs Field-Testing✓ Pros & Cons✓ Back-to-Back Comparisions & Ratings✓ Buyers Guide✓ 103 Users Interviewed✓ Lots More…
Why Trust Us?
So you have our final word on all these tents, but what's that worth, exactly?
I'm an experienced backpacker, hiker, and camper with countless nights spent outdoors, both accompanied and solo.
I began my camping life as a Cub Scout at the age of eight, and as the years have rolled by, my love for tents, boots, and campfires has only grown. I recently moved to Salt Lake City, Utah, mainly for the amazing hiking and camping throughout the area.
At the end of the day, the most important part of camping is your shelter. I've spent a night in a makeshift shelter that I built from branches and leaves: it was probably the worst night of my life, and I wouldn't recommend it to my worst enemy.
But that night reinforced the importance of having reliable, comfortable, and cost-effective options when you're camping (another perk of inflatable tent camping). Which is really the point of this list, isn't it?
Buyer's Guide: How To Buy The Best Inflatable Tent
What Are The Different Types Of Inflatable Tent?
Though there are no hard-and-fast rules for classifying a self-inflating tent, there are several common design styles that you'll run across.
A few of the most common styles include:
Tunnel
Geodesic dome
Yurt-style
Traditional
Each of these variations has its pros and cons, but the style you decide on should match the types of trips you have planned for your airframe tent.
If you're backpacking, a sturdy, light geodesic dome tent will suit you best.
If you're planning a huge family camping trip, a large tunnel or traditional tent could work well.
Features To Look Out For
One of the most important features of inflatable tents is the airbeams.
Airbeams are pressurized tubes of air pumped into an air tube that replace traditional tent poles. Most inflatable tents have these, though there are several models with alternative methods of inflation.
Here's the deal:
Air pole tents will generally cost more than alternative tents.
Many modern tents also come equipped with a front porch, which is a great way to get fresh air and enjoy the outdoors, while staying shaded and remaining close to your tent.
Also pay attention to whether your tent has proper ventilation, as that will keep the fresh air flowing through your tent as you sleep.
Product  & Specifications Explained
Capacity: This lets you know how many people can comfortably fit within the tent when lying down. We rated this based on our own experience with the tent, allowing everyone enough room to remain comfortable while they slept.
Dimensions: This is the length, width, and height of the tent, in that order. In the cases of round tents, the first number represents the diameter of the circle, and the second number is the height.
Weight: This one is fairly self-explanatory – how much the tent weighs after it has been unpacked from its shipping box.
Common Issues With Inflatable Tents
Inflatable tents have several benefits over traditional tents, but they also face unique challenges when you go camping.
You might be wondering:
By and large, self-inflating tents are created to be the same quality as traditional tents, meaning they can withstand tough weather conditions, precipitation, heat, and cold.
Most of the issues that people worry about – stability, punctures, etc. – have been ironed out by established inflatable tent manufacturers.
You may face several other common issues, though.  
These tend to spring from the tent's air pump – which is an added piece of technology to an otherwise mundane venture.
Differences Between Inflatable & Traditional Tents
The key difference between an inflatable tent and its traditional counterparts is the inflation system. This allows an inflatable tent to be set up relatively fast in comparison to traditional tents, which require poles, staking, etc.
However:
This also means that inflatable tents require a pump of some description. In some cases, this is an internal, battery, or electricity-powered pump; in other cases, you can use a hand-pump (similar to a bicycle pump).
One side-effect of the pump is that it tends to add more weight than traditional tents. While you lose the weight of tent poles when you opt for an inflatable tent, the extra weight from the pump unit and the additional materials needed for the inflatable tents generally tip the scales.
Tips for Taking Care of Your Inflatable Tent
Inflatable tents require more upkeep than traditional models, but there are a few easy steps to make sure your next camping trip is comfortable and problem-free
First, always do a test-inflation before you head out.  
Inflatable tents have an easier setup than traditional tents, but that means they completely rely on their pump and air system to function.
So – inflate your tent in the backyard before you go camping.
Always bring extra batteries if you have a battery-powered pump. Again the pump system is the only thing keeping your tent upright, so make sure you have plenty of batteries for it.
Finally, if your tent gets wet while camping – from the muddy ground, a rainstorm, or any other reason – set it up and air it out afterward once the weather clears up.
This prevents mildew and mold from growing on your tent when it isn't being used.
With inflatable tents, there is the potential for moisture to enter the airbeams, which can cause electrical issues and further mold or mildew.
Our Testing Methods
As camping enthusiasts and experts, we know what to look out for when we're testing different tents and camping gear.
Primarily, our tests are designed to push each tent to its limit in the listed categories (Ease of Set-Up, Comfort, Weather Resistance, Durability, Versatility).
Ease of Set-Up is the simplest to test: we simply set up the tent, observing how long it takes, and how much we struggle in the process.
Comfort requires a few nights in the tent, field testing in various weather conditions and on different surfaces. Some tents are comfortable on a forest floor, but not so much on cold rock. Some are well-ventilated for summer but drafty in colder environments. Indoor space also factors into this category, and we note whether we felt cramped while lying down.
Weather Resistance often corresponds with comfort, though we put more emphasis on potential safety risks if the tent breaks or tears during particularly harsh weather. We combine those observations with the tent's insulation and ability to keep warm or cool, depending on the external temperature.
We test Durability through a series of tear tests, puncture attempts, and naturally harsh conditions which will test the tent's resilience. We test each piece of the tent (poles, stakes, rainfly, main tent) to make sure nothing slips under the radar.
Finally, Versatility refers to the tent's range of uses, its bulk, and its weight.
We test this by observing the tent's weight while being carried, as well as its external area compared to its internal space. We also attempt different forms of camping with each tent – from backpacking trips to casual big-group settings.
Frequently Asked Questions (FAQ)
Q: Should I buy used/ pre-owned air tents for camping if the price is better than new?
A: The decision is ultimately yours, but consider why someone would return or resell an inflatable tent. Unlike traditional tents, it's difficult to mend holes in inflatable tents, especially if they are in the airbeams. A problem with the inflation or the motor could also prevent you from using the tent.
Q: What is a good price for a beginner inflatable tent?
Depending on the size of your crew, you can find solid beginner inflatable tents for less than a couple hundred bucks. This will give you a good idea of the pros and cons of these tents, without investing in some of the higher-end models. That said, airframe tents do tend to cost more than traditional ones.
Q: Are inflatable tents stable?
A: Generally speaking, a well-designed inflatable tent will be as stable as a traditional tent. In some cases – primarily heavy winds – air-filled tents actually have an advantage, since their "poles" are compressed air, which means they won't splinter or break.
Q: Are inflatable tents good in all weather/ environmental conditions?
A: Several models have extremely high waterproof and weather-resistance ratings, as well as great insulation and ventilation – for cold and hot camping respectively. Make sure you read up on all of these features for the tent you're interested in.
So there you go – everything you need to know to buy your next inflatable tent.
Every one of these suckers has been field-tested, run through the wringer, and rated for your buying pleasure!
Now:
All that's left is for you to decide on which model you want!
Remember:
The most important factor in deciding your inflatable tent is knowing what you're using it for. Each of the areas we've measured (Setup, Comfort, Weather Resistance, Durability, Versatility) tells you where the tent shines… and where it falls short.
We've included links to the Top 3 at both ends of the guide, which should help you decide on the best tent for you and yours!
Analysis, Comparisons & Test Results
As camping enthusiasts, we're all about the field-testing!
And there's no better way to test tents than spend a couple of nights in each one.
For each tent, we tested conditions ranging from 98F+ temperatures and heavy sunlight to snow and freezing rain. We also recruited a local boy scout troop to help us out with the stress and tear-tests.
In the end, this is how they stacked up.
Ease Of Set-Up
This one's always the easiest to test for us: we simply set up the tent, making observations about how long it takes and how much trouble the process gives us along the way.
Ease Of Set-Up Rating
Crua Core Dome 6 Person Tent
Heimplanet Original - The Cave Dome Tent
Alvantor Winter Screen House
Moose Outdoors Inflatable Tent
Vango Odyssey Inflatable Family Tunnel Tent, Airbeam 600
Easy Camp Tempest 500 Inflatable Tunnel Tent
Outwell Broadlands 6 Man Tunnel Tent
Wenzel 8 Person Klondike Tent
However, given how many nights we've spent outdoors (ahem… a few), we also recruit some less-experienced campers to give it a try, we ask them to grapple with any instructions included in the tent. We tend to base our scores on their experiences more than our own.
Comfort
For tents, comfort is best tested by spending a few nights in various weather conditions. This gives us an idea of how much internal room the tent has, and of any issues with ventilation or insulation.
Comfort Rating
Vango Odyssey Inflatable Family Tunnel Tent, Airbeam 600
Wenzel 8 Person Klondike Tent
Crua Core Dome 6 Person Tent
Outwell Broadlands 6 Man Tunnel Tent
Easy Camp Tempest 500 Inflatable Tunnel
Alvantor Winter Screen House
Moose Outdoors Inflatable Tent
Heimplanet Original - The Cave Dome Tent
Again, the local Scout troops gave us a hand with this one, making some notes of their experience with the tent, and whether they would recommend it to others based on their experience.
Weather Resistance
While we'd love to field-test every tent in every conceivable weather condition, that isn't possible without traveling hundreds of miles and waiting several months.
We field-test the tents mainly in local conditions, seeing how the waterproofing, rainfly, and ventilation hold up.
Weather Resistance Rating
Heimplanet Original - The Cave Dome Tent
Vango Odyssey Inflatable Family Tunnel Tent, Airbeam 600
Easy Camp Tempest 500 Inflatable Tunnel Tent
Crua Core Dome 6 Person Tent
Outwell Broadlands 6 Man Tunnel Tent
Wenzel 8 Person Klondike Tent
Alvantor Winter Screen House
Moose Outdoors Inflatable Tent
Durability
Like Weather Resistance, we use a combination of field and lab testing on this one.
Mostly, we want to see how the tent holds up in naturally-occurring situations – from weather-related issues to rips and tears.
Durability Rating
Heimplanet Original - The Cave Dome Tent
Easy Camp Tempest 500 Inflatable Tunnel
Crua Core Dome 6 Person Tent
Vango Odyssey Inflatable Family Tunnel Tent, Airbeam 600
Wenzel 8 Person Klondike Tent
Outwell Broadlands 6 Man Tunnel Tent
Moose Outdoors Inflatable Tent
Alvantor Winter Screen House
This can include attempting to cut or stab the tent with various sharp objects, as well as the extreme heat and cold testing of the previous section.
We also test in intense winds, checking for stability.
Versatility
Versatility is a fairly open-ended category, so we mostly test for all other aspects of the camping experience: primarily weight, bulkiness, and the ability to use this tent in multiple conditions and situations.
Versatility Rating
Easy Camp Tempest 500 Inflatable Tunnel Tent
Moose Outdoors Inflatable Tent
Heimplanet Original - The Cave Dome Tent
Wenzel 8 Person Klondike Tent
Vango Odyssey Inflatable Family Tunnel Tent, Airbeam 600
Outwell Broadlands 6 Man Tunnel Tent
Crua Core Dome 6 Person Tent
Alvantor Winter Screen House
Weight is a huge factor that can prevent you from taking your tent on hiking trips, or even carrying it a half-mile down the trail to your site.
So, carrying each inflatable tent, we attempt a two-mile trek on a moderate incline.
We combine these with the tent's space requirements and any other factors that might inhibit you from enjoying your overnight stay.
The Final Verdict: 10 Best Inflatable Tents
Well, we've had quite a journey along the way, but here we are.
This is the Final Verdict, combining all our observations, field tests, and lab trials into the ultimate inflatable tent showdown.
Which will do best?
Which tent is going to be your next purchase?
Vango Odyssey Inflatable Family Tunnel Tent, Airbeam 600
Heimplanet Original - The Cave Dome Tent
Easy Camp Tempest 500 Inflatable Tunnel
Crua Core Dome 6 Person Tent
Wenzel 8 Person Klondike Tent
Outwell Broadlands 6 Man Tunnel Tent
Moose Outdoors Inflatable Tent
Alvantor Winter Screen House
Conclusion: 10 Best Inflatable Tents 
And there you have it: your Definitive Guide to inflatable tents for your next adventure!
Many folks see Inflatable Tents in the same category as other trendy camping gadgets.
But this is not how it is.
We loved ours.
We concluded that inflatable tents can be just as good as traditional tents; much better in some cases.
By and large, their ease of setup blows traditional tents out of the water, with the best inflatable tents standing tall in less than five minutes.
Two minutes, in some cases.
Picture the campground on a Friday night with the kids…
All you want is a ready-made home-from-home and a beer in your hand.
With one of these babies, there'll be no more grappling with poles in the dark, and no need to spend the first hour of your vacay locating the tent outer.
5 minutes all told – and that's for a beginner.
Most models managed to do this without sacrificing comfort or safety which only reinforced the fact that inflatable tents are here to stay.
All that said…
…these high-tech inflatable tents do hail a higher price tag than their primitive counterparts, and that means it's even more important you do the necessary research before taking the plunge.
Well, lucky for you, we've already researched for you, and if you've made it this far, you're probably already imagining yourself on your first camping trip with the new pad.
So go on, find your tent from our list, turn on that air pump and watch your next camping adventure inflate before your very own eyes.
We don't want to blow it out of all proportion (!) but these tents really are epic – give one a try – you'll be both surprised and delighted.