50 Best Places To Go Camping In The USA 2023
TopNotch Outdoor is independent – we research, test, and rate the top products to help you make the right buying choice. We sometimes use affiliate links and may receive a small commission on your purchase. Learn more…
Camping is such a great way to unwind – to get away from the hustle and bustle of city life and to forget work, even just for a short time. 
But here's the best part…
It doesn't matter where you live because each of the 50 States in the U.S. has tons of places for camping getaways.
In fact, you'll be spoilt for choice.
I've compiled a list of the very best places to go camping in every state – campgrounds where you and your family will just love to visit and spend some quality vacay.
I'll tell you what I loved about each one – and I've included details about the best activities you'll find there.
According to this Leisure Sciences Study, camping helps achieve "stronger family bonds and confidence" at the same time as fostering a "great sense of adaptability."
Do you need any more reason to pack your kit and get the kids in the car?
Let's jump right in….
Best Places To Go Camping In Alabama
Has your dream camping road trip taken you to Alabama yet?
Here, you'll see one of the most beautiful waterfalls in Alabama –  the Caney Creek Falls.
Why this site?
You can bring your kids and dog along for some quality time camping and hiking in the Great Outdoors.
What should you bring on the hike?
Well, previous visitors recommend you bring a Bankhead National Forest Map, batteries, snacks, a camera, and you're good to go!
What We Love Here:
Small Canyons
Treks
Upper Falls and Lower Falls
So, what's so cool about hiking and camping here?
Well, you have access to the area behind the falls – the kids will love it.
But that's not all.
You can also visit it in any season because the water is always flowing.
Summer or fall – try some adventuring with the family and may be finish your walk off with a dip if its warm enough. 
It's like a little oasis.
You'll want to investigate the small canyons, and the kids will be full of questions as they venture through.
Best Places To Go Camping In Alaska
Ever heard of the "Hidden Gem" of the Kenai Peninsula? Well, this is how the locals refer to the Hidden Lake Campground.
So, what makes it so special?
If you love a campfire, this is your bag. It's also ideal for you if you want to catch sight of a black bear.
And the good news?
The campground is open all year round!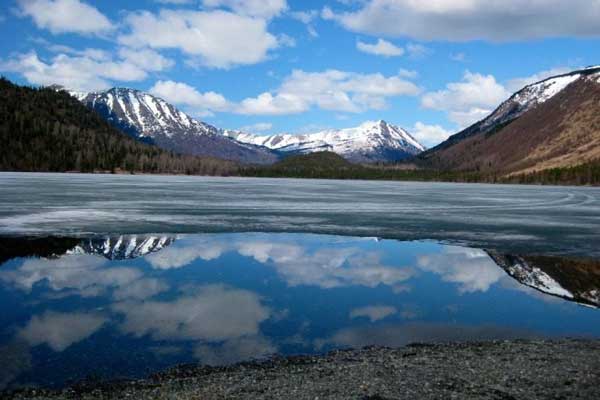 What We Love Here:
Clear Waters
Glaciers View
The Best of Alaska
For starters, the campsite is under the Kenai National Wildlife Refuge. The US Fish and Wildlife Service maintains the campground.
Where is it located?
In a small cove along the northern shore of Skilak Lake.
Why would I recommend this campsite to you?
It has 44 sites, which each have plenty to offer the exploring camper.
The campground has beaches, boating, fishing, and you'll find a wide range wildlife around you.
However, you can't reserve a pitch in advance. 
Bookings are made on a first-come, first-served basis.
Are you up to experiencing true Alaskan camping?
Then this spot is for you.
Best Places To Go Camping In Arizona
Grand Canyon National Park
What do you know about Arizona?
Geographically, Arizona is an exotic state, featuring the Grand Canyon and plenty of vast desert. 
The Wild West feel is prevalent in some of its charming small towns as well as out there in the great expanse of desert and canyons.
In fact, Arizona has more parks and national monuments than most other states in the U.S. 
What We Love Here:
Plenty of Hiking Trails
Beautiful Canyon Scenery
Watching The Sunrise or Sunset Over Grand Canyon
Grand Canyon National Park's TopNotch views are literally breathtaking.
As if that's not enough on its own…
The Grand Canyon's immense size and unique geological color is something you'll never forget.
But as a camper, you might be after more than a great view, right?
Luckily, you have so many hiking trails around this park – there's something for everyone.
The North Rim site includes walking tours on trails like the North Kaibab Trail.
At the South Rim, on the other hand, you'll be able to choose from a variety of driving tours, including the 8-mile drive to Hermit's Point.
Best Places To Go Camping In Arkansas
Petit Jean Mountain's natural beauty was the inspiration for the creation of Arkansas's first state park. 
With over 127 campsites, Petit Jean has welcomed visitors and hikers for decades.
But what makes it worthy of exploration?
What We Love Here:
Boathouse
Swimming Pool
Petit Jeans Legend
Let's see what the park has in store for you.
The park features the mountain's native log and stone accomodations from 1933.
Most of the cabins are designed in the Civilian Conservation Corps (CCC) style.
Upstream from Cedar Creek is a CCC rock dam –  perfect for fishing!
But there's more…
The park has a boathouse, which is open during the summer. It offers snack bars and boat rentals.
There are also hiking trails leading to forests and canyons which will provide perfect exercise for peopel of all ages. The shortest trails you can visit are Rock House Cave Trail and Bear Cave Trail.
The park also has scenic waterfalls. 
Best Places To Go Camping In California
California is not only famous for basketball – and of course, Hollywood.
It also has plenty of campsites.
You won't help but fall in love with them. 
Some of the scenic sites include the Grand San Francisco Bay and the panoramic view of Mount Diablo State Park.
Of all The Golden State's incredible sights, Yosemite National Park is an absolute must-see.
And here's why: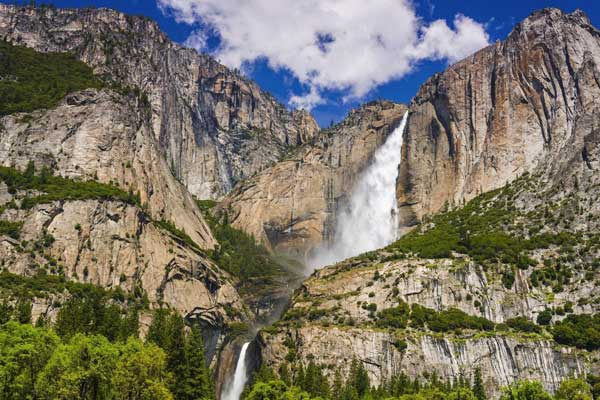 What We Love Here:
Beautiful Natural Views (Valleys and Waterfall)
Ancient Sequoia Trees
Buck Meadows
For starters, Yosemite National Park is a true sight for sore eyes.
It's famous for the gigantic cluster of Sequoia Trees at Mariposa Grove.
It also houses the marvellous granite cliffs at El Capitan.
You'll always feel the fresh cool air in the peaks of Sierra Nevada.
While you're here, take a trek before dipping into the cool waters of Chilnualna Falls.
It gets better…
Yosemite Village has plenty of places to stay.
Yosemite National Park has a total of nine campgrounds for you to choose from.
Best Places To Go Camping In Colorado
You wouldn't be far wrong to describe Colorado as the very best state for outdoor activities.
And here's why.
In Colorado, the skiing is considered world-class. What's more, Its vivid mountain range is a sanctuary for climbers.
National parks around it are also bustling with wildlife. And let's not forget its amazing trails and canyons.
Any of these would be a great place to start your camping trip.
What We Love Here:
Scenic Lake View
Fishing And Boating
Campsites Are Spacious And Well-Shaded
Lake Capote is a cozy recreational area for camping and fishing. It has a 24/7 schedule for visitors from April to October.
It also boasts 10 RV and 30 tent sites for camping.
Sweet, right?
Better yet, it has a Bait Shop – a one-stop-shop for all your fishing and boating needs. You can fish at Lake Capote from sunrise to sunset.
However, you'll need to buy permits – then simply check-in or check-out through their self-permitting station.
Best Places To Go Camping In Connecticut
Pachaug State Forest is the largest state forest in Connecticut.
It contains six towns and camping areas!
There are four trails for hiking: Pachaug Trail, Nehantic Trail, Quinebaug Trail, and Narragansett Trail.
So, if you're into rambling, you'll love your time in the Great Outdoors in Connecticut.
What We Love Here:
Accessible
Free During Weekdays
Scuba Diving Area
While you're here, the Rhododendron Sanctuary Trail gives the best view of the area, especially when the flowers are in bloom during June and July
What about outdoor activities? Well, you can go skiing, biking, hiking and horse-back riding here.
The pond also supplies water to mills in the viciniity.
If you're into backpacking, you should take advantage of the seven campgrounds available.
Alternatively, if you want a holiday home to stay in, there are inns near the forest. They are on a first-come, first-served basis but the camping sites are open for reservation.
Best Places To Go Camping In Delaware
If you thought Delaware is mainly the home of banks and business corporations, think again.
It is also a great camping destination.
And you can start with the famous Rehoboth Beach.
Why this spot?
Well, this beach's sandy shore is a hit for vacation lovers.
And beside the beach there are some hotspots for you to set up camp.
What We Love Here:
Near Rehoboth Beach
Safari Style Tent Camping
RV Camping
Massey Landing is a combined resort and camping hotspot.
Here, you can enjoy a luxurious camping experience in the comfortable tents. Plus, there's enough space  for RV Camping.
As if that's not enough…
Water activities are also readily available here at Massey. You can enjoy kayaking, paddleboarding or a  canoe trip in the crystal clear waters.
Many amenities are also available. Patio and beachfront cottages along their coastal shores are a highlight, as is the onsite restaurant and lounge.
And the best part?
Well, Rehoboth Beach is only a couple of minutes from Massey!
Best Places To Go Camping In Florida
What is Florida mostly known for?
Its theme parks and famous beaches, right?
But there are many more places that the Sunshine State has to offer. The Everglades are a 'can't miss!' for Florida-bound campers..
Undoubtedly, the 3 million-acre 'rivers of grass' are always a TopNotch location to enjoy nature. Plus, you can enjoy the freshwater springs, especially during summer.
What We Love Here:
Anhinga Trail
Mangroves at Nine-Mile Pond
Shark Valley Observation Tower
When you're in Florida, try visiting the Everglades National Park.
Trust me, you'll soon see why it's a World Heritage Site. The park covers 1.5 million acres of pure, natural and beautiful wetland.
Furthermore, there's so much wildlife to spot along the  Anhinga Trail.
Go for a canoe adventure along the 99-mile Wilderness Waterway.
Do you love panoramic views? Well, you can have a bird's eye view of the glade from the top of Shark Valley.
And why not check out the old sturdy mangroves on the Nine-Mile Pond.
But if you want a historical tour, Nike Hercules missile base should be your go-to place.
Best Places To Go Camping In Georgia
Cloudland Canyon State Park
What We Love Here:
Sunsets
Shared Bathrooms
Frosty Views During Winter
Canyon Rim View
Camping is no fun if you don't get to see breathtaking views.
Fortunately, this campsite offers tents  that have near access to the canyon's rim.
Do you like camping in a silent and private space? You'll be glad to know that the walk-in campsites are a distance into the forest to give you privacy.
There are also prime sites that you can rent. The shared bathrooms are clean and modern. The sites offer sinks, showers, and changing areas.
Some campsites are free but you have to reserve them. For some campers, Backcountry site #7 is their favorite site. Why? Because it is the most secluded and furthest from the parking area.
With the right gear, enjoy your trip and remember to leave no trace!
Best Places To Go Camping In Hawaii
Black sand beach with its rugged shoreline, and  beach – who could ask for more? This state park in Hawaii is no doubt, a living postcard of heaven!
What We Love Here:
Small Crowds
Black Sand
Burial Mounds
Surfing Waves
The name Wai'anapanapa means "glistening water". While it could refer to the beautiful ocean that graces this area, the Hawaiian word applies only to freshwater.
A fair amount of people visit the place to take pictures and then leave after a short time, so it's not crowded.
What else is there apart from the famous view?
You can take part in several activities around this location including, hiking, and water activities.
Many tourists visit here because of the unique black, pebbly beaches. You will also see Native Hawaiian burial mounds in the area.
Jellyfish are also present in the waters. So, keep a look out and remember to keep yourself safe.
But there's something you need to know…
While the view of the ocean is amazing, poor swimmers need to beware. This beach is not for the faint-hearted!
Best Places To Go Camping In Idaho
Who wouldn't love to boat and fish at a place full of historical stories?
So, next time you're in Idaho, consider visiting Farragut State Park,
The park has a rich military history, while offering scenery like no other. Here you can experience a trip to Lake Pend Oreille.
What We Love Here:
Squirrel Cache Trail
Shoreline Trail
Why visit this park? Frankly, because the large park has individual camping sites, group camps, and camping cabins. Something for everyone!
Besides which, you can enjoy a lot of park activities, such as mountain biking and archery. If you haven't experienced it yet, there's also a tree to tree adventure course here!
Looking for more adventure?
Visit the Museum at the Brig on the world's second-largest naval training station in Farragut State Park.
There are so many outdoor activities that you can engage in with your family. According to reviews, your experience will be more memorable if you bring a tent instead of checking in to a cabin.
 So why not give this a try?
Best Places To Go Camping In Illinois
Voted as the number one attraction in Illinois, this state park is also a campground favorite.
Camping near Starved Rock will give you access to 18 canyons and monumental stones. All of which were formed by glacial meltwaters. Sounds interesting right?
What We Love Here:
1930s-era Stone and Log Lodge
Trolley-Rides
Ottawa and Kaskaskia
This camping place is perfect for families or friends traveling together. Actually, during its peak season, you will find a lot of children camping here.
But if you want to have a peaceful stay, try booking for a reservation on a weekday.
So, what does this site have to offer?
Outdoor activities including hiking, fishing, and canoeing. Note: most campers don't know that Starved Rock is also a great destination even during winter!
That said – book a stay at the lodge to witness history and to experience  the heart of the Midwest.
Also, there are 18 canyons in the park with hiking  difficulty ranging from easy to difficult.
Be sure to prepare for your hike!
Best Places To Go Camping In Indiana
Do you enjoy bird watching or flying kites at the beach?
Then you'd better plan to go to Dunewood Campground. From my experience, it will give you the enchantment you are looking for.
You can come here to enjoy sand dunes, forests, and rivers. Needless to say, this spot will deliver pure bliss to any outdoor enthusiast.
What We Love Here:
Lake View Beach
Mysterious Wetlands
Geocaching
What makes Dunewood Campground exciting is every activity depends on the season. During spring, the river water is abundant at the Heron Rookery. And if that isn't perfect for flowers and bird watching, I don't know what is.
In summer, the sunset paints the sky for a good picnic afternoon. While in the fall, the surroundings color the place red and warm.
What about the winter season? The beautiful white snow falls, making the site ideal for skiing. This campground is not only the best place to camp in Indiana but also a place where taking care of nature is a priority.
Is there another activity that makes Dunewood Campground special? Believe it or not, treasure hunting! Why not visit and give it a try. 
Best Places To Go Camping In Iowa
Maquoketa Cave Campground
Iowa's land is mainly agricultural. And it's famed for its corn production.
But, the Hawkeye State has more than meets the (hawk) eye. How so? It is also a haven for beautiful natural beauty spots like Ledges State Park and Pike Peaks State Park.
And that's just one aspect about Iowa…
It is also home to a  lovely museum for a good history lesson. You can also check out their 25-mile recreational trail called High Trestle Trail.
What We Love Here:
Dance Hall Cave
Spelunking Hotspot
Maquoketa River
Maquoketa Cave Campground provides dozens of caves for some adventure. The Dance Hall Cave is the most notable for its beautiful flowstone rock  formation.
Other must-see caves include Rainy Day and Barbell Cave.
Additionally, a 6-mile trail also awaits you here, leading to different cave entrances. The trail ends with a hike leading to a breathtaking prairie view.
This place is teeming with wildlife for sightseeing. The 37-acre park is also an excellent location for a picnic.
But wait, it gets better:
You can also visit the Maquoketa River for canoeing and swimming.
Best Places To Go Camping In Kansas
Woodridge Park Campground
If you are dreaming of living in a place where people put up a tent next to a  warm campfire while drinking beer, this place  is for you!
Let's see what makes it special
Located near Lawrence, Kansas, Woodridge Park is a tent-only camping area along Clinton Lake.
What We Love Here:
Open Year-Round
Tent-Only Camping Area
No Alcohol Protocols
This campground is one of the few in Kansas which is  free of charge and open year round. Can you believe that?
So  go camping whenever you wish and take a break from your hectic life.
Besides being free, Woodridge sites also offer drinking fountains.  And yes, amenities such as bathrooms are also available!
As if that's not enough –  It has excellent camping spots with campfire rings.
Most people who've been here recommend staying during the week. Why? It isn't overcrowded. In fact, there is a possibility that you can enjoy the site alone on a weekday.
While you're here, don't forget to take plenty of pictures to share with your friends! 
Best Places To Go Camping In Kentucky
It's hard to believe that there is a campground existing inside a cave. But guess what? You can find this at Kentucky's Mammoth Cave Campground!
This will definitely give campers a remarkable experience!
What We Love Here:
Walking Tours of the Cavern
109 Primitive Campsites
Coin-Operated Showers
What's so interesting about this place? The Mammoth Cave is an underground passageway containing miles of limestone and sandstone. It is the longest recorded cave system in the world.
Want to know the coolest part?
You can watch the scenic valley along the trail. From there, you can see the Green River. deer and  wild turkeys on the campground.
Although there is no water supply inside the cave, bathrooms are available at the park.
The cave tours are great fun and very exciting. This trail will test your fitness. So, get plenty of exercise before you go camping here. 
Best Places To Go Camping In Louisiana
Beach Camping? Say no more!
The Grand Isle in Louisiana has you covered. This state park is perfect for your next trip to Louisiana.
And here's why…
You can enjoy saltwater fishing and grilling seafood. PLus, Grand Isle is the best place for swimming, crabbing, and relaxing!
What We Love Here:
Birding
Seafood Grilling
Observation Tower
At night, the State Park is a great place for sightseeing. Just sit under the stars eating fresh seafood or keep yourself warm by the campfire.
Of course, you will want to plan something special. Why not visit the observation tower to maximize your view of the area.
Alternatively, you can walk your way  around the extensive nature trails before dusk.
The Grand Isle does not permit vehicles to enter the beach. So, you'll have to carry your camping accessories all the way to the campsite.
Like a majority of state parks, reservations here are on a first-come, first-served basis. So in that case – you'd better work out  your schedule first to get the most of your experience!
Best Places To Go Camping In Maine
Do you want a camping experience filled with wildlife activities? This place is for you!
You might be wondering why we'd say this. But here's the thing.
The park is open all year round, and it has easy to moderate trails that you're bound to enjoy. Also, a variety of woodlands and forests cover the stretch along Sebago Lake and Songo River.
What We Love Here:
Songo Lock
Summer and Winter Camping
Picnicking
When it comes to family day outs, picnicking is always present on the list. Here on Sebago Lake State Park, anyone can reserve a site for their family day!
Hiking, family camping, boating are open throughout – giving you enough time for group bonding.
As a wildlife lover, you'll  also enjoy viewing deer and birds. If you are planning a visit, you can view the available campsites on Google Earth to help you select the most suitable one. During winter, you can access the trail maps at the parking area.
Best Places To Go Camping In Maryland
If you love camping, something dreamy awaits you on the Shore of Maryland.
Just like in a fairytale, you'll see wild horses walk on the sand. But you'll only if you set up camp on  the beach!
Why We Love It:
Wild Horses
Bath Houses
Beachcombing
Kayaking
What are the activities available on this beach? Well, there's surfing, fishing, and swimming.
The beach also has a bayside, where you can explore coves by  canoe or kayak.
And the best part?
This state park has 342 campsites available. But to have the ultimate experience, make sure to check out the campground map to reference all the sights present at the location.
Are you into biking? A bike path connects the beach to the main road. This is a great place to ride through and explore. The park also has a basketball court and ranger station where you can buy firewood and ice.
Best Places To Go Camping In Massachusetts
Horseneck Beach State Reservation
Camping may not be everyone's favorite hobby, but who would not love to go for a swim?
That said, would you like to swim and camp at the most popular beach in Massachusetts? If so, The Horseneck Beach State Reservation is the place for you!
It's located at the western end of Buzzards Bay.
What We Love Here:
Sunbathe in Atlantic
Sailing
Bird Watching
Basketball
Are you a RV driver?  You'll be glad to know this place has over 96 RV campsites!
Local people visit this beach to enjoy the outdoor location.  But many visitors from different states go to the beach to witness the sunset.
And the good news?
Children also love it here! They can take advantage of the playgrounds and picnic areas.
For a wilder walk, you may wish to  explore the nature trails around Gooseberry Island – a rocky island that's part of the reservation.
The beach is accessible and beach wheelchairs are also available for rent. However, pets are not allowed here, but they do accept service animals.
In summer, the reservation team hosts free walks and exploration programs.
Best Places To Go Camping In Michigan
Sleeping Bear Dunes National Lakeshore
Michigan has a lot of destinations that you can explore. It's particularly famous for its lakes and many shorelines. You will also find the popular Porcupine Mountains here.
But if you're a water lover, you will appreciate the majestic waterfalls found east of Mississippi – the Tahquamenon Falls. Or why not  choose the beautiful and tranquil Sleeping Bear Dunes?
What We Love Here:
Large Sand Dunes As Campsite
Beech-Maple Forest
"Rescue Mission" Activity At Maritime Museum
Sleeping Bear Sand Dunes have long been a preserve for recreational and agricultural activities. Popular activities here are the Dune Climbing and the  Pierce Stocking Scenic drive . You can also enjoy canoe trips at Crystal and Platte Rivers. Or the new Heritage Trail, which  is open for hikers and bikers.
If you bring your kids, they can enjoy viewing artifacts and join in with other activities at the Maritime Museum. You can also experience lots of  flora and fauna in  Leelanau County.
Turns out, Sleeping Bear  Dunes hosts many outdoor activities. Check it out and give something a try!
Best Places To Go Camping In Minnesota
Lakeview Campground, Father Hennepin State Park
It goes without saying that Father Hennepin State Park is quite eye-catching. It's home to the Lakeview Campground, which gives you one of the best views in Minnesota.
What We Love Here:
Evening Entertainment
Wheelchair Accessible
Two Boat Accesses
When you visit this location, here's what you should expect…
To enjoy the sandy beach for swimming and picnic sites, whilst enjoying a panoramic view of the lake.
There's also  an easy hiking trail to get to the area. What about the children? Well, they can have fun in the playground.  
Father Hennepin has two different campgrounds – The first is wooded and natural, while the second has large trees with mowed grass. The latter has a touch of a city vibe about  it.
And some great news; fishing docks are open, even for those with disabilities. Previous visitors recommend you visit the park in the warmer seasons. That way, you will enjoy the breeze at the beach a lot more.
Best Places To Go Camping In Mississippi
If there's one thing we cannot deny; it's how spectacular  Tishomingo Park is. The park has been around for ages. So, let's see what makes it so special.
What We Love Here:
Rock Formations
Picnic Pavilions
Disc Golf Courses
Compass Course
Adventure awaits you at Tishomingo State Park!
Activities and recreational facilities are available in the park. You can have a picnic in the area with tables and grills.
Also, you can get some cardio at the hiking trails, while your kids have fun in the playground.
Not only that, there are special areas for sports. Play volleyball or swim together as exercise or  for family bonding.
If you're into more thrilling activities, you can try rock climbing. However, you'll need to get a permit for this.
The park also offers campsites, cottages, and group camp facilities. What does this mean for you? You can camp overnight in large or small groups.
Best Places To Go Camping In Missouri
The "Show Me State"  is a real nature-wonderland.
It has among the largest number of conservation and natural parks in the US. Better yet, it boasts of rolling hills and beautiful valleys. Even the water is plentiful here.
You will come across rivers, springs,  creeks and lakes during your visit. It shouldn't surprise you that water sports are quite popular among the visitors here.
From the times I've come here – I can confirm Missouri is surely a top place for outdoor enthusiasts.
What We Love Here:
Water Recreation Activities
Biking And Walking Trails
Open Picnic Shelter
You should know Table Rock State Park gives you the best of water and land recreation. Activities here range from skiing to fishing – and you can engage in them all day long.
Do you want a ski boat? Luckily, you can rent one at the State Park Marina. You can also enjoy the paved trail for beginner bikers and hikers.
Need a tougher challenge? You can try their mountain biking trail. Open picnic shelters are also scattered near its lakeshore.
Simply put, this is a perfect spot for family reunions or friends' get-togethers.
Best Places To Go Camping In Montana
Montana is not called the "Treasure State" for no reason!. Besides the gold and silver, Montana also boasts of breathtaking wilderness.
What I can tell you is that hunters and hikers will fall in love with its wildlife and natural beauty. There's also the famous "Big Hole River"  for true blue anglers. What's more, you'll get to enjoy all these outdoor activities under an overwhelming view of the skyline
There's good reason for the nickname "Big Sky Country"?
What We Love Here:
Sun Road
50 Glistening Glaciers
700 Miles Trail
Glacier National Park combines the beauty of mountain range and ice rivers. It comes with lakes and glaciers for you to explore.
If you love adventure, you can also hike their 700 miles of trails. The famous 50 mile Going-To-The-Sun road is a must to see. It brings you to all the scenic points around the park.
These include alpine tundra and cedar forest. A perfect spot to take photos for your memories. You can also check their Bowman Lake for relaxing, paddling, and fishing. 
Best Places To Go Camping In Nebraska
Enders Reservoir State Recreation Area
The amazing combination of wildlife lands and recreational areas is what this park is all about.
Enders Reservoir has dedicated areas that are a refuge for wildlife animals. If you're into wildlife conservation, that's another reason to check this place out.
What We Love Here:
Swimming at the Beach
Hunting
Wildlife Viewing
Enders is a great escape for the outdoor lovers who want to enjoy nature in a peaceful and calm setting.
Aside from RV camping, there are lots of activities that you can try in the area. You can go fishing for catfish and bass. But swimming is what most visitors enjoy here. So why not  take a walk and  a dip at the beach?
Apart from these interesting activities, Enders Reservoir offers hunting sports. For big game, you can hunt deer; small game includes rabbits, ducks, and squirrels.
But if hunting is not your thing, you can enjoy viewing over 100 different species of  animals at the Reservoir.
Best Places To Go Camping In Nevada
Nevada's claim to fame is its title as the gambling capital of the U.S. But the entertainment is not limited to poker chips. It also houses phenomenal  camping spots at its state parks and mountain ranges.
A prime example here is its famous Lake Tahoe. Another is the Red Canyon Rock which is a national conservation area in Nevada. Best of all is the Ruby Mountain Range.
What We Love Here:
Pure Camping Experience At The Mountain Range
Beautiful Valleys And Granite Cirques
Hiking At Ruby Crest National Recreational Trail
Ruby Mountain Range is a wonderful place for diverse outdoor activities. It is filled with natural scenery from lakes to valleys. And you can also do both hiking and horseback riding at the Ruby Crest Trail.
I would recommend this spot for climbers…
Why?  Its range includes ten peaks above 10,00 feet.
 If you're looking to relax, Alpine Lake also awaits you there.
Lastly, fishing and birdwatching are offered for everyone at Ruby National Wildlife Refuge.
Best Places To Go Camping In New Hampshire
Franconia Notch State Park
Frankly,  New Hampshire is a dream place for both forest and waterside campers.
While the beaches and lakes here are best for leisurely days and  kayaking, you'll also find mountains for bold hikers.
Campgrounds here are mainly situated at the White Mountains. Within this area also lie other tourist attractions that could be worth your while to visit.
What We Love Here:
Echo Lake Beach
Franconia Notch Bike Path
Aerial Tramway
Franconia Notch State Park is a mountain pass right in the heart of White Mountain. Actually, the famous granite cliff ledges, known as the "Great Stone Face," are located here.
It's a great place to start your experience at Franconia Notch.
 And here's why…
Its Bike Path offers a ton of beautiful scenery for sightseeing. The site is also home to Echo Lake Beach, from where you can enjoy the gorgeous view of Mt. Lafayette and Cannon Mountain.
Intriguingly, it's also a great space for your kids. You can bring them to Flume Forge for an exciting Scavenger Hunt.
Last but not least, is the awesome view of the mountains. You'll see it best when you ride the aerial tramway. Check it out!
Best Places To Go Camping In New Jersey
New Jersey offers a lot of places for summer vacations. As it turns out, the beaches here are gorgeous and lively.
In fact, it's beaches are the reason  why many seek the beauty of the "Jersey Shore".
If you fancy a long road trip, try a journey down the Parkway or the Turnpike.
You can also spice up your camping trip in New Jersey by eating out at one of its many traditional diners.
What We Love Here:
Plenty Of Amenities
Scenic Campsite
Located At The Heart Of Kittatinny Mountains
When looking for places to go camping in New Jersey, You shouldn't miss out on Harmony Ridge Campground.
It features 200 different sites on its 160 acre space. It will offer you comfort amidst the wooded Kittatinny Mountains.
But why this campground?
You can go fishing or kayaking in the 3 lakes here. Or spot  a variety of wildlife from deer to wild turkeys.
And if that isn't enough, , the farmlands and rolling hills are also breathtaking and relaxing.
It also has  Basketball and Volleyball for recreational fun. Or you can always go for the usual hiking along  the nature trails.
Best Places To Go Camping In New Mexico
Carlsbad Caverns National Park
Modernist artist Georgia O'Keeffe painted a lot of New Mexico's landscape. Her work reflects the enchanting beauty of the state. It features TopNotch locations for camping and sightseeing.
The state is graced by grasslands, mountains, and deserts where you can enjoy outdoor activities.
But before you hit these spots, you should also go cruising along the famous US Route 66.
What We Love Here:
Beautiful Cave System
Rattlesnake Spring
Chihuahuan Desert Nature Trail
The Carlsbad Cavern was once referred to as "the Grand Canyon with a roof." But that's only because of the enchanting experience upon entering its cavern. It's a gallery of wonderful rock formations and stalagmites. And it has many branches leading to new and exciting cave areas.
You should not leave this place without seeing the Hall of Giants and Kings Palace.
For your memories, you can take wildlife photos at the Chihuahuan Desert Trail. Near the caverns there is also the serene Rattlesnake Spring. This hotspot is perfect to rest your tired body after an hour of spelunking.
However, camping here is allowed only in the backcountry. And you can only do so west of the Rattlesnake Canyon trailhead.
You are also advised to set up camp at least 300 feet from any cave entrance or water source. Your camping spots have to be not less than 100 feet off established trails.
Also, please note that backcountry camping here is limited to 10 persons.
Best Places To Go Camping In New York
The "Big Apple" is a bustling city full of urban hotspots.
But outside the Times Square and Empire State Building lies a different New York:  New York State.
A jungle paradise and lakeside awaits you "Upstate" for weekend getaways. Particularly, the scenic lakes serve as great spots for summer camps.
Overall, the state has lots of camping spots that you can explore.
When you go camping in New York, I would suggest you try Hither Hill State Park.
What We Love Here:
Napeague Harbor
Ocean Beach
Woodlands
Why? It is one of the best pieces of paradise outside the city. It offers a campground site near Ocean Beach. It's  full of  picnic areas and fireplaces to complete your camping experience.
While you're here, you must see the "walking dunes" of Napeague Harbor.  They have a slow motion, which is caused by the sands blown from nearby headlands.
And that makes it a perfect trail for some good old adventure. Other things to do here include cross-country skiing during winter, hiking, and surfing.
Best Places To Go Camping In North Carolina
Undoubtedly, Linville Gorge is one of Eastern America's most scenic valleys. It's so beautiful that it is sometimes referred to as the "Grand Canyon of Eastern USA".
Here, you can rest assured that you'll enjoy the wilderness and the hiking trails while seeing the breathtaking views.
What We Love Here:
Linville Falls
Table Rock Mountain
Chimneys Hike
While many hikers lose their way during the hike because of the trails, you can enjoy spectacular views with used trails.
Specifically, trails such as Table Rock Mountain, Hawksbill Mountain, and Shortoff Mountain are easy to hike.
Usually, the wilderness of Linville Gorge is rich in both plant and animal life. And you will find several species of rare plants in the forest.
However, you need to have a permit to set up a camp here. In order to help to preserve the wilderness area, only 50 permits are available at any one time. So, if you want to camp here, your punctuality is key.
Previous hikers recommend you stop at Linville Falls because of the view. But you have to be wary of black bears in this area. Consequently, you will be much safer if you educate yourself with Bear Safety Tips. That's a must.
Best Places To Go Camping In North Dakota
Nokota Horse Preservation Ranch
You can have a great camping trip in North Dakota!
Spice up your summer by visiting a ranch house and get up close with rare horse breeds.
You can only encounter that at the Nokota Horse Preservation Ranch.
What We Love Here:
Rare Horse Breeds
Ranch Houses
Teepee
What makes this ranch stand out?
The main goal of this ranch is to preserve the native and wild horse breeds in North Dakota. Its great story attracts not only funding organizations but also campers from different states.
Interestingly, the ranch allows tent camping in the middle of the area where horses roam. What does this mean for you? You will have first-hand interaction with these exceptional breeds.
A ranch house is also available for  rent. Plus, stargazing at night with your family is an absolute must!
Best Places To Go Camping In Ohio
On an entirely different level, Ohio is an incredibly popular destination for families with its globally-acclaimed Cedar Point – the Roller Coaster Capital of the World.
Hocking Hills also boasts the most beautiful camping spots surrounded by Buckeye trees.
All you need is a tent and a warm campfire to enjoy your stay.
What We Love Here:        
Old Man's Cave
Hocking State Forest
Lake Hope
Zipline
Hocking Hills State Park is a collection of the finest rock formations in the state of Utah.
Number one on its list is the TopNotch favorite Old Man's Cave followed by the picturesque Cantwell Cliffs.
You can try your hand at canoeing and fishing at their two famous Lakes – Lake Logan and Lake Hope.
If you want to cool off after a busy day on the trails, you can dip into the stunning Cedar Falls or just chill out and enjoy the wildlife of Hocking State Forest.
Best Places To Go Camping In Oklahoma
Red Rock Canyon Adventure Park
If you are looking for something new on your next campsite experience, Red Rock Canyon Adventure Park may be for you!
It has trails that you can hike to explore surrounding landscapes.
So, what awaits you here?
What We Love Here:
Prehistoric Soil Deposits
Rappelling
Tent Campsites with Full Amenities
Many activities are open year-round at the park, including Group Picnic Shelters.
It gets better…
The park has five picnic shelters and they all have picnic equipment.
If you want to try something different, you can try their seasonal swimming pool at the Canyon Campground during August. There's fishing and hiking too!
The Canyon Ridge Trail travels through the forest to the back of the park. Take care,  because canyon rims can be unstable.
Also, did you know that its canyon floor serves as a home for animals? In fact, it has a rich ecosystem for many kinds of trees and birds as well.
Best Places To Go Camping In Oregon
Providing easy access to the ocean and other areas of natural beauty, Cape Lookout State Park provides campsites and cabins!
If you are looking for places to go camping, you should definitely visit here.
What We Love Here:
Hot Shower
Undeveloped Netarts Pit
Beachcombing
You can reach the Cape Lookout by traveling for an hour and a half through the Wilson River pass.
Along the way, stop to enjoy the waterfalls and try your hand at fishing. Are you familiar with beachcombing? It is a popular recreational outlet in this state, happening every evening.
By doing this activity, you'll see patterns of light and changing colors. You can walk by the nature trail for a close-up view of native trees and plants.
In our own experience, the best time to go to the place is in the summer. During winter, the beach is not accessible.
While you're within the facility, make sure you look for the amphitheater. If you are having a trip with your children, you can enroll them in the Junior Ranger Program!
Best Places To Go Camping In Pennsylvania
Hersheypark Camping Resort
Known as the "Sweetest Place on Earth", this camping resort pairs with the best outdoor activities and theme park!
 How so?
Their activities and amenities will level up your ordinary camping experience. Vacations at the site are on sale also. So, why not book your trip now?
What We Love Here:
Wheelchair Accessible Restrooms and Cabins
Free Wi-fi
Tent Accommodations
During summer and fall, you can experience Hershey's Character visits hosted by Zooamerica. And after a long day, your family can attend their movie nights and live entertainment.
Do you have a group of 10 or more? If so, book their Come and play package to save on tent accommodation prices. Particularly, this is perfect for family reunions and scout troops.
The camp resort is not only for the young but also for the young at heart. You can fish by the river and grill your lunch near your cabin. There is a swimming pool area too.
Best Places To Go Camping In Rhode Island
Burlingame State Park and Campground
With more than 3,000 acres of woodlands, Burlingame is Rhode Island's most popular campground. It offers activities such as canoeing, fishing, and arcading.
What more do you need to know about the campground?
What We Love Here:
Arcade
Nature Program
Boat Launch Ramp
Rhode Island is the perfect place for your nature getaway. You must visit Burlingame to get the most of your adventure! You can enjoy a stay at the freshwater beach with your family and test your limits on the hiking trails.
For fun, playgrounds are available for the young. You will also enjoy the games at the arcades. Plus, you can take a peek at the Watchaug Pond or ride a canoe to maximize your experience.
Every year, anyone who wants to learn more can attend educational and fun programs to learn more about the natural world.
Best Places To Go Camping In South Carolina
Devils Fork State Park provides the only public access to Lake Jocassee.  If you're looking for a place to spot a black bear, fish on a lake, and hike, then this place might interest you.
It is one of the best ways to spend your camping adventure time in South Carolina.
What We Love Here:
Rare Oconee Bell Spring Flowers
Bald Eagles and Peregrine Falcons
Lake Jocassee
The first thing that caught our eye is the versatility.  I mean, the park is popular with families, fishermen, scuba divers, and boaters!
According to South Carolina's renowned state tourism website, visitors enjoy Jocassee's setting – waterfalls, lakes  and wooded slopes. One of the park's highlights is the modern villas where pets are also welcome. 
You'll also discover hiking and nature trails where you'll be able to spot rare flowers and birds.
Fun fact…
The unusual clear water of Lake Jocassee is a haven for visitors. It attracts scuba divers and swimmers to the park.
The campgrounds in the park are ideal accommodation for overnight guests. So, why not book your stay now?
Best Places To Go Camping In South Dakota
Custer State Park is one of the best parks in South Dakota and the largest state park in the country. It has a lot of overnight options to choose from.
Now, do yourself a favor and visit Custer State Park!
What We Love Here:
Sylvan Lake Lodge
Crown Jewel
Bison Herds
Scenic Drives
From trail rides and safari tours, it's impossible to get enough of this wonderful South Dakota attraction!
You can watch buffalo and a variety of other animals roam around the park. Meet deers, antelope, bighorn sheep, and prairie dogs!
As you can see, Custer offers an all-around experience…
It is also rich in history and culture. Walk the banks of French Creek, where the first place gold was discovered. The accommodation here is made up of historic lodge rooms and motel units.
Alternatively, set your tent on their campgrounds along the stream, lake or pine forest.
This is indeed a bucket list-worthy stop for all ages!
Best Places To Go Camping In Tennessee
Tennessee's lush landscape proves it as an essential camping getaway. It's greenery and rolling hills can make you feel at home.
Spelunking is also a good activity to try with over 10,000 documented caves to explore.
Of course, trekkers are recommended to go and see the vast and beautiful  Great Smoky Mountain range.
What We Love Here:
Camping On An Island
Experience Primitive Camping
Water Activities (Sailing, Kayaking, Fishing)
What's in store for you?
Island hopping and primitive camping are the best experiences awaiting you in Percy Priest Lake Camp.
Lua Island is one of the popular islands here, where you can set up your camp.
Plus,  various water activities are offered in this area. The blue, cool water is perfect for kayaking and sailing. You can also rent a boat for a good price at their Marinas.
But that's not all. Here, you'll find awesome spots for biking and wildlife watching. And the sunset here is just out of this world.
Best Places To Go Camping In Texas
Ray Roberts Lake State Park
The "Lone Star State" is the biggest state by area in the  Continental United States. Its beautiful countryside makes it a top destination for travelers.
And you shouldn't visit and leave Texas without enjoying its BBQ and Rodeo show. The saying "everything is bigger in Texas" definitely has a ring of truth in it. The place also has great camping spots.
What We Love Here:
Texoma Loop of The Great Texas Wildlife Trail
Beach Areas
Easy Lake Access
Ray Roberts Lake State Park is a 3-in-1 hotspot for young and experienced campers.
Why not explore their 20-mile multi-use Greenbelt Corridor either through hiking or horseback riding?
Their 29,000 acre Ray Roberts Lake is a fantastic destination to fish.
Children can also enjoy the beach, especially during summer.
Even better, there is a wide range of things you can do here. You can either go for a relaxing nature watch or go for an adventure on their wildlife trail.
Best Places To Go Camping In Utah
Coral Sand Dunes State Park
Utah is not only a hotspot for skiing during winter but also heaven-sent for campers looking for a great place to rest.
Utah offers many beautiful locations to enjoy, like the awesome sight of the Great Salt Lake. It also boasts of the Coral Sand Dunes State Park.
What We Love Here:        
Pink Sand Dunes
Sunset view at the dunes
ATV Tour
Coral Pink Sand Dune State Park is a scenic area of rare, warm pink sand dunes.
If you're an extreme sports enthusiast, you can enjoy the All-Terrain Vehicle Tours here.
Other notable activities that you can enjoy include horseback riding and hiking. Or maybe take a look at their Welsh Milkweed and Coral Pink Sand Dune Tiger Beetle.
Turns out, these are rare examples of wildlife that still exist and live among the pink sand dunes
Best Places To Go Camping In Vermont
Vermont's very first state park, Mt. Philo, will arguably give you one of the best views you will ever see.
Here, the best camping spot is at the top where you will get an amazing view. Mt. Philo, however, has only 10 campsites.
So, go on ahead and book your mountain camping experience sooner rather than later!
What We Love Here:
Mountaintop Camping
Overlooking the Lake Champlain Valley
Adirondack Mountain
Today, the park attracts thousands of hikers, picnickers, and nature lovers throughout the year. And if you love hiking, you will most likely encounter wildlife animals such as white-tailed deer or moose.
It is also a good spot for bird and raptor watching.
A small campground is also available on the north side of the park. But, you cannot go with your vehicle here because of the steep roadway.
If you want to level up your camping when here, you might want to stay at the 1930's lodge for a taste of nostalgia.
Best Places To Go Camping In Virginia
What We Love Here:
Wide, untouched shoreline
A myriad of activities
Pets are allowed
Don't you just love a place with ample space? A place where you can go with your family and friends to relax? Well, guess what? False Cape State Park can deliver.
It is one of the most serene camping spots in Virginia. And if you love coastal camping, then this is the place to be when in Virginia.
Why do we love it?
The land is underdeveloped. What does it mean?  Its shoreline is untouched.
The beach has plenty of activities you can take part in – biking trails, swimming, guided kayak trips, and sunbathing. Moreover, it has 6 miles of pristine beachfront.
However, you cannot access the campground with your vehicle. You can only do so by bicycle, foot, or boat.
Good news:   Pets are allowed here. The only catch:  you can come with them by boat. The access trails through Back Bay National Wildlife Refuge don't allow pets.
Like many campsites, you cannot make reservations on the day of arrival. You have to do so beforehand.
Best Places To Go Camping In Washington
Washington state is overflowing with luscious greenery. The abundant Evergreen forest puts it among the best places to camp.
What's more, it's blessed with exciting river and mountain trails. And the sunrise and sunset views from the peak of Mount Rainier will definitely blow your mind.
What We Love Here:
Wildlife Viewing
Night Sky Programs
Diverse Natural Places To Go
Olympic National Park offers more than just temperate rainforest to hike. There is the Sol Duc Valley for your complete wilderness exploration.
Come and view all the beautiful flora and fauna that this park offers.
But there are other features. The stunning Lake Ozette crystal surface complements your fishing and boating past time.
Also for your 'to-do list'  is its Night sky program. You can watch the starry sky unfold at Hurricane Ridge. The program's free and best to do during summer.
Best Places To Go Camping In West Virginia
Enjoy endless hiking trails, close to many waterfalls, at the Big Meadows Campground!
Located at Shenandoah National Park Skyline Drive, Big Meadows is near several vineyards and breweries.
Might as well stop for a drink, right?
What We Love Here:
Food Storage Regulations
Certified Plywood
Campstores
West Virginia is a bear country, so be careful! Animals like deer, skunks, and raccoons are common residents of the state.
Top tip: Put your food elevated in storage boxes to keep it safe from these animals.
Visitors can buy plywood at the park for a campfire. But you are asked to refrain from cutting down the trees in the woods.
If you are there in summer, you will be able to see a beautiful display of wildflowers. In the fall you will see vibrant autumn colors.
Intriguingly, there are many creeks, rivers, and waterfalls in the area.
Besides, you can engage in outdoor recreation activities like biking, hiking, and wildlife viewing. Plus,  lots of historical sites are open near here.
Best Places To Go Camping In Wisconsin
Yogi Bear's Jellystone Park Camp
Beer and Baseball in Milwaukee make Wisconsin a fun place to visit.
It also serves as a tourist hotspot with its many museums such as the entertaining House on the Rock.
But it's also filled with terrific camping spots, like those along and around Wisconsin's famous coastline and shore.
These are a must-stay for all you camp lovers out there.
What We Love Here:
Exclusive RV Site
Outdoor Mini Theatre
"Jumping Pillow" Experience
Yogi Bear's Jellystone Park camp is an award-winning camp – kids and adults alike will love it.
Located in Caledonia, it features cabin rentals, tent sites, and RV camping spots.
It also offers tons of facilities to enjoy from the wonderful Waterpark, Mini Golf, Bear Paw Beach to Laser Tag.
Animal lovers will also enjoy visiting the Racine Zoological Garden.
For plant enthusiasts, the Apple Holler Orchard is a great place to check out.
Top Tip: make sure you watch their dazzling Holiday Light Show, happening yearly from late November to December.
Best Places To Go Camping In Wyoming
Norris Campground, Yellowstone National Park
Located at the center of Yellowstone National Park, Norris Campground will give you a good view of its pinewood surroundings. A wide selection of activities is also available here.
And if you want a taste of the adventure, book now!.
What We Love Here:
Norris Geyser Basin
Museum of the National Park Ranger
Grand Canyon of Yellowstone
Would you like to witness hypothermal activity? Well, you can visit the Norris Geyser Basin.  It is in a campground through a one-mile trail in the Museum of the National Park Ranger.
You can easily pitch your tent or park your RV here. And who doesn't love options?
During the night, sleep under the sea of stars.
When it comes to attractions, you will find a lot of fishing and hiking trails within a short walk or drive from the area.
Of course, you'll also discover the tallest active geyser and most colorful hot springs here!
Conclusion: 50 Best Places To Go Camping In The USA (All 50 States) 2023
Hiking, backpacking, or camping:  each is different, but they all have common ground.
The heady mix of the outdoors, the unexpected wonders you find when you're at one with nature, and the relaxing time you spend away from the hustle and bustle of everyday life.
Finding the right location can be tricky, especially if you're on a multi-day camping trip – when the location can make or break your trip.
Fortunately, the U.S. has so many camping sites – I made it my mission to find the very best one in every single state.
Now you can plan your route, pack your gear, (see our Camping Checklist) and enjoy your next unforgettable adventure.
The Team at TopNotch wishes you the safest and best of times.