North Face Wawona 6: Definitive Review (2023)
TopNotch Outdoor is independent – we research, test, and rate the top products to help you make the right buying choice. We sometimes use affiliate links and may receive a small commission on your purchase. Learn more…
This is the Ultimate Topnotch Review of the North Face Wawona 6 2023…
We put this tent to the test alongside nine other competitors and are excited to let you know how it fared via this guide.
In this comprehensive review we'll cover:
The North Face Wawona 6 Tent and its ratio of value for money
Ease of use and setup requirements
Durability… and whether it will maintain its quality after years of use
Lots more…
So, if you want an in-depth view of our Top Pick 6 Person Tent, you'll love this guide.
Our Top Pick always goes to products that excel in a particular area, even if they don't perform as well in others.
In this case, the North FaceWawona 6 tent fits that bill, providing the highest quality camping experience of any of the 6-person tents in its class. Specifically, it achieved its highest score for its durability and workmanship.
Let's get started.
Square Footage: 100 sq feet
Height:6'6"
Weight: 20.9-lbs
Seasons: 3-Seasons
Manufacturer: The North Face
Bottom Line : A great combination of weather resistance and ease of use, perfect for family camping or hangouts with your friends
Pros
---
Super easy to set-up
Large vestibule
Good weather resistance
Enhanced ventilation
Cons
---
Poorly designed stuff sack
Our Verdict: North Face Wawona 6
It's hard to know where to start with a review of this exceptional tent from North Face.
If you want a 6-person tent that's easy to set-up, durable enough to last countless seasons, and full of unique features – the 'North Face Wawona 6 Tent' could be the one for you.
It ended up tied with our Editor's Choice tent, the Core 6-Person Instant Cabin Tent with an overall score of 86/100 points.
The tent comes with a massive vestibule that provides plenty of space to store your excess gear. It can be used as a small side porch for cooking, or playing cards with the family outside of the cabin walls. Feel free to check out our article on the best backpacking chairs you could set up inside this useful extra space.
This tent was so well made that the only real hangup we had with it was its somewhat lackluster storage bag.
So keep reading on…
… In the rest of this article, we'll go into detail about why this tent was a top performer in key metrics like ease of use, durability, and comfort!
"
North Face Wawona's
Single-wall design is fully waterproof and makes for easy pitching.The tent's large windows also provide great visibility and breathability on warm days."
Related: 10 Best 6 Person Tents
Analysis Comparisons and Test Results
Performance Comparison
We didn't judge this Wawona 6 tent by itself. Instead, it was put to the test alongside nine of the highest-rated 6-person tents on the market.
All the more impressive that the tent was able to earn the highest score in more than just one of our metrics.
Lots of times, we find tents that are comfortable, but not durable. Or they are easy to set-up but uncomfortable to sleep in. It is very rare for a tent to score high across the board.
However, this Wawona tent defied the odds and beat out its competitors in more than just one area. It came out on top for its comfort, durability, and ease of use all at the same time!
Value for Money
What's amazing about the North Face Wawona 6 tent is that it is less expensive than a lot of the other tents we tested in its class.
Its roomy vestibule comes with your purchase of the tent, whereas many other tents have vestibules only at an additional fee.
Value for Money Rating
CORE 6-Person Instant Cabin Tent
Coleman Weathermaster 6-Person Tent with Screen Room
You'll need to purchase the Wawona 6 footprint separately, however, if you prefer to camp with a little extra protection underneath your tent.
It comes with three doors, which can make a big difference if you have 6 people staying the night in one space. This is a hard feature to come by, as nearly every 6 person tent we tested only provided two doors.
Unfortunately, however, it does weigh in at around 20 lbs and 15 oz when fully stored in its gear bag. But, as long as you are not using this tent for trips where having lightweight gear matters (like multi-day backpacking trips) we don't believe this will have a big effect on its overall value.
As if the impressive front vestibule wasn't enough already, this Wawona 6 person tent from North Face comes with a second vestibule as well. Its rear door comes protected from the elements too, just in a slightly more modest fashion.
As you continue reading this review, it should become more and more clear why we believe this tent provides an incredible amount of outdoor value per dollar.
Ease of Use & Set-Up
There's nothing worse than the inevitable headache that comes from setting up a poorly designed tent…
… Luckily we promise the North Face Wawona 6 tent can be set-up quickly without any significant mental strain.
Ease of Use & Set-Up Rating
CORE 6-Person Instant Cabin Tent
Coleman Weathermaster 6-Person Tent with Screen Room
Its single wall design means that once it is up and on its poles your job is all done, and no extra rain fly needs to be attached to weatherproof it. This is a good thing because it would take a lot of work to hoist a rain fly over its high frame which has a peak height of 6"6".
Only three poles were needed to erect the main structure and they're made from a high quality, flexible aluminum material.
To set-up the tent we simply slid the poles within the sleeves located at the top of the tent. Then, once the ends of the poles were placed into their respective holes on the floor of the structure we lifted it into the air. The final step was to clip the rest of the tent's fabric to the aluminum poles, and voila, we were all done and ready for a beer to start the weekend!
We found it easiest to set-up the North Face Wawona 6 tent with two people, but do believe it could be done by a single person as well.
Overall its set-up process is intuitive and easy to understand, meaning you can enjoy your night at the campsite Advil free!
Durability & Workmanship
Everyone wants products that will last, and that won't need to be replaced.
This North Face Wawona 6 tent went above and beyond in terms of its durability and workmanship.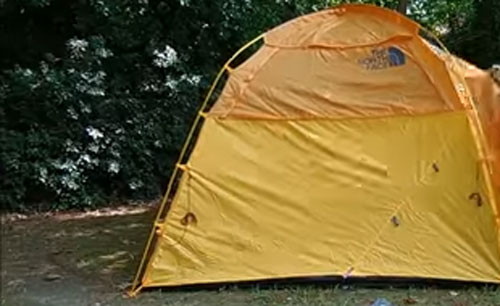 Durability & Workmanship Rating
CORE 6-Person Instant Cabin Tent
Coleman Weathermaster 6-Person Tent with Screen Room
So…
… if you want a 6-person tent that'll be reliable for your family over multiple camping seasons, we highly recommend you take a closer look at Wawona 6.
One reason the tent is a TopNotch pick if you're looking for something durable is its criss-cross shape and dome design. Its structural integrity is off the charts, and we felt completely secure within its cabin walls under high-wind situations.
Even the stakes provided by North Face for this tent were well-made and sturdy, instilling us with confidence that this product could last for many many years.
Again, we do wish that it came with a footprint provided, but one can easily be bought separately if you like.
Comfort
If the North Face Wawona 6 tent was at the top of its class for durability, there is no way it could also achieve top marks for comfort… Right?
Wrong.
One of the best aspects of this tent is the comfort it provides, and we simply loved our stay within its breathable cabin walls. That is why it scored a 9/10 for total comfort.
Comfort Rating
CORE 6-Person Instant Cabin Tent
Coleman Weathermaster 6-Person Tent with Screen Room
Near the top of the tent are two large mesh windows that can be opened to allow for more optimal airflow inside. We did find it a little strange that these windows need to be opened from outside the tent, but they are incredibly easy to open and close when needed.
It also came with ten mesh pockets that are placed in various places within the cabin walls. Some of these are large mesh pockets and others are smaller, allowing you to store a variety of outdoor gear in comfort.
Finally, it has a one of a kind internal washing line that runs around the tent and allows for you to hang clothes, towels, or whatever else you need to dry out. There's also a velcro lantern loop at the top which can help create an optimally lit cabin after the sun goes down.
Weather Resistance
As you're probably beginning to expect, this tent was a top performer in inclement weather as well.
Sometimes we get worried about weather resistance when brands decide to opt-out of using a rain fly, but we found no issues with the Wawona 6 and its single-wall design.
Weather Resistance Rating
CORE 6-Person Instant Cabin Tent
Coleman Weathermaster 6-Person Tent with Screen Room
The mesh doors and windows must all be closed when rain arrives, but we found the tent was still quite breathable even with the mesh all sealed up.
The two vestibules were both structurally sound and able to protect our gear safe from the rain, but outside of the internal cabin walls.
You should have no worries about this tent's weather resistance, as we tested it under extreme conditions  – actually – a power washer from 5m – and found it was able to withstand whatever we threw at it!
"
North Face Wawona's
Large top vents help prevent condensation.The tent's Pre-bent poles maximize interior space and high ceiling allows adults to stand fully upright."
Our Final Verdict:
North Face Wawona 6
It should be no surprise that this tent topped our leaderboard after seeing it beat out its competitors time and again in our various outdoor metrics.
With a peak height of 6'6, nearly everybody can stand within its cabin walls without crouching down.
Furthermore, its impeccable amount of storage is quite simply unmatched by the competition.
Also, its single-wall design and color-coded poles/sleeves allowed for a pain-free set-up process that anybody can figure out.
Finally, as with almost all of North Face's products, it's made to last. Every component of this tent down to the stakes and poles feels well-crafted and sturdy, just the way we like them at TopNotch Outdoor!
Our Final Verdict Rating
CORE 6-Person Instant Cabin Tent - EDITORS CHOICE
Eureka Copper Canyon 6 - BEST VALUE
Coleman Weathermaster 6-Person Tent with Screen Room
North Face Wawona 6
Review✓ 28 Hrs Field Testing✓ Pros & Cons✓ 3 Season✓ Great Value✓ Fast Set Up✓ Tall Ceiling Height✓ Heavy-duty✓ 2-Windows✓ 76-Users Surveyed
Conclusion

:
North Face Wawona 6 Tent
We hope you're as blown away by this review as we were when we tested this tent in the Great Outdoors.
Simply put… if you're looking for a 6-person tent that's an all-around star at an affordable price, you probably won't find a better option.
As long as it's 20 lb. 15 oz. weight is not an issue for you, there's not much wrong with this tent. In reality, it is very hard to find a lighter 6-person tent out there, but the Big Agnes Big House 6-Person tent is slightly lighter.
With mesh pockets scattered throughout the cabin and luxurious breathability throughout the cabin walls, we can assure you your outdoor adventures will be twice as comfortable in this tent.
Also, when you arrive at your campsite, the Wawona 6 will give you peace of mind knowing your tent will be super easy to set-up.
We highly recommend you check out the North Face Wawona 6 for yourself… we sure loved our stay in it!
We've done the hard work – now it's over to you to make your choice!
Other Versions:
North FaceNorth Face Wawona Tents
This TopNotch product also comes in a four-person size. The North Face Wawona 4, this features a smaller vestibule and various other specification differences.