17 Best Small Travel Trailers & Campers
On the Market For (2022)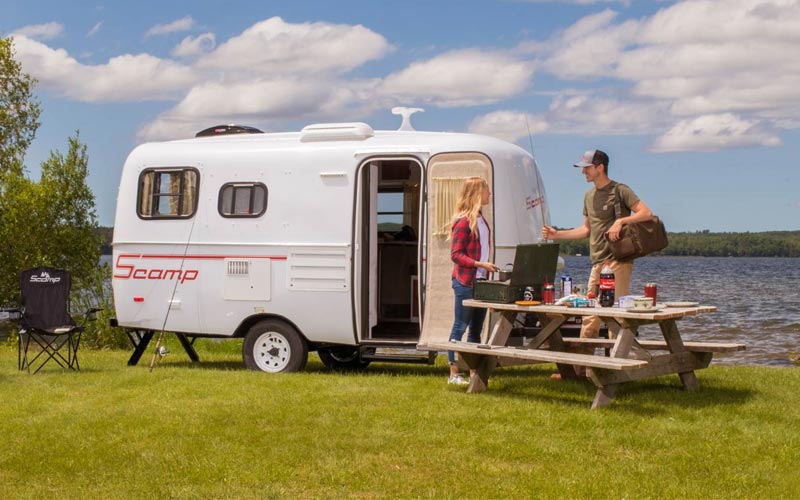 TopNotch Outdoor is independent – we research, test, and rate the top products to help you make the right buying choice. We sometimes use affiliate links and may receive a small commission on your purchase. Learn more…
Small travel trailers are great…
Small travel trailers are much easier to tow, they cost significantly less, they're easy to store and you increase your freedom to camp anywhere…
…what's not to like?
And in 2022 you don't have to compromise on luxury.
We've listed here 21 of the best small travel trailers on the market for 2022 and we literally have something for everyone…
…from off-roader campers to luxury small campers.
Strap in, let's take a look and explore some of their fun features…
1 – Forest River R-Pod Travel Trailer
The Forest River R-Pod travel trailer is affordably luxurious, well designed, easy to tow – even on twisting mountain roads – and easily goes off-road.
Here are a few common  floor plans:
Now, we're going to take a closer look at Stand Up Paddle Boarding.
Standup Paddleboarding or SUP is a new-trend outdoor water sport wherein the paddleboarder stands on their board and uses a paddle to move through the water.
Much more exciting, improves balance and better on your legs and abs!
Let's review its history through the years…
With so many floor plan options, you can decide what's important and customize the R-Pod travel trailer to your needs, there's an R-Pod layout out there just for you.
This small travel trailer length is 18'4″-22'2″, making it super easy to tow. It can fit in any camping space and it can be stored pretty easily.
The river R-Pod has great build quality and durability, with a powder-coated steel frame for corrosion resistance.
Every Forest River R-Pod travel trailer comes standard with a two-burner recessed cooktop with glass cover, a 4-speed MaxxAir fan, a 3.7 cubic foot 3-way refrigerator, and 6-gallon gas/electric DSI hot water heater.
Every R-Pod comes with an outside shower but you can also include a wet bath.
Upgrades
Solar package with a 110W panel, digital controller, and 1000 Watt inverter
24″ LED flat-screen TV
Convection microwave oven
R-Dome awning with screen room
2 – TAXA Outdoors Cricket Camper Trailer
The TAXA Outdoors's Cricket has a functional modern sleek design, looks great, and is made for those off-road adventurers amongst you.
Talking of going anywhere – the founder and CEO of TAXA, Garrett Finney, worked on the International Space Station and it's clear he brought his experience of working in small spaces to the Outdoors Cricket Camper.
The amazing functionality of this small camper is down to Finney's ground-breaking design.
At just 15 feet long, the Cricket is a breeze to tow and maneuver,  even using the smallest of vehicles.
Don't let the small size of the Outdoors Cricket deceive you into thinking you have to put the kids in a tent or that it won't suit your needs…
…the Cricket sleeps two adults and two children comfortably.
As you'd expect with this type of small camper it has a pop-up roof with windows all round, and together with the four swing windows, this gives you the feeling of being part of the outdoors at the same time as optimizing ventilation.
TAXA's modular design works really well, you get tons of storage under the bed, the kitchen has a large counter with a covered sink, there's a pop-up table and when you're in bed you get panoramic views from the 32 x 20 windows.
Not bad eh?
This camper is ready for your rugged adventures, it's more like a base camp, it doesn't have a lot of the amenities and isn't your home away from home camper.
But the construction is first class; you won't find many travel trailers with this much durability.
The skeleton is made from laser-cut aluminum, the steel chassis is powder-coated, it has 1-inch plywood floors with ABS laminate,  and the non-slip seamless nickel patterned floor makes the Cricket lightweight and incredibly strong.
This is a great choice for outdoorsy adventurers or those looking for an upgrade from a tent. The ease of use and incredible functionality makes the Cricket a super option.
3 – Scamp 13′ Fiberglass Trailer
Established in 1975, Scamp produces American-made travel trailers and only uses US-based suppliers. They only sell directly through their Minnesota dealership.
Looking for a retro-looking trailer?
Hello Scamp 13′ lightweight travel trailer.
Scamp travel trailers come in three lengths:
Best for singles or couples – 13-foot trailer
The 13-foot Scamp is one of the original models, comes with a two-burner stove, sink and icebox.  There are a variety of flooring options that sleep 2-4 people and rear seating for four.
This model can be towed by most vehicles.
Best for small  families – 16-foot trailer
In our opinion, the 16-foot Scamp is the better choice – you get a bathroom which the 13-foot lacks, additional storage, and counter space, it comes in a choice of three floorplans and sleeps up to 5 people.
You'll need a medium-sized car or SUV to tow this model.
Best for larger groups sleeping up to six people.- 19-foot trailer
The only extra the 19-foot offers compared to the 16-foot is sleeping capacity to 6 – with the addition of a loft bed at the front of the trailer
However, the 19-foot Scamp is only available as a fifth wheel.
Scamp's build quality is awesome, they use heavy gauge tubular steel, the frame is coated for rust prevention, and the axle uses a torsion suspension system for independent suspension to each wheel.
Scamp has a loyal customer base for a reason –  they stand behind their traveling trailers and offer amazing customer service.
Scamps hold their value well,  due to their solid construction, available parts, and superior customer service.
4 – Homegrown Trailers Woodland Trailer
Looking for a greener option?
Want to stand out from the crowd?
Looking to turn heads?
Hello, Homegrown Trailers…
Homegrown Trailers' USP is that they only use sustainable, renewable, non-toxic materials, and exterior wood paneling to blend into the environment.
They have two models:
Woodland:
19'4″H x 7'5″W x 6'9″H (top down) or 8'5″H (top up)
2,700-2,850 lbs dry weight
400-800 watts of solar panels
4-6.0 kilowatt-hour lithium-ion battery capacity
Two layout options with sleeping for 2-4
Composting toilet
12-gallon freshwater tank
Timberline:
23'L x 7'11"W x 8'11"H
4,350-4,550 lbs dry weight
600-800 watts of solar panels (optional)
6-6.0 kilowatt-hour lithium-ion battery capacity (optional)
Multiple layout options with sleeping for 3-6
Choose bunk beds, dinette, or both
Wet bath with indoor shower and toilet
Homegrown recommends towing the Woodland and Timberline with a vehicle that has a 2,700-3,500 lb tow weight – fine for most SUVs or crossovers and staying true to the company's environmental commitment of having a small impact.
This trailer is great for off-grid due to its solar panels – used in conjunction with lithium-ion batteries you can go longer without needing to plug in.
Keeping this as green as possible Homegrown has gone with insulating the walls and ceiling of these trailers with wool which also provides good sound insulation, regulates humidity by absorbing moisture, and best of all – purifies the air by absorbing and neutralizing harmful substances.
If you're looking to go off-grid but still want your creature comforts you'll love these well-designed travel trailers.
5 – Winnebago Micro Minnie
The Micro Minnie is a great option from a reputable manufacturer who needs no introduction – Winnebago.
They've been around since 1958 and have built a reputation for great quality, function, and superb customer service.
With this seven-foot-wide trailer, you get the option of ten-floor plans and lots of great features, a TPO heat reflective, energy-efficient roof, and a 13.5K BTU low profile air conditioner system.
The Micro Minnie has every modern amenity you'd get in a larger camper – only in a smaller package. You get a king-size mattress that can also convert into two twin beds, a roomy dinette, and a bathroom. A full kitchen (complete with a split galley sink and pull-out faucet), microwave, and refrigerator.
Other features included exterior speakers, a tankless water heater, LED lighting, a power awning, and a huge storage garage.
Micro Minnie models range in exterior length from 19'2″ (for the 1706FB model) to 25'5″ (for the 2306BHS model).
The interior height of each model is 6'4″, so these are great for those of you in the 6-feet or above range.
Build quality is of the highest standard which is what you'd expect from a manufacturer like Winnebago. The Micro Minnie has an NXG engineered powder coated chassis and a high-quality aluminum frame giving this travel trailer a lightweight strong foundation.
Winnebago Micro Minnie is great quality at an affordable price, with a lot of features for the small space. Topping it all you get industry-leading service and support, what's not to like?…
Safari Condo built all their trailers using mostly recyclable materials and to be as environmentally-friendly as possible.
They model aircraft design, for durability and to be as aerodynamic as possible so that the RV can be towed with maximum fuel economy and by smaller vehicles.
The Alto has two models:
R SERIES (RETRACTABLE ROOF)
Retractable seamless aluminum roof
Tinted tempered glass crescent
Aluminum frame and floor
Adjustable suspension height from 83,5" to 85"
75% less aerodynamic drag
F17 SERIES (FIXED ROOF)
Seamless aluminum roof
European windows
Aluminum frame and floor
Adjustable suspension height from 95" to 97"
Curved roof for lower aerodynamic drag
The roof and walls of the Safari Condo are designed with a plastic honeycomb core that's sandwiched between aluminum on one side and either aluminum or Alufiber on the other – which makes it lightweight and durable.
Finally, it has independent Flexiride suspension that gives great stability even in heavy crosswinds.
7 – Oliver Travel Trailers Legacy Elite II
The Legacy Elite II by Oliver Travel Trailer is the longest of the small travel trailers here at 23'6″. 
This model is designed to be high-quality luxury with details like LED lighting inside the cabinetry, rubber-lined storage space that provides a no-slip storage surface, and lots more…
…it's the company's most popular camper!
Looking for a four seasons traveling trailer?  
This could be the one for you.
You get two-floor plan options with a standard rear bed of (79 x 75) or twin beds plus the addition of the dinette that converts into a bed.
The Legacy comes with a luxury bathroom that has a sliding frosted window with a screen and a mirror tinted glassdoor and chrome faucet.
You also get a large luxury kitchen and the feeling of being in a state-of-the-art yacht, with soft-close drawers, gas cooker, microwave, and fridge.
Standard features on the Legacy Elite II include flip-down TV, dual charging station, reading light package, and Dexter E-Z Flex suspension.
Looking to go off-road?
No problem…
You get Trojan dual purpose AGM deep cycle batteries with a 340-watt solar package that's maintenance-free and extremely reliable.
The entire trailer is built to the highest of standards with an aluminum frame to keep it lightweight and it's constructed of durable specially molded fiberglass.
One cool bonus:
Oliver offers its customers a Customer Education Day – no need to worry about how to operate your new baby as they show you everything including sway control, hookups, and safety equipment.
Plus – they generously cover your costs for the first night of camping in one of their local campgrounds where they're on hand to help and answer any questions.
This funky little retro classic teardrop travel trailer may look like it came out of the 1960s but – be rest assured –  it's packed full of modern amenities, including an Apple iPod connection.
At just 14 feet long, the iCamp is super easy to tow, but you only get one floor plan option, and two color schemes – orange or blue.
For a camper this small, it comes with a huge amount of storage space, 6-gallon hot water heater, 3-way refrigerator, gas stove, and a dinette that nicely converts to a queen-sized bed.
There are a few options:
Flat-screen TV, DVD and audio system, to name a few.
The iCamp Elite is designed really well, while it doesn't have all the bells and whistles, its modular design does pack a big punch.
They say the iCamp sleeps  2-3 people, but the dinette bed is the only sleeping area  – so it'll be cozy with 3 in one bed!
It's also not ideal if you're on the tall side as the interior height is only 5'11".
However, this model has many other great features that make it one to consider if you're looking for a small travel trailer.
It does have solid build quality, it's fully laminated and reinforced with an aluminum tubing frame that makes it durable and lightweight – helping you minimize fuel consumption.
This small camper has a lot of great features that definitely make it one to consider for solos or couples.
Airstream needs no introduction,  Wally Byam, the founder, built the world's first Airstream in 1929 and founded the company we now know and love – Airstream –  in 1931.
The  Airstream's Basecamp is the smallest model in the range, designed for newcomers, people who want to get off-grid, or those stepping up from tent camping.
You don't get the option of multiple floor plans with the Airstream's Basecamp, the interior design is set with this model – but you do get the choice of three different interior designs.
The exterior length of the basecamp is 16'3″ and the interior height is 6'3.5″ encompassing a well-designed floor plan.
You get a  wet bath bathroom, a toilet, and sink in an enclosed space with a showerhead that can pass outside meaning you can have an outdoor shower too.
There's a kitchen and a dining area that converts to a bed with space to sleep two.
The kitchen follows the curve of the trailer with lots of cooking space, a two-burner gas stove, microwave, fridge, sink, fridge plus spice, and grocery storage.
There's a bench and table with seating for up to five people that you can convert to either a half bed on one side or a  (76" x 76") full bed.
 You also get bungee storage – a perfect home for your kit.
Remember we said off-grid?
The Airstream has a  Basecamp X model for off-road lovers, with stainless steel protectors on the front of the trailer, solar stone guards to protect the front glass windows, higher ground clearance, and it's fitted with larger tires.
Both models have the option of a tent package that can be attached.
Looking for a custom-built compact go-anywhere off-road palace?
The Hiker Trailer might be the one for you.
Hiker Trailer will manufacture a custom-built small trailer to your individual specifications.
They have two locations in Denver, Colorado and Indianapolis, Indiana.
To have your trailer custom-built, you first select the trailer style based on your individual needs –  there are four models:
Highway Basic
The Highway Deluxe model
The Mid Range Deluxe
Hiker Trailers – Extreme Off-Road Deluxe
If you're not sure what you want, you may decide to rent first – Hiker will allow you to 'try before you buy' – very handy, right?
You can see then that the choice of features is endless, from electrical systems to hitches and mounts, and exterior features like color, trim, racks, fenders, awnings, and doors.
Hiker Trailer offers a  good quality small trailer at an affordable price for weekend getaways.
Other Small Travel Trailers To Consider:
Looking for something for a quick trip to the lake or weekend getaway?
The Terrapin is definitely one of our best camping trailers for you to consider.
Dry Weight: 1,260 lbs
Length: 12′
Width: 6'9″
Casual Turtle floor plans can be built any way you'd like to perfectly meet your needs.
12 – Jay Sport Camping Trailer
How could you not want something that looks this good…
If you're looking for something super classy then the Jay Sport might be the one for you.
Dry Weight: 2,270 lbs
Length: 21'6 Opened (18'5 Travel Size)
Width: 7'1
Jayco is known for its top-drawer travel trailers.
13 – Timberleaf Teardrop Trailers
Ok, I know what you're thinking?
It doesn't look much!
But you'll get a classic Teardrop Camper or Off-Road bad boy filled with everything an adventurer needs.
Dry Weight: ​1,200 lbs
Length: 15′
Width: 65″
You'll get a fully-insulated cabin that's designed not only to keep the chilly nights at bay but also the heat and wind under control.
14 – Aliner Classic Travel Trailer
If you like the classic pop-up design, you'll love the Aliner Classic.
Dry Weight: 1,590 lbs
Length: 15'
Width: 78″
This is your one-stop replacement for that ole' tent – something a little more civilized and comfortable.
You'll get a sink, two stove cookers, microwave, and a half-fridge.
You don't get a built-in bathroom, but you go get an outside shower.
If you're looking for a rugged look, ultra-lightweight (under 2000 pounds) travel trailer you might want to consider the Cricket Camper.
Dry Weight: 1,500 lbs
Length: 15′
Width: 6'11
They say dynamite comes in small packages – when you pop the top there's plenty of room plus the added bonus of a built-in portable shower.
The Mantis Camper is 18-feet-long and has an independent suspension system and an integrated plumbing and electrical system.
Dry Weight: 2,800 lbs
Length: 18′
Width: 6'9″
It's a plug and play set up.
17 – Bicycle Camper Trailer
No car?
No problem.
How freaking cool is this?
Dry Weight: 88 lbs
Length: 9'4″
Width: 3'2″
The sitting area transforms into your bed, I don't know about you but I just want one…
Conclusion: Best Small Travel Trailers
There you have it – the very best Small Travel Trailers for 2022, straight from the Horses Mouth here at TopNotch.
I hope you had as much fun reading this as I did writing it.
So after the final analysis – which one is going to be on your shopping list?
My particular favorite is the Homegrown Trailers Woodland Trailer No 4 – uber different and if you want to stand out from the crowd, this 'Lil guy is for you!
But I also like the one for your bike…the Bicycle Camper, no 17. It's cool, it's funky, and it'll certainly keep you super fit, pulling that behind you.
If you're seriously considering buying a small camping trailer our top tip is hire before you buy… you heard it first here :).