13 Cheapest Camper Trailers (2023) Under $10,000
TopNotch Outdoor is independent – we research, test, and rate the top products to help you make the right buying choice. We sometimes use affiliate links and may receive a small commission on your purchase. Learn more…
If you're looking for the cheapest camper van that's durable, functional, and a little easy on the eyes… 
… then we got 13 CHEAPEST Campers Trailer Van selection made just for you.
Everything you'll see here gives you the perfect Van Life experience but at a giveaway price no greater than $10,000 – now that's a bargain!
RVs don't have to be fancy to be functional. 
Those stylish Instagrammable Volkswagens with wooden ceilings, flashy paint jobs, and huge kitchens are mainly for the sake of aesthetics. 
You know, it doesn't have to cost millions to give you TopNotch quality and value for your money – even more so, not the wisest choice if you're someone on a budget. 
So for the frugal but spontaneous lads and lasses ya'll are, get ready to be surprised and delighted!
Let's give this list a go!
Top 13 Cheapest Camper Trailers
1 – Forest River Flagstaff E-Pro New Cheap Travel Trailer
Key Features
Number of Floor plans: 7
Unloaded Weight: 1133-3161 lbs
Sleeps: 2-4 people
Length: 11-21 feet from hitch to fender
Price: $9,995+
Standard Features
AM/FM stereo with Bluetooth and USB port
a 12-Volt TV with a built-in DVD Player
a Rear Ladder
Wi-Fi Range booster with available WIFI connection
a roof mount solar panel with
Description
The Forest River Flagstaff E-Pro Cheap Travel Trailer earns the belt for being a super lightweight camper.
Each model scales less than 3,000 pounds on average. 
Is that a good thing? 
In a word, YES!
That just means this travel trailer's light enough to be towed by small SUVs like the Mazda CX5 or just about any powerful car with a hitch.
Of the seven available layouts, four have price tags under ten grand, like the E-Pro 12RK.
It's a pretty good deal – and with plenty of options to choose from too.
You can get more space with the E-Pro 19FD – that is, if you're okay with spending a bit over budget.
Besides, "small" is just a word for the Forest River Flagstaff.
This affordable camper utilizes space absolutely like a pro! 
Most of the seven uniquely different floor plans feature tinted, frameless windows, vacuum-laminated walls and roofing, a Wi-Fi ranger, and a 20,000 BTU furnace. 
As if that's enough…
… this neat travel trailer includes external speakers for the occasional campfire blues, solar panels, an optional tongue mountain bike rack, and manual awning.
For something worth less than $10,000, this is a trailer to die for.
You and your little group of people will surely enjoy every getaway you'll have with this baby!
RELATED: Average Camper Weight [PLUS 17 Examples]
2 – Jayco Jay Flight SLX Cheap Travel Trailer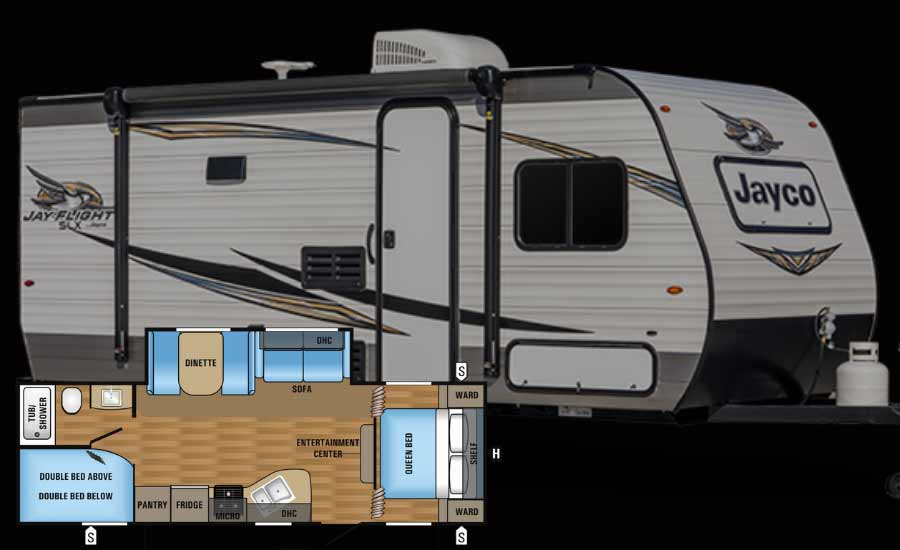 Key Features
Number of Floor plans: 17
Unloaded Weight: 2350-7445 lbs
Sleeps: 3-9 people
Length: 12-36 feet from hitch to fender
Price: $9,000+
Standard Features 
Solid hardwood cabinet doors
LED interior lighting 
Wardrobe/pantry storage
Seamless solid-surface look kitchen countertops
Large 50/50 acrylic kitchen sink
Brushed nickel faucets
Heavy-duty, 75-pound, full-extension, steel ball-bearing drawer guides
J-Steel™ jackknife sofa
Diamondflor® vinyl flooring
Shaw® residential-grade carpet (select models)
Premium multimedia sound system with MP3/iPod input jacks and Bluetooth® connectivity
Galvanized-steel impact-resistant wheel wells
I-class™ cambered structural steel I-beams
Fully-integrated A-frame
5/8-inch tongue-and-groove plywood floor decking
Magnum Truss™ Roof System with plywood decking and seamless DiFlex II material
Large exterior downspouts 
2-sided reflective foil insulation in flush-floor slideout floors
13,500-BTU roof-mounted airconditioner
30 amp service
Solar prep
20-pound propane bottles (2)
Spare tire with cover
Pull-out camp kitchen (for models 242BHS, 284BHS, & 294QBS)
Description
Without a doubt, the Jayco Jay Flight SLX Travel Trailer deserves to be on this list. 
Word on the street is…
… Jayco owners were "consistently happy with their purchase."
You get to choose among 17 different fantastic floor plans that can easily accommodate 3 to 9 people for a price close to nine grand! 
It may be small, but it sure is packing a punch! 
This cheap travel trailer has excellent reviews to satisfy even the toughest skeptics too. 
If you're hunting for a small balanced camper, then the Jay Flight SLX 154BH dimensions are the best pick.
To those needing a bigger space for more company, you'll want the Jay Flight SLX 294QBS.
When it's Jayco, you'll never run out of choices! 
This travel trailer boasts a fully integrated external A-frame, an 8,000 BTU wall-mounted air conditioner, and an Atwood furnace. 
That's not all…
It also has double-wide corner mold extrusions, pleated window shades, mission-style maple cabinet doors, and a black diamond plate sidewall skirt.
With features typically showcased in more expensive RVs, you'll think the Jayco SLX is worth more than it is.
Don't miss out on a good camper and travel trailer!
It's a win. 
There's no reason to break the bank if you have a trailer van like this on your roster! 
Check out more details here: Jayco Official Website
3 – Forest River Rockwood Geo Pro Affordable Travel Trailer
Key Features
Number of Floor plans: 7
Unloaded Weight: 1133-3161 lbs
Sleeps: 2-4 people
Length: 11-21 feet from hitch to fender
Price: $8,995+
Description
Third, on the cheap travel trailers list is the Forest River Rockwood Geo Pro.
For Forest River's Geo Pro series, the Geo Pro 12RK is the only floor plan priced below $10,000.
But not to worry – the price gap between this and the other 6 is not too far apart!
Plus, the same remarkable features are offered throughout even if you opt to spend more or go cheap. 
This new travel trailer is fitted with a roof mount solar prep, tinted bonded frameless windows, a Wi-Fi ranger, a 6-sided aluminum cage construction, and a 20,000 BTU Furnace.
What a dame! 
While most of the versions are a bit pricey, they offer easier "towability" and compensate with more interior space and affordable.
For that, the Rockwood Geo Pro 19FD is the top pick. 
The whitewashed interior may get your attention, but you might want to look out for the exterior storage compartments.
I heard that bit's a disappointing afterthought.  
So, would you give it a go? I guess we'll find out later.
4 – Riverside Retro Cheap Camping Trailer
Key Features
Number of Floor plans: 18
Unloaded Weight: 1937-6100 lbs
Sleeps: 2-6 people
Length: 13-32 feet from hitch to fender
Price: $9,500+
Standard Features
Double Welded All-Aluminum Cage
Powder-coated Chassis
13.5K A/C
12-volt Power Converter
Tinted Safety Glass Windows
PVC Roof Membrane
Outside Shower
Spare Tire
Diamond-plate Rock Guard
DSI Gas/Electric Water Heater
Gas/Electric Refrigerator
Power Awning with LED Light Strip (N/A 166)
Interior and Exterior LED lighting
AM/FM/Bluetooth Stereo
Powered Vent in Bathroom
Solar Plugin
Observation Camera Prep
Front and Rear stabilizer jacks
Inside/Outside Speakers
HD-TV Antenna
Smoke and CO Detectors
Two 20-pound LP Tanks with Cover (one tank 135 &166)
Range Hood with Light and Exhaust Fan
Electric Brakes
Quick Connect Gas Line
Cable Satellite Hook Up
Microwave
Black Tank Flush
3-burner Range with Oven (N/A 135,166)
Power Tongue Jack
Solid-stance Pull-out Steps (Where available)
High-speed Roof Vent
Checkered Black-and-white Flooring (N/A 511)
Description
"Travelling never looked so good," says Riverside Retro.
This brand prides itself in its elegantly-shaped RVs with sleek curves, vintage hues, and fantastic modern features! 
This cheap camper has 18 different floor plans that fit into the dining, living, sleeping, and kitchen space handpicked for you and your needs. 
Considering it's sold for under $10,000, it's a reasonably great bargain! 
It's also easy to tow, park, and store! You could use the SUV you drive every day. 
Pretty sure the long list of standard features above surely caught your attention. 
You should go for the Retro 509 if you want to stick closely to your budget. 
Be that as it may…
… have a look at Retro model 265RB if you want to fit a few more people in. It's a bigger, more equipped trailer up to the task. 
They mean REAL Retro business. 
The interior trailer design brings comparison to the 1950s. Dinette cushions complement the bright birch wood walls and cabinets. 
Imagine that!
The Riverside Retro Travel Trailer is chock-full of features, stylish, and, best of all, one of the cheapest campers!
5 – Forest River Rockwood Geo Pro Affordable Travel Trailer
Key Features
Number of Floor plans: 36
Unloaded Weight: 3125-8126 lbs
Sleeps: 3-10 people
Length: 21-39 feet from hitch to fender
Price: $9,999+
Description
The Dutchmen Aspen Trail Travel Trailer is by far the biggest trailer on the list.
What makes no. 5 impressive is the fact that 36 uniquely different floor plans are available at your fingertips – you're bound to find one that's fabulously fit for you!
After going through countless reviews and price considerations, the Aspen Trail 1700BH stood out the most. 
Why?
Most Aspen Trail models have bunk beds and a large queen-size bed that easily accommodates five people. 
There's also a shower-tub bathroom combo tucked in to give you comfy options while saving space, PLUS a large refrigerator! 
It's every camper's dream! 
There are overhead cabinets made of hardwood, tinted glass windows, seamless walk-on roofing, and a high-output furnace with auto-ignition. 
This trailer has all the bells and whistles you'll ever need! 
If you still have money to spare, take a look at the affordable Aspen Trail 1900RB. It's better. 
I'm 100% sure you'll be impressed! 
Now, on to the next one. 
6 – Oregon Trailer Do Drop – Cheap Small Camper
Key Features
Number of Floor plans: 1
Unloaded Weight: 550-700 lbs
Sleeps: 1-2 people
Length: 3.5-4 feet wide
Price: $6,150+
Description
If you've been frowning the entire time because of the prices barely making it past the mark, then feast your eyes on budget trailer no.6 worth $6,000! 
The mega cheap Oregon Trailer Do Drop is perfect for the modern chic minimalist.
If you're traveling off-road or bustling through the pavement, this little guy is adaptable for its no-hassle customization.
One floor plan, two configurations. 
You can pick one that's 3.5 feet wide or round it up to 4 feet – the choice depends on how much room you want for the interior or how many people you plan on coming over.
The design is clean and straightforward. 
A few tweaks to the wheel size and you're good to go.
Besides, this little fella is perfect if you don't have something to tow the trailer with. 
Give this 'Do Drop' trailer a try! 
The price indeed won't cause you to cash in your insurance or add another mortgage!
7 – The American Dream Inexpensive Trailer
Key Features
Number of Floor plans: 3
Unloaded Weight: 650 lbs
Sleeps: 1-2+ people
Length: 11 feet from hitch to fender
Price: $8,900+
Description
No. 7 lives up to its name.
The American Dream Trailer is widely prevalent among campers. 
It's a simple retro RV with a fun twist! 
Here goes…
The hull-like roof is a removable boat!
It's equipped with a two-horse power motor and can support 500 pounds of weight (approximately three people). 
You simply remove the top of the sleeper and reattach it when you're done. 
It's that easy.
The boat is secured with five latches. It's firm, small, and transportable, making the trailer look more massive than actual.  
Even if you do take the boat off, a separate roof keeps the remaining trailer enclosed. 
It's a brilliant touch – no problem getting yourself too exposed.
As if that's not enough to get your attention…
… the American Dream Trailer also features a sizeable full-mattress bedroom, pop-out windows, an external tailgate, checkerboard flooring, and rear-mounted storage and cooking galley. 
You could even order an interior table and choose from two-tone color schemes! 
An inexpensive trailer with these features!
What's not to love?
8 – BCT Moab Gobi – Cheap Pull Behind Trailer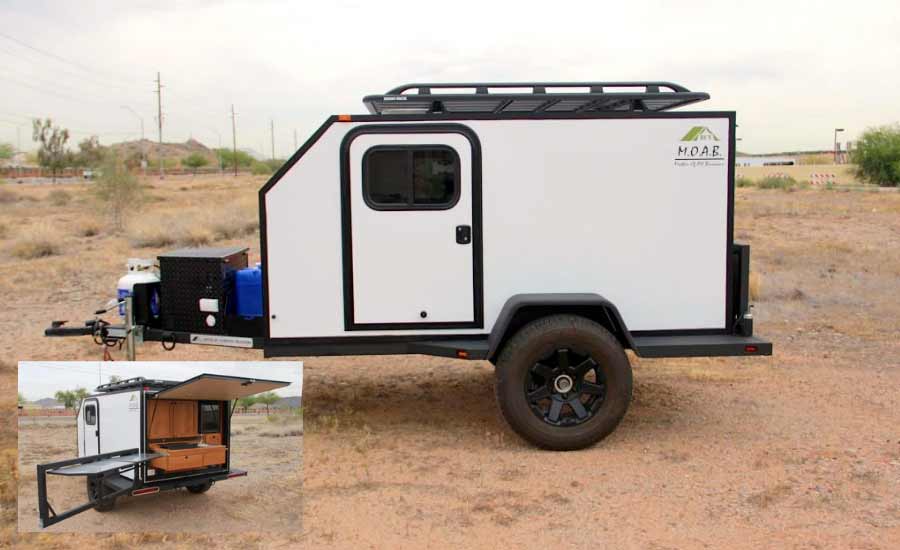 Key Features
Number of Floor plans: 2
Unloaded Weight: 1890 lbs
Sleeps: 1-3 people
Length: 13.8 feet from hitch to fender
Price: $7,995+
Standard Features
7-inch foam mattress that fits two people
2-burner cooktop
20-pound propane tank
24 gallon (91 liters) freshwater tank
Tankless propane water heater
Doors on each side of the trailer
An outdoor shower
An electrical system with charger, inverter, 12/100v outlets, and LED lights
Description
Daenerys pales in comparison to this Gobi! 
It's the "M.O.A.B.- Mother of All Adventure Bivouacs" 
The towable BCT Moab Gobi Trailer is a cut above the rest. 
It packs quintessential equipment not found in the average trailer. It's jam-packed with luxury interior sleeping arrangements and spacious storage layouts. 
There are wood storage cabinets and even an exterior kitchen that includes a dual-burner camp stove and a functional sink.
The mess is no problem at all!
The trailer goes with highly convenient off-road tires and an upgradable electric brake system.
All for a price below $10 000, and it's already suitable for three people!
Neat!
9 – CVT Off-Road Budget Trailer
Key Features
Number of Floor plans: 1
Unloaded Weight: 1150 lbs
Sleeps: 1-2+ people
Length: 5 feet from hitch to fender
Price: $7,200+
Standard Features
10 ga. Steel frame
14 ga. steel Tub (can be a bathroom)
3500HD Timbren axles with brakes – 6 lug standard, 8 lug optional
Aluminum lid
Locking slam latch on the lid and locking tailgate
Full length, bolt-on fenders with 2-inch tube outers
31-inch tires standard
Full LED lighting
7-way trailer plug and bus system for additional electrical upgrades
Fully powder-coated
Description
Our last affordable travel trailer is the CVT Off-Road.
It's one of those unique travel trailers that are less focused on people and more absorbed in carrying gear.
But it can still comfortably accommodate two folks in its rooftop tent. 
And since it's made for transporting heavy materials, the camper is built from tough steel and equipped with off-road tires.
Get this…
It comes with a 7-way trailer plug and bus system.
And you can upgrade it into something even more powerful as long as you need it! 
This one's all brawn! 
Whether it's for family or business, these types of trailers do tough moving jobs easy – and you don't have to spend more than $10,000!
10 – 2020 Keystone Springdale 1800BH Affordable Travel Trailer
Key Features
Unloaded Weight: 3,394 lbs.
Sleeps: 1 to 6 people 
Length: 21 feet from hitch to fender
Price: $9,999
Standard Features
One Awning
Compact Kitchen
13,500-BTU air conditioner
20,000-BTU heater
Fresh-water Tank Capacity of 27 gallons
Total Gray-water Tank Capacity of 30 gallons
Description
Keystone is one of the best RV manufacturers in the world. 
They're quite known for mixing it up between value and high-build quality.
If you're looking for a trailer you could hitch into a half-ton pickup truck or a full-sized SUV, this camper is the one to choose. 
This trailer's complete with bunk beds and one queen-sized bed that'll realistically fit five people. 
That's not all…
The water storage tanks listed above allow the 1800BH to support a full bathroom – a feature that's rare for a trailer that costs only this much.
It's complete with a sink, a flushing toilet, and a shower stall. Heavenly!
Accordingly, it also supports the compact kitchen sink. The price tag's just an inch away from the maximum budget.
But don't you think the additions are worth it? 
These make road life a luxury!
11 – Gulf Stream Ameri-Lite Super Lite 16BHC Travel Trailer with Bathroom
Key Features
Unloaded Weight: 2,590 lbs.
Sleeps: 1 to 4  people 
Length: 19 feet from hitch to fender
Price: $9,500
Standard Features:
Fresh-water Tank Capacity of 30-gallons
Total Gray-water Tank Capacity of 36-gallons
Total Black-water Tank Capacity of 36-gallons
1 Awning
Compact kitchen
8,000-BTU air conditioner
16,000-BTU heater
Description
It's no surprise for Gulf Stream to be on this list – and their 16BHC model fits just right up our budget.
Let's have a look. 
While it says on paper that the model fits four people, it may be quite the stretch. 
The "Master Bed" is just a convertible dinette table, barely making room for two adults.
However, the two bunk beds in the back give room to two more. This camper includes a full bathroom too. It has a shower stall, sink, and toilet.  
There's also a kitchen with a small RV absorption Refrigerator! 
Aside from the listed features above, there's nothing else to mention. 
No doubt, this camper's excellent on average.
12 – Forest River Cherokee Wolf Pup 16BHS Travel Trailer
Key Features
Unloaded Weight: 3,097 lbs.
Sleeps: 1 to 5 people 
Length: 21 feet from hitch to fender
Price: $9,500
Standard Features
Total Gray-water Tank Capacity of 23-gallons
Total Black-water Tank Capacity of 23-gallons
6-gallon hot water heater tank
1 Awning
Compact kitchen
13,500-BTU air conditioner
20,000-BTU heater
Description
A high-quality camper with a friendly price, this model is fit for your average family. 
The queen-size bed in the front interior is the master suite, while there are two bunk beds and a dinette that's like a convertible sofa bed.
It does have the right amount of bed space. 
On the other hand, the kitchen features a two-burner stove and a modest refrigerator that could run on either propane or electricity. 
Well, isn't that convenient?
You just have to keep a separate cooler for beverages and cold snacks to maximize the fridge's storage space. 
The 6-gallon heater in the shower stall can afford one person a long and soothing shower!
Okay, that's good enough for me. 
Take my money!
13 – Forest River Flagstaff 176LTD Pop-Up Camper
Key Features
Unloaded Weight: 1,456 lbs.
Sleeps: 1 to 6 people 
Length: 17 feet from hitch to fender
Price: $7,500
Standard Features
Fresh-water Tank Capacity of 10-gallons
1 Awning
Compact RV kitchen
Description
I know what you're thinking…
This one is a pop-up expandable camper.
Oddly enough, it's the most popular one on the market. It's light, robust, and small for your convenience! 
You can take this bug everywhere – literally! 
It's like a backpack but bigger and has to be towed by a midsized SUV.
The exterior awning is great for keeping the sun and bugs at bay. 
A 10-gallon freshwater storage tank is also available if you need to wash your hands or do the dishes. 
And there's excellent plumbing too! 
To every corporate slave out there just waiting to relax and enjoy some personal space, this is made for you!
Useful Tips You Should Consider Before Buying Campers
At a glance, here's what you need to consider before investing in Campers: 
Learn the type of camping you intend to do. 
Have a concrete idea of how many people will be coming along.
Make a checklist of everything you need to bring – there's no going back once you're on the road. 
DO NOT BUY OR PUT AN RV ON HOLD unless you're 100% sure you're taking it.
Make sure you've done enough research to get the best out of your money's worth.
Frequently Asked Questions (FAQs): 13 Cheapest Campers
How much does a tiny camper cost?
A small camper will set you back anywhere between $5,000-$10,000
What is the cheapest teardrop camper?
Hiker Trailer Highway Deluxe is the cheapest teardrop camper at $3,795.
Should you buy a new camper or a used one?
It all depends on your budget. Go for a used one if it's tight.
Do Teardrop campers have toilets?
Teardrop campers rarely have a toilet. You'll find it hard enough to stand inside these types of campers. However, some manufacturers do install toilets in theirs. 
What is the smallest RV with a bathroom?
The smallest RV with a bathroom is theiCamp Elite
Conclusion: 13 Cheapest Campers
Don't just dream about the perfect weekend getaway – plan for it!
This list should help you get the best camper your outdoorsy family will love. 
Any of these travel trailers will do a fine job; trust TopNotch!
Just know that if you're not ready to settle and take the plunge on the financials, there are rentals available…
There are even used campers for sale! 
So, which of these best cheap campers caught your attention? 
Time for me to hand over the baton to you to make your choice…