Marmot Halo 6: Definitive Review (2023)
TopNotch Outdoor is independent – we research, test, and rate the top products to help you make the right buying choice. We sometimes use affiliate links and may receive a small commission on your purchase. Learn more…
This is the Ultimate TopNotch Marmot Halo 6 Review 2023.
We found this tent was both easy to set-up and incredibly comfortable.
If you want a well crafted 6 person tent that provides an outstanding amount of outdoor value, we recommend giving this tent a look-see!
We're also confident it can provide you with full coverage from even the harshest of summer storms.
In this comprehensive review, we'll cover:
Its ease of use and set-up requirements
The ratio of Value for Money you get with this tent
Its overall comfort and durability
Lots more…
So if you want the very best large camping tent set up, you're going to love this guide.
Buckle up.
Let's get started.
Square Footage: 92 sq feet
Height: 6'4"
Weight: 21 lbs
Seasons: 3-Seasons
Manufacturer: Marmot
Bottom Line : A high-quality tent perfect for the whole family, with easy set-up and some great features
Pros
---
Tall and roomy
Great design and easy set-up
Very well ventilated
Lots of mesh means great views
Cons
---
Flimsy stakes included
High end of the price point
Our Verdict: Marmot Halo 6
Out of the nine 6 person tents we tested, this Marmot tent is one of the easiest to set-up.
It features a unique "halo" pole design (a circular pole wraps around the structure) which created an impressive amount of stability.
Furthermore, its large front vestibule is perfect for storing dirty gear that you don't want to bring inside your tent's cabin walls.
Of course, it did have some issues…
Not many, however, as we only found issues with the halo's flimsy stakes and somewhat higher price.
So…
If quality outdoor gear is what you want, we think the Marmot Halo 6 could be a great choice for you!
"
Marmot Halo 6P
has One Super-Sized Double Door and One Side D Shaped Door with Large Front Vestibule for Gear Storage.The tent also comes with Interior Pockets for Small Gear Organization."
Related: 10 Best 6 Person Tents
Analysis Comparisons and Test Results
Performance Comparison
It's important to note we didn't test this tent by itself, in the comfortable confines of our office.
Instead, we took this tent through the TopNotch ringer, putting it head to head with nine of the best-rated 6 person tents in its class.
We tested it in rain, wind, and perfect breezy conditions.
Now…
We'll let you know where this tent shone, and where it stayed dim…
But enough beating around the bush, it's time to get to the details of this 6 person Marmot tent.
Value for Money
Don't get turned off by the results from the "Value for Money" chart below, because we tested this tent alongside some great competition.
The Marmot Halo only scored lower than the Eureka Copper Canyon 6 or the Core 6-Person Instant Cabin Tent because of its somewhat higher price.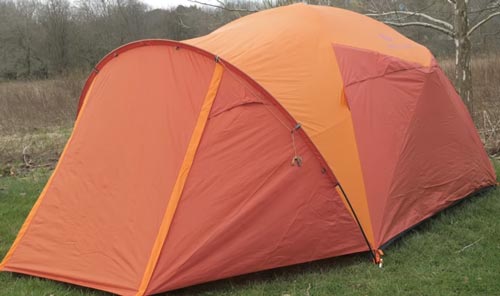 Value for Money Rating
CORE 6-Person Instant Cabin Tent
Coleman Weathermaster 6-Person Tent with Screen Room
This higher price is not coupled with a lack of outdoor value, however.
We promise that when you zip open the large front door of this tent, (or its additional side door), you'll be surprised by its expansive cabin space.
Also, you can tell you get what you pay for with this tent. Its slightly higher cost is coupled with impressive workmanship and a unique design.
So, if you have a little extra money and want something that won't let you down, we think investing in this Marmot product could be a great option.
Ease of Use & Set-Up
Although it's quite heavy when brought down to its packed size, this tent's a breeze to set up (and it won't get blown away by the breeze either… but more on this later).
It comes with color-coded sleeves, poles, and clips to ensure you figure out the configuration of its parts as quickly as possible.
Ease of Use & Set-Up Rating
CORE 6-Person Instant Cabin Tent
Coleman Weathermaster 6-Person Tent with Screen Room
Also, except for the vestibule which is attached to the main structure, the tent was freestanding. This means it can be fully erected without being staked down into the ground.
The tent is named after its one of a kind halo poles, which created a circle around the classic x-shape criss-cross design. The halo poles were surprisingly easy to install, and were essential in creating its aesthetically pleasing shape.
Not many of the 6 person tents we tested can be set up by only one person. We can honestly say, however, that this Marmot Halo 6 can be easily fully installed even if you can't find someone to help you out at the campsite.
With its large vestibule, additional rain fly, and intimidating halo poles, we were worried about how this tent would fare in this metric.
But… we were pleasantly surprised by its ease of use and minimal set up requirements, and would highly recommend it if you want something simple to put up on family camping trips.
Durability & Workmanship
Marmot is known for making quality products that outdoor enthusiasts can rely on.
This great tent is no exception.
A prime example of its durability is its seam-taped catenary cut floor which is so reliable that an additional footprint isn't even provided (although it can be bought as an added extra if you want).
Durability & Workmanship Rating
CORE 6-Person Instant Cabin Tent
Coleman Weathermaster 6-Person Tent with Screen Room
Although it doesn't feature a bathtub style floor, we promise its fully taped combo seam design keeps out any dirt, water, and creepy crawlies living at your campsite.
Furthermore, its DAC DA17 poles are some of the highest quality ones on the market today. The two poles which set up the main criss-cross structure were especially flexible and easy to install.
It's no surprise customer ratings for this product are consistently high. With its well-made floor, vestibule, poles, and more… we were amazed by its durability and workmanship.
Comfort
This Halo tent impressed us with its comfort, even in a sea of fantastic 6 person tents.
Its large front double door is coupled with a side D-shaped door to make entering and exiting the cabin easy no matter how many people are sleeping inside. With two doors, any danger of your friends and family bottlenecking to get inside when it starts to rain is averted.
Comfort Rating
CORE 6-Person Instant Cabin Tent
Coleman Weathermaster 6-Person Tent with Screen Room
There's no lack of storage in this Marmot tent, as it comes fitted with plenty of indoor mesh pockets. Also, as a bonus, they added a lantern hook at the apex of the tent to fill the cabin with ambient light.
Lastly, it has tons of mesh windows and a nifty mesh ceiling which can all be opened up to see the surrounding beauty of the outdoors or the infinite expanse of the night sky.
With a slightly heavier packed size at just over 20 pounds and an excellent score for comfort, we would highly recommend this tent for classic car camping situations. If you want to find out how to supercharge your camping comfort in this halo tent, it may be worth checking out our article, 8 ways to Comfortably Sleep In A Tent.
Weather Resistance
We found its rain fly held up to rain better than almost every other six-person tent we tested.
On top of this, its fully taped seams and thick polyester floor fabric were able to withstand even the most extreme weather. You also get the capability to protect larger gear that doesn't fit within the cabin if you make use of the massive vestibule which connects to the front door.
Weather Resistance Rating
CORE 6-Person Instant Cabin Tent
Coleman Weathermaster 6-Person Tent with Screen Room
Finally, its unique halo design came into play, as the circular pole wrapping around the two criss crossers made the tent especially stable. Even in the harsh wind, we felt comfortable and safe within this tent's cabin walls.
This tent can provide you with full coverage from mother nature's most destructive outbursts, a critical component of any piece of outdoor gear.
"
Marmot Halo 6P
has Seam-taped, catenary-cut floor and full-coverage fly with vents and fully taped seams help keep everything dry. The tents Canopy panels can be zipped open for ventilation and views."
Conclusion

: Marmot Halo 6 Tent
This Halo tent by Marmot is a TopNotch choice if you want something easy to set up, resistant to harsh weather, and built to last many years.
Unfortunately, the spacious floor area, large front vestibule, and additional rain fly do lead to this tent having a slightly heavier packed size.
Luckily though, the tent is extremely easy to erect at the campsite as it gets most of its structural stability from only two crisscrossing poles.
We think it could be perfect for years of family camping trips, where full coverage from a storm is important.
As long as you can look past its slightly larger packed size, and you can spend a little more money on your tent, we think this could be the one for you!
We've done the hard work testing and putting this review together – now we hand over the baton to you to make your choice……Will it be the Marmot tent 6 or our Editors Choice below?
See owner reviews and check out current prices by clicking on the link below.
Other Versions: Marmot Halo

Tents
Marmot also makes a Halo 4 model of this tent which is designed to sleep only four people. It is very similar and may be worth checking out!