What is the Best Air Mattress for Camping?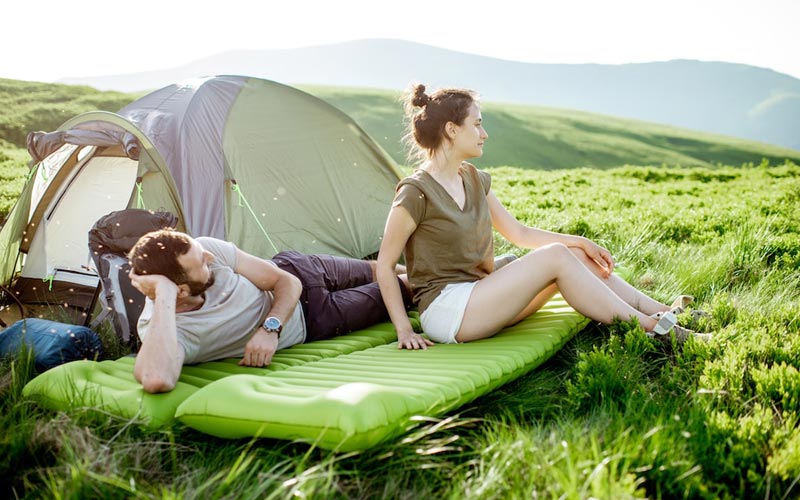 TopNotch Outdoor is independent – we research, test, and rate the top products to help you make the right buying choice. We sometimes use affiliate links and may receive a small commission on your purchase. Learn more…
Your choice of sleeping space and how you lay it out always determines whether you'll have the best or worst camping experience.
You'll need to carry a great camping mattress to help you rest easy after exploring all day.
But here's the toughest part: deciding what is the best air mattress for camping.
Luckily for you, we know most campers face this problem.
Consequently, we decided to do some research to show definitively the camping mattress or camping mattress pad that will give you ultimate comfort.
So, what did we find?
Here at TopNotch we've tested and rated the very Best Air Mattresses For 2023…
The results are in and our Top 3 choices are here for you now:
We found a huge number of camping mattresses on the market.
We whittled it down to 8 finalists in our review of the Best Air Mattresses.
And their comfort levels differ with their construction design and features.
Read on to find out more about the best camping mattresses…
Related: 10 Best Air mattresses 
Q. What is the most comfortable mattress for camping?
Choosing the most comfortable mattress for camping isn't a walk in the park.
But we can help simplify the process.
Your choice should be guided by the design and materials, and functionality of the mattress.
Most expert campers go for either a foam camping mattress or an air mattress.
With that out of the way…let's see what determines the comfort of a camping mattress.
For starters, the camping mattress you choose will depend on your sleeping options. Will you be sleeping in a tent or will you be car camping?
You need to make sure the mattress you choose is a perfect fit for your preferred sleeping space.
Also, will it accommodate all the people you're camping with?
But there are other factors that determine the comfort of your mattress – like how warm you'll need to keep yourself for instance.
If you have back pain, you'll also need to get the best camping mattress for a bad back.
What works for you in terms of sleeping comfort may not work for another person.
The most comfortable camping mattress should have a great feel, and the outer layer should be soft. Such a mattress will also come with handy features to improve your sleep.
What's the bottom line?
The comfort of a camping mattress comes down to personal preferences.
Q. What is the best air mattress?
Now you see, the majority of campers choose to sleep on an air mattress when camping.
That said, are you looking for the best camping air mattress? Well, then you need to know a couple of things about this kind of mattress.
First, you need to know that there are several manufacturers of camping air mattresses on the market. So, it doesn't matter if you want an REI camping mattress or a different brand.
The first type to consider is a standard camping air mattress. Usually, these have a compact and lightweight design, which makes them very portable. However, they don't have excellent insulation, and you will need an air pump to inflate them.
Secondly, there are self-inflating mattresses. And they're quite a popular pick among campers. How come? Well, you don't need an air pump to inflate them. Better yet, they have a lightweight design, and are suitable for wild camping.
But here's the kicker: self-inflating mattresses come with a foam layer, which provides you with adequate insulation. They're also pretty affordable on the whole.
Next, you'll find all-in-one beds.
What's so special about these?
The beds have sleeping bags attached to them. Also, they are self-inflating and easy to carry.
So, next time your fellow campers ask, what is the best bed for camping?, tell them about all-in-one beds.
Lastly, there are double-height air beds.
You should choose this kind of mattress if you like sleeping at a good height off the ground.
In fact, you can compare these to your bed at home – because they're a similar height and can be super comfortable. However, double-height air beds are quite bulky.
And you'll need a battery-powered or electric pump to inflate them as it may take a while.
How can I make my mattress more comfortable?
It doesn't matter whether you get a camping mattress or a camping pad. You have to make sure it's comfortable enough so that you can enjoy your sleep to the max.
Here are some effective hacks.
For starters, bring some sheets and blankets with you. They will not only complement the best backpacking mattress but also enhance your comfort levels.
Throwing in some sheets and blankets will leave you feeling as if you're in your own bed at home.
However, before you choose which blankets to bring along, consider the season.
If you go camping during the colder months, then you'll need to carry heavier blankets and vice versa.
Alternatively, get a topper for your camping mattress.
A mattress topper is especially ideal for air mattresses.
But what is its purpose?
A mattress topper will help to improve the soft feel of your camping air mattress, giving you a super-restful sleep.
Another tip – get your mattress off the ground.
By doing so, you'll make your sleeping space cozier. And there are different ways to keep your mattress off the floor.
You could place it over some soft foam tiles such as those used in children's bedrooms. If you can't use foam tiles, you could settle for a cot to work well with your mattress.
Conclusion: What is the Best Air Mattress for Camping?
What is the best mattress for camping?
Frankly, it's an ambiguous question.
That said, the best mattress for camping is a comfortable and warm mattress.
Here at TopNotch we've examined the very best air mattresses on the market in 2023 in our Ultimate Definitive Review…
Our Top 3 choices are as follows:
It all comes down to personal preference.
You may prefer a foam camping mattress, while another person prefers a camping air mattress.
Personally, I find an air mattress cozier, especially if it's self-inflating.
Why?
Most tend to have a lightweight design, plus they really can retain the warmth keeping you super-cozy on the coldest of nights in the wild.
And if you're car camping, you can use the tips we've mentioned here to make your mattress and sleeping space even more comfortable.
Happy Adventures!