Ozark Trail 10 Person Tent [UPDATED] 2023: Definitive Review
TopNotch Outdoor is independent – we research, test, and rate the top products to help you make the right buying choice. We sometimes use affiliate links and may receive a small commission on your purchase. Learn more…
This is the TopNotch [UPDATED] Ultimate Ozark Trail 10 Person Tent Review 2023…
Sometimes camping is the only time we get to sleep in late.
We go camping in search of rest and relaxation, but the glare of the morning sun can wake us up well before we're ready sometimes.
With this 10 person tent, however, that's not going to happen.
We loved sleeping in while testing this family camping tent…
And we know you will too!
In this comprehensive review we'll cover:
Why it's excellent value
How you can set it up comfortably for 10 people
Which seasons it's best for
Lots more…
So if you want a tent that stays cool and dark late into the morning, you'll love this guide.
Let's get started…
Weight: 20 lbs
Dimensions:

78.00 x 165.00 x 120.00 in

Color: Dark Grey
Living Capacity: 10
Manufacturer: Ozark Trail
Bottom Line : Ozark Trail is a spacious and well-ventilated cabin tent, great for the family campout
Pros
---
Very, very light for its size
Easy setup features
Cool interior during the summer
Lots of windows and ventilation
Cons
---
Not very durable – tent wears down over time
Less insulation for colder nights
Our Verdict: Ozark Trail 10 Person Tent
The Ozark Trail 10 person tent is rated for 3-seasons but we experienced cold nights inside when testing during the spring and fall.
So you'll be most comfortable in it during the warmest months of summer.
Because it doesn't have a full coverage rain fly, you'll also want to make sure the forecast is relatively dry before planning a trip.
That said…
…its large capacity allows you to fit two large families inside and room dividers create a sense of privacy for each individual family unit.
And if you're camping with a smaller group, you can fit up to two queen sized air mattresses inside for a more luxurious sleeping experience.
But arguably…
The Ozark Trail's best feature is its dark room technology that reduces the glare entering from morning sunlight.
So…
"The
Ozark Trail
is the most comfortable choice for catching up on Zzz's on your next camping trip!"
Related: 10 Best 10 Person Tent
Analysis Comparisons and Test Results
To review the performance of the Ozark Trail 10 person tent, we tested it in three seasons and a variety of weather conditions. We then stacked our results against our findings for the other top best large tents to bring you a clear comparison.
Value for Money
In terms of value…
The space and level of comfort you'll enjoy with this model make it a great buy, especially at this price point.
But it can also serve as a reasonable wilderness accommodation for up to three families with its included room dividers.
Value for Money Rating
Ozark Trail 10 Person Tent
So…
You won't need to buy and transport three separate tents when camping with multiple families.
The only reason that we knocked the Ozark Trail 10 person tent on value for money was its overall durability.
Which means…
If you're looking for even better value then check out the Wenzel Timber Ridge.
Ease of Use
While setting up any tent is easier with more people, we during testing that one person can set it up pretty easily – in about two minutes!
This is impressive for the amount of space it takes up and we'll go over the basic setup process right here.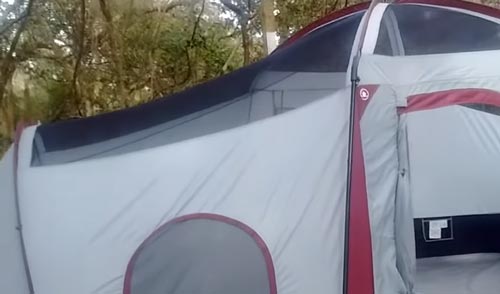 Ease of Use Rating
Ozark Trail 10 Person Tent
Because it's freestanding and the frame is pre-attached to the body, this tent classifies as an 'instant' family cabin.
So…
You'll just need to unfold it and extend the telescoping poles to create the basic structure.
Then you can position it as desired and secure the 14 stakes into the ground for added security.
Then…
Your last step will be to throw the rain fly over the top and secure it down to the tent's main body.
The rain fly also has a total of six guy lines to help provide extra stability if you're expecting high winds overnight.
This was a clear winner with a perfect score for Ease of Use.
Durability & Workmanship
The Ozark Trail 10 person family cabin tent features steel poles that are definitely more durable than fiberglass, even if they add extra weight to the design.
The fabric of the main body is polyester and the floor is made of polyethylene.
Durability & Workmanship Rating
Ozark Trail 10 Person Tent
But…
Unlike most tents with this much space, the floor features a catenary cut instead of a bathtub design.
This means the floor and walls are two separate materials that are stitched together along the floor seams.
Because the seams aren't advertised as welded, we had to move the Ozark down on our rankings for durability and workmanship.
So…
If you're looking for an option with better durability, we recommend you try the Coleman Weather Master.
Weather Resistance
This Ozark Trail family camping accommodation is best suited to mild summer conditions.
It doesn't boast a full coverage rain fly, which is essential for wet environments.
Weather Resistance Rating
Ozark Trail 10 Person Tent
And while it does have enough guy lines to handle mildly windy conditions, we don't recommend taking the Ozark on exposed ridgelines in high winds.
That being said…
This tent was actually better for preserving heat inside the space than many other summer camping tents.
This is because of the zippered panels on the roof of the main room. These panels covered the mesh on the ceiling to prevent heat from escaping out the top of this Ozark Trail family tent.
But…
If you're searching for a more weather-resistant camping tent for 10 people, we suggest the NTK Arizona GT.
Comfort
There's a lot to like about the comfort levels of this tent.
First of all…
Because it's a family cabin the walls are nearly vertical – providing additional interior space.
It boasts a total of 140 square feet of floor space and a peak height of 78 inches (6.5 feet).
Comfort Rating
CORE 6-Person Instant Cabin Tent
Coleman Weathermaster 6-Person Tent with Screen Room
This provides roughly 14 square feet of space per person if you do put 10 people inside.
And it also has a total of six windows that provide excellent ventilation on warm evenings.
But…
The Dark Room Technology used in its design is really what adds that extra level of comfort to this 10 person tent.
What does 'Dark Room Tech' really mean?
Simply put, the interior part of the fabric is made with a dark coloring. This reduces the amount of light inside and also lowers the interior temperature.
There are four skylight mesh roof vents that provide extra ventilation in addition to the six windows.
But these vents also contained zippered dark panels to cover them when we wanted to sleep in.
The room dividers also add comfort and privacy if you're housing multiple families inside.
All things being equal…
The 10 person capacity that this tent is marketed for might be a bit higher than we'd prefer in reality if everyone is really going to enjoy enough personal space inside to be comfortable.
But…
"For 5 people with two queen sized air mattresses, the
Ozark Trail 10 person
is a
TopNotch comfy cozy
option"
Conclusion

: Ozark Trail 10 Person Tent
If you want a tent with plenty of space for 10 people sleeping on the floor, The Ozark Trail 10 person tent will be a comfortable choice for you with plenty of room for each person to spread out. 
But…
…we'd recommend that five people with two queen sized air mattresses will be super comfortable in the Ozark. 
The 140 square feet of room inside this 10 person accommodation provides less individual room that many other large tents that are designed for ten people. 
That said…
Our favorite part about our review of this wilderness accommodation was experiencing the Dark Room Technology. 
If you're camping with people that have a hard time sleeping in or don't like too much glare inside their tent, you'll love this selection from Ozark Trail! 
Other Versions: Ozark Trail Tents
But if you're not quite satisfied with the features and specifications of this selection…
Check out these other models: